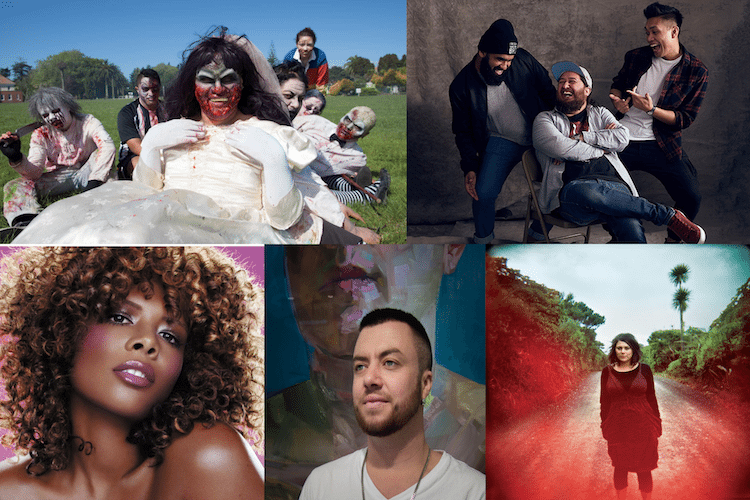 Oliver Hall runs through upcoming events and shows not already highlighted in express for this month.
---
Festivals to Flock To
Winter is done! So celebrate the suspected warm Spring with the music festivals that are coming our way. Get your best T-shirt optional out fits and get ready to party!
For R&B fans look no further than Craig David's Friday Jams that hits Auckland's Spark Arena on Sunday 22 October. His awesome lineup includes Neyo and Sean Paul, but the act we suspect will bring the most boys to the yard is Kelis. Don't miss seeing her Milkshake live! Tickets from Ticketmaster.
If you prefer an intimate venue and songs that tell a story then check out the Southern Fork Americana Festival from 7 – 15 October. Headlined by alt-country legend Juston Townes Earle, other notables on the bill include cult-hero Son Volt, Grammy-favourite Robbie Fulks and super group Traveler. You won't find any cheesy country-pop ballads here, this is rock and blues inflected country with grit. Saddle up but spare the horse and ride a cowboy! (southernfork.co.nz)
Side-Splitters
The Play That Goes Wrong is the heavily-hyped and critically acclaimed comedy that is touring NZ fresh from London. Described as being reminiscent of the classic who-done-it, The Mousetrap – if The Mousetrap were produced by the cast of Faulty Towers. The reviews from around the world have been unanimously positive, it won the Olivier Award for Best New Comedy and even Ab-Fab's Joanna Lumley is a fan! What's not to love. Tickets from Ticketmaster.
Prefer your comedy homegrown? Frickin Dangerous Bro's World Tour (…of Tamiki Makaurau) looks sets to thrill as three Kiwi stand ups at the top of their games (James Roque, Jamaine Ross & Pax Assadi), perform a set of sketches that celebrate their cultural backgrounds and life in Aotearoa. Tickets from iTicket.
Halloween Horrors
There are lots of options for giving you frights this Halloween. For a scary date the Hell Horror festival gives you a thrill. Firstly, you complete a horror maze with multiple rooms and corridors to get lost in whilst being terrorised by some of NZ's best scare actors. Following that snuggle up with a loved one for a drive-in horror movie. Running from 31 October to 4 November there is a different movie playing each night including Nightmare on Elm St, Jigsaw and It. Even better the maze will be themed to match that night's movie! Tickets from iTicket.
Other spooky options include checking out the creepy The Dunstan Creek Haunting, a new kiwi work that retells the eerie local ghost stories from the 1800's goldrush written and performed by David Ladderman and Lizzie Tollemache . It runs from 24 to 31 October at the Aotea Centre in Auckland. Tickets through Ticketmaster.
If this hasn't given you enough chills up your spine then why not visit NZ's original home of horrors – Spookers. Based out in Kingseat in the old hospital grounds. The drive there is alone is terrifying enough, before you even begin to experience the Haunted House, Freaky Forrest or Disturbia (spookers.co.nz).
Awesome Art Week
There are a number of terrific LGBT+ artists involved in this year's Artweek Auckland from 7 – 15 October. These include:
Michael McCabe who's 'OO_' is an intimate contemplation on the act of relaxation – serving as part of the late-night exhibitions in St Patrick's Square.
Jack Trolove who's tactile, almost sculptural use of paint allows for a layered and pixilated image to be built up within the strong colours and impasto strokes.
Francis McWhannell who has curated Electric Night on Thursday 12 October which is set to light up K road. Go to: www.artweekauckland.co.nz
Hitting Nostalgic Notes
A series of concerts celebrating times past come to NZ this month and serve as a great way to commiserate National's possible fourth term! Soul Queen Holly Smith celebrates the 10-year Anniversary of her Long Player album with a tour that concludes at Mt Eden's Crystal Palace on Friday 6 October. Tickets from holliesmith.co.nz for those who'd like to bather in her river!
Or you can discover the Dream in Anika Moa's head as she also celebrates 10 years of her acclaimed In Swings the Tide album. She tours countrywide throughout this month. Tickets from nztix.co.nz
Finally, 80's pop legend Alison Moyet brings her remarkable voice to our shores for a tour of Auckland, Wellington and Christchurch. Performing songs from her new album 'Other' as well as her classic hits All Cried Out and Only You. Tickets from Ticketmaster.