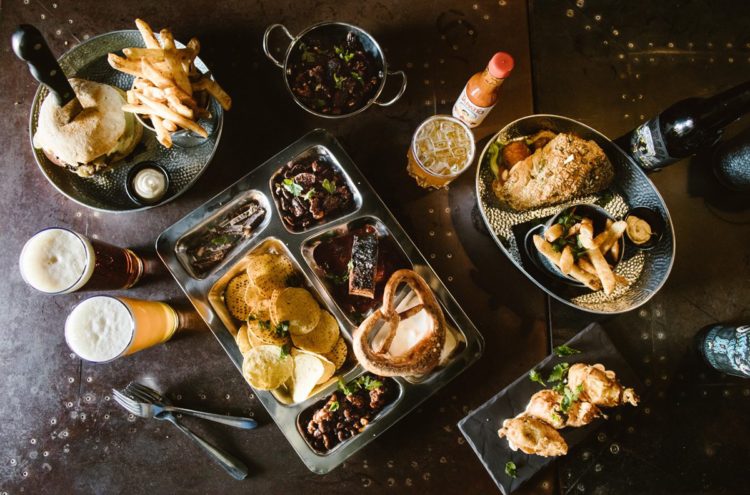 ALEXIA SANTAMARIA is the co-author of popular blog www.cheapeats.co.nz, the Auckland guide to eating great food without going bankrupt.
---
Panhead pops up at the Viaduct
We finally got time to check out the 'boutique bogan' style Panhead pop up at the Viaduct last week and were impressed with the range of all their standard favourites, plus some rotating small batch flavours like the Lime and Lychee Sour and Farm House Ale.
It's a great space decorated biker-style with a pool table and some other interesting features. We can see they'll be busy over summer, bringing their little bit of Wellington to Auckland. At this stage they are planning to stay around till March. https://www.panheadviaduct.co.nz/
Let someone else do Christmas this year
If you're escaping the rellies and the cooking this Christmas, you've got a few options round town for lunch or dinner – so much nicer to let someone else do it all for you. Fish Restaurant, The Sugar Club, The Grill, Hotel deBretts, Gusto at the Grand, Eight (at the new Cordis), Orbit, MASU and Huami are all open for business and running special menus – but you'll have to book in advance to avoid disappointment.
Festival fun continues at The Vodka Room
One of my favourite dishes at the recent Taste of Auckland festival was The Vodka Room's lamb ribs, and I'm so excited to hear they are running all their festival dishes as a 'Taste of Auckland' plate for the whole of December at the restaurant itself. If you missed out on the festival, make sure you try the delicious combination of lamb ribs, pan-fried truffle butter vareniki, octopus confit and Russian seafood salad before the year is out.
Restaurant review
The Shucker Brothers
Ferry Buildings, Auckland
Waiting for a ferry to Waiheke, or other island destinations, just got a whole more interesting. We recently checked out new eatery, The Shucker Brothers, in the Ferry Building, and think it's a great addition to our city.
The Shucker Brothers opened just over a month ago with the idea of providing interesting seafood options for those using the ferry terminal, or just frequenting the downtown area. I certainly wouldn't need convincing to go back for some oysters and a glass of prosecco – waiting for a ferry or not.
We were served by a gorgeous Frenchman from Nice, which certainly enhanced the whole experience. We ordered some oysters au naturale, chargrilled octopus, and crab donuts from him – as an early evening snack with some drinks. There's currently construction going on around the wharf, but we can see how lovely it's going to be with the sun sparkling off the water, when it's done.
The oysters were magnificent – super fresh from Te Matuku Bay on Waiheke. Plump, fresh and creamy, they were everything I think an oyster should be. The octopus dish was also great, with a good strong – but not overwhelming – charred flavour and served swimming in a wonderful sauce which had just enough njuda (a spicy spreadable pork salami paste) to add the perfect level of liveliness. There was also kale and salsa verde involved, and they were both excellent – I find kale a bit hit and miss depending on the cooking method, but it was a definitely a hit here.
The Crab Donuts were a fun concept – deep fried dough morsels split open and loaded with a finely chopped crab mixture and topped with Shrimp Salt but for me they failed a bit on flavour. The textures were lovely, but it needed something to lift it a bit. They were certainly pleasant enough (and we still ate them all!) just not outstanding.
I will definitely be back, and might even accidentally arrive early the next time I have to catch a ferry. Gorgeous Frenchman, freshly shucked oysters and bubbles – doesn't get much better in my books!