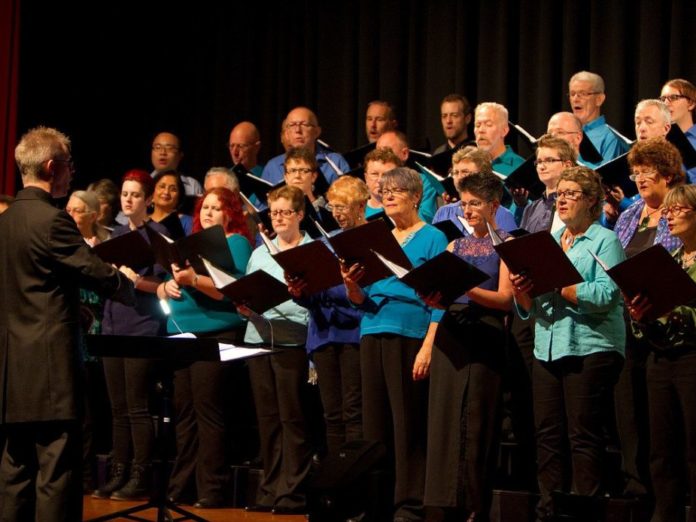 It was with a certain amount of fanfare and a lot of pride that the Gay and Lesbian Singers celebrated their 25
th
anniversary this year.
GALS was established in 1992 when dancer Michael Parmenter needed a choir for a performance in the Hero Parade and gathered a small group of singers for the job from the local community. The choir worked so well together that they decided to keep singing together and GALS was born. Currently, it has around 55 active members, with about 300 members of our rainbow community having passed through the ranks over the years.
As a voluntary secular organisation, it's all about the passion of sharing music, working together, and bringing joy to the hearts of their audience. GALS is a "non-auditioning" choir – which means anyone can turn up and give it a go.
Musical Director Michael Forbes says that this huge mix of diverse voices and talent provides part of the central character of the group, from those who've never sung before to music teachers and other professionals.
Everyone works together to bring out the best in each other, so they can relax, settle in, and find that their talents start to blossom. Of course, the choir has many roles other than singing and most performances require a small army of volunteers to do all the behind-the-scenes work.
There are even some members from those early days still going strong. It's a wonderful testimony to those core community values and so many members consider it an essential part of their lives, some have even commented that after dragging themselves to a practice after a hard day's work they find themselves revitalised.
GALS have performed in Sydney, Melbourne, Amsterdam, Dublin and extensively in New Zealand. The recent performance of The Street Requiem for their 25th anniversary, however, has been the most challenging project to date, involving five other choirs – Stellar Singers, Vox Pop, Jubilation, Viva Voce and the Auckland Street Choir. It was a massive exercise and executed superbly at the Auckland Town Hall, with proceeds going to Auckland City Mission, Lifewise, and RainbowYOUTH.
The social aspect is always paramount, and the tea break in rehearsals is sacrosanct! There are also a couple of camps throughout the year that provide a space for rehearsals, a chance to build relationships and a promote a real cohesion within the group. It's such a tight group that many friendships are formed and even the odd relationship blossoms.
Many LGBT+ people find it difficult to go to the bars and places normally associated with meeting others and socialising, so something like GALS provides a much-needed alternative. This isn't just for the oldies either. It's represented by all ages, providing cross-generational socialising in a caring and supportive environment.
If you happen to be free on a Tuesday evening and are looking for something different, enormously satisfying, therapeutic, and that brings joy to so many people, roll up to Pitt Street Methodist Church (at the top of Pitt Street), in central Auckland, 6:30 pm to 9 pm. You may just find your new family!
Check out their website for all the details – www.gals.org.nz
Article | Jim Majoram