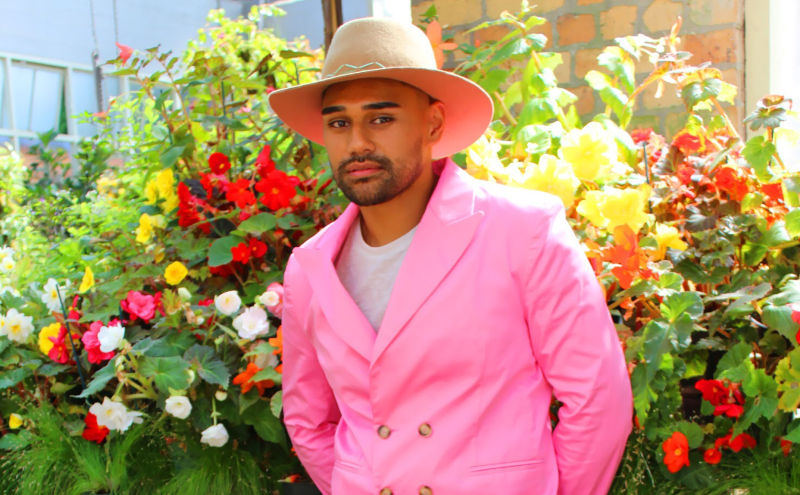 Nicholas Francis was crowned Mr Gay New Zealand in February. The single 27-year-old, tells us he hopes to improve understanding of LGBT+ issues in the Pacific community.
Tell us a bit about where you were born and how growing up was for you?
I was born in Auckland, New Zealand. At the age of 3, my family decided to move to Samoa to raise my brother and I. Whilst living in the islands I spent a few years in American Samoa, commonly known as Pago Pago and then moved to Apia the capital of Western Samoa where I lived in a small riverside house in Lelata.
It was important to my mother that her children experience life with our extended family and be immersed in the culture. It was a humbling upbringing that I am very thankful for as it taught me the fundamentals of respect, putting family first and to appreciate the smaller things in life. I was surrounded by cultural protocol and religion practice as that was a normal life in the islands.
When age did you come out and how was that experience?
I came out on Father's Day 2016 at dinner, when I told my dad and family that I was gay and also that my friend they have known for some time was actually my partner and that we had recently got engaged. It was a double whammy for a father's day present.
I couldn't have got a better response from him when he said that "it didn't change anything and I still see you as my son and I love you." He even welcomed my fiancé at the time as well because he was sitting at the dinner table.
What is your relationship status?
Currently single and still waiting for the right guy to swipe me off my feet. I'm a bit of a hopeless romantic so I don't mind waiting for the right person to come along.
What do you do work wise and what are your career aspirations?
I work in the insurance industry as a liabilities officer, basically, I take other insurance companies to court if we cannot reach a settlement. My career aspirations are to move into a more specialized team within the investigations and liability as I like the challenges.
What makes you good at your job?
I'm a people person so I know how to talk to different types of people from all kinds of backgrounds. I have a soft-spoken voice and people feel more confrontable talking to me and tend to work with me more willingly.
What do you do to relax?
I Like to listen to all types of music genres, I listen to music throughout my day at work and also in my free time and I believe a life filled with music is a happy life. I love to be active and I currently go to two gyms, Anytime fitness and Discipline Performance. One is for weights and the other is a cross between high-intensity training and a bit of CrossFit. I believe having an outlet to work off stress or listening to music to relax you is most important in this day in age as we live our busy lives. As these have a positive effect on our mental and physical health.
What inspired you to enter Mr Gay New Zealand?
I want to make a difference and people shouldn't have to feel indifferent just because they don't conform to what society perceives as normal.
I was hesitant to enter but my friend told me that the competition wasn't judged purely on looks but focused on the attributes a candidate possessed such as engagement, community outreach, public speaking, natural leadership ability, and mana.
I saw a real opportunity to make a difference and give back to my LGBTQIA+ community, as well as bringing the Pacific culture to the forefront and challenging the social and political bias that we face every day. Through my own experience in the Pacific community, there is a cultural divide and a stigma that homosexuality is a taboo subject shared over generations.
This mentality of 'don't ask, don't tell,' has been taught because of our traditions and beliefs. My key focus while in this role is to break the stigma and to keep the momentum of positive change for our future generations. To change these prejudices, there needs to be greater awareness and education of the LGBTQIA in the Pacific and other communities so that there can be informed discussions to lead and ensure people get access to the right services at the right time.
I want to make the most of the year I have ahead and do my utmost best to help and join forces with the brave individuals already on the journey to fighting for our rights.
How did it feel to find out you had made the final?
It was mixed emotions I felt happy that this could be the start of something great, but at the same time, I felt anxious. Could I be a good leader/ role model that would make the right choices and inspire others? I had to move past my doubts and start to think about how can I help my community and that this gave me the chance to focus on pressing issues that we face within New Zealand and the Pacific.
What was it like joining the other finalists on stage at the Ending HIV Big Gay Out and finding out that you had won?
It was a shock, to be honest, I felt that the other finalist were very strong and I wasn't expecting to have the honour to stand beside such great leaders. When they announced the winner my mind went blank just out of sheer shock and but an overwhelming sense of pride came over me, that my goal to make a positive change for my community and set a legacy for others to follow or inspire them to make their own as future leaders.
Had you felt confident going into the New Zealand final?
You have to be confident if you are wanting to be a person on a platform voicing your opinions and fighting for diversity and equal rights. I was confident that I had something to offer and I wanted to show that I am strong but very grounded.
You recently went to South Africa to attend the Mr Gay World competition – Tell us about that experience? and what was different about the Mr Gay NZ Competition compared Mr Gay World?
It was an amazing experience, a once in a lifetime opportunity that I encourage others to take part in and see through their own eyes.
Cape Town in South Africa was 9 days that consisted of waking up at 5:30 am and having a full day of events and finishing up around 1 am. My highlight of the trip was visiting the informal settlements of Khayelitsha. Seeing the cultural and economic divide humbles you and makes you realize that someone with so little can be rich in much more than money and material objects. This reconfirmed how much more we have to continue to fight to protect our community in our own countries but in our neighbouring counties that need our support and our platforms, to spread awareness and positive change.
The New Zealand competition I feel was more fine-tuned and focused on what an individual brought to the table in regards to their inner personal qualities that made them a leader compared to World. I was lucky enough to be in a group of like-minded men in New Zealand's competition, we shared a common goal and built strong friendships and respect that carries on to this day. It carried on when I went to compete in the Worlds meeting more amazing men that came to the table with their own individual stories of successes and failures from their countries. The delegates from the other countries made the competition into more of a leadership summit.
I believe that is where the competition should head towards and what it should be shaped around like in New Zealand. Bringing leaders from different continents to network and discuss what are the pressing issues we face in the LGBTQIA+ community worldwide and how we can start the momentum of solving them.
What do you hope to achieve with the Mr Gay New Zealand title?
I hope to start conversations that lead to action. I hope for equal rights for all our LGBTQIA+ people in New Zealand and the Pacific. I want to be involved and lead the process of changing policies and setting up groups in different communities within Auckland so that they can provide a safe place for our LGBTQIA+ people to interact and meet others to discuss issues, share stories and get the necessary support.
I believe knowledge is the most powerful tool a person can have and I intend to learn as much I can and share that through being present and involved. I believe that education starts at a young age and from the statistics we have in New Zealand the suicide rate for LGBTQIA+ youth are five times higher than their non-queer peers.
I am honoured to be an ambassador for the New Zealand AIDS Foundation and will work alongside them with future campaigns to raise awareness.
It's definitely a hands-on role as I want to get into the community and see what the core issues are and work with others to overcome our challenges. There is a lot of work to be done and I know it will not be easy but together great things can be accomplished. Using the great words of Martin Luther King, 'The time is always right to do what is right.'
How did your family react to your win?
They are very proud and supportive, I am lucky enough to be blessed with a family that are open minded and have a willingness to learn new things and change their way of thinking to be more accepting. When they found out about my win they surprised me especially in my Pacific side of the family as I have family members that are pastors and chiefs back in Samoa, they have given me well wishes and support if I was to come back to the islands in regards to spread awareness and educate.
Who are your heroes?
My heroes would be first and foremost my mum and dad, they have taught me how to be my true self and never be apologetic for what I stand for and how I hold myself. They have taught me to always to remain humble but stand proud and strong.
My other heroes would be the many people that fought for my right to be myself, my right to love whoever and marry anyone I want. Those individuals that fought hard for our freedoms we celebrate now in our LGBTQIA+ community I acknowledge and still hold them in very high regard.
What is the best piece of advice you've ever been given?
We have to learn from our past because if we don't we are doomed to repeat it in the future.
Are you living or are you existing?
---