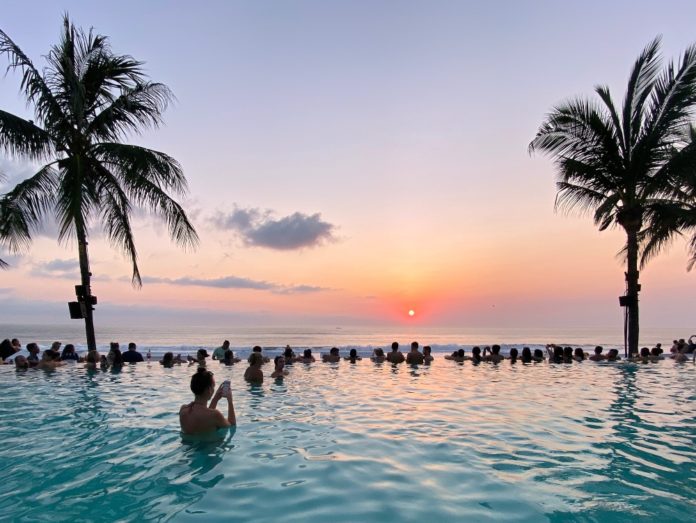 express experiences both sides of Bali from the hustle and bustle of sophisticated party-capital Seminyak to the chilled out vibes of Nusa Dua.
If you're after big nights out, parties by the pool and the chance to meet some new friendly faces you'll be hard-pressed to find a better spot than Seminyak, a tourist mecca affectionally known as 'the Sydney of Bali' for good reason.
Seminyak offers endless opportunities to discover fantastic food! With restaurants and bars every few metres, if you're after a detox holiday – Seminyak may not be the place for you.
Seminyak also boasts three of Bali's best gay bars, all located in close vicinity of each other.
Mixwell is well known for being Bali's most popular gay bar. It's the fierce drag shows, jock-strapped go-go dancers and friendly wait staff ensure everyone goes back for a second visit.
Before you hit Mixwell, however, pop into Face Bar (F Bar) also located on the Jalan Camplung Tanduk Arcade. It gets busy earlier than the others, and drinks are cheap so it's a great place for a pre-load!
Next door to F Bar is BJ's (Bali Joe)! Known for its comedy queens, the Nick Minaj and Rihanna impersonators are hilarious. Just avoid getting pulled up on stage, because you'll be lucky to leave with your underwear on!
Navigating Seminyak is best on foot or scooter as traffic is often at a standstill. Locals offered us scooter rides on almost every street; accept them at your own risk!
A stay in Seminyak would not be complete without experiencing the beach clubs. Our favourite was the queer-friendly Potato Head (51B Jalan Petitenget) located 15-minutes walk up the beach from the centre. It's designed to look like a coliseum and boasts two beach-front infinity pools and a swim-up bar. Get there early to secure a day-bed so you can fully unwind and enjoy the music and atmosphere.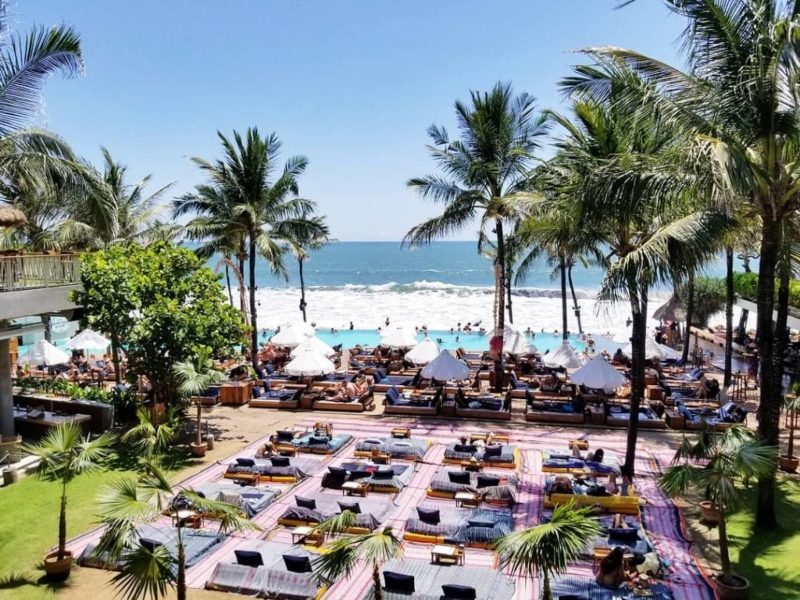 If you're looking to get off the beaten path and away from the shops, tourists and traffic, Benoa Bay in Nusa Dua could be just what the Doctor ordered.
Located 20 minutes drive from the airport, the Grand Mirage Resort and Thalasso Spa would play host to the chill out half of our holiday.
Despite the relaxed setting, there are still plenty of dining options with eight restaurants in the resort alone! We loved Ibu Kitchen or 'Mama's Kitchen' which serves authentic Indonesian food, like the famous sate skewers.
Located on Bali's quieter South Eastern coast there are incredible sight-seeing opportunities everywhere you turn. For animal lovers, we recommend day trips to the Sacred Monkey Forrest Sanctuary.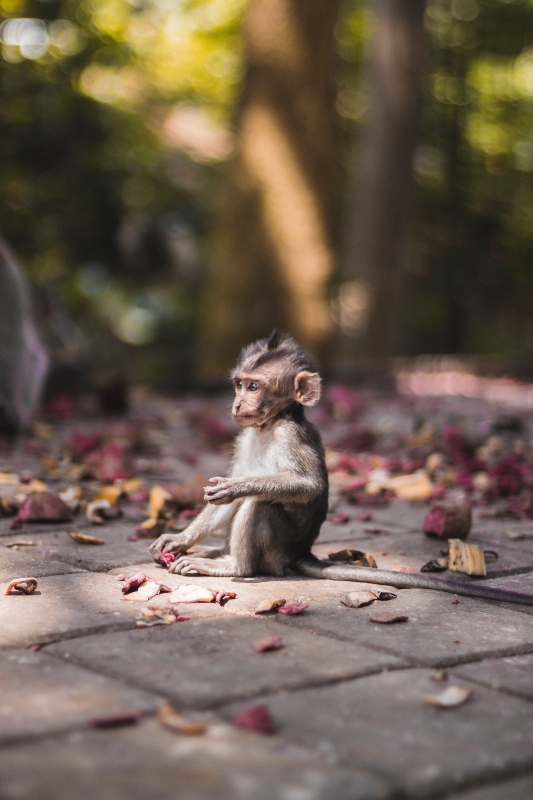 A stay in Benoa Bay is incomplete without a visit to the famous Omnia day club – which is a truly breathtaking venue. Perched on top of a cliff 100 metres above the Indian Ocean, it offers amazing panoramic views from the multiple infinity pools and if your inner party animal has begun to howl, their signature Saturday pool parties are a must!
---
With over 29 million listings across the globe, we took advantage of booking.com who made the process of finding the ideal spot simple, easy, and with confidence thanks to the rating system. We soon discovered the luxurious Grand Mirage Resort & Thalasso Spa in Benoa Bay.

booking.com are leaders in digitally finding your ideal place to stay and experience the world,  express stayed right on Seminyak beach at Pelangi Bali Hotel & Spa.