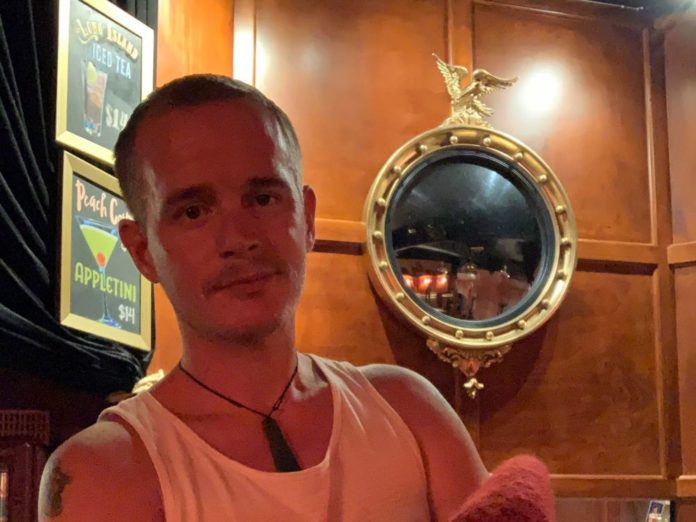 Owner & Operator of K' Road's Notorious Eagle Bar, Kurt Macintosh is spending his lockdown painting and touching up his bar. He tells us, "the first person that spills a drink after lockdown is going to get the filthiest side-eyes!"
Tell us about your Level 4 Lockdown – where are you? Who's in your bubble? And what are you doing to keep your mental health in check?
I'm on my own but I consider myself more fortunate than most. Our working area upstairs from Eagle is a converted flat, so I have moved in upstairs for lockdown where I can make myself most useful. I have everything I need: kitchen, bathroom… wine!
I've converted one of the video screens into a TV and set up a bed in the stockroom surrounded by booze. It feels a bit like camping!
On sunny days I take walks over to my apartment at the other end of my block to water the pot plants and get some vitamin D. My physical world might have shrunk and my social interaction is less than zero but I have plenty to keep me occupied and for that, I count myself lucky.
What are your top tips for express readers who are struggling with self-isolation?
I think it's important to check in with yourself to keep your moods in check. Often if you are feeling down or listless, it sucks out all the motivation and can end up spiralling into a deeper funk.
With all this time indoors, I'm trying to stay conscious when my body wants a little fresh air and sunshine to lift my spirits. If you don't have access to an outdoor area, maybe check what time of the day the sun hits your window and get as many of those good, good rays as you can.
Also, I'm making an effort to socially distance myself from my phone. I know social media is one of our saving graces right now but it's 24/7 bonkers at the moment and our poor brains need a break sometimes. I've also been taking advantage of the free Les Mills classes on TVNZ. I do Body Balance when I need to relieve some tension and BodyAttack when I need to use up energy and bewilder the neighbours!
Oh, I watched Tiger King on Netflix – watch it! It will cheer you right up to know that you are safely inside while those nutters are on loose out there somewhere!
What is the most positive aspect of self-isolation you've experienced so far?
As a business owner, lockdown is stressful. There's constant anxiety to want to get things up and running again and get everyone back to work. That said, it's been nice to have a moment to give attention to those projects that never get to the front of the priority queue. I'm currently painting plaster detailing and endeavouring to get the brick floor back to its original colour. The first person that spills a drink after lockdown is going to get the filthiest side-eyes!
What plans do you have between now and day 28 of lockdown?
I've been putting off learning how to cook for 37 years and initially I thought that maybe this was going to be the moment. I've managed to keep myself busy enough with 'my little projects' that I haven't had the chance. It's still baked beans and scrambled eggs for the foreseeable future!
I'm just happy taking it day by day and trying to appreciate the slower pace. I will make the effort to call my Mum more… we all need to make an effort to call our Mums more!
What are you missing most about 'normal life'?
None of my family live in Auckland and like a great many other LBGTI+ people, my tribe is the motley crew of weirdos I've accumulated along my way! They are my family and I miss them terribly. We do have our group chats though and have scheduled a Friday drinks video conference every week!
What will be the first thing that you can't wait to do when regular life resumes? Honestly? I predict that Grindr is going to crash on Independence Day! I've still been checking my messages, probably like most people chatting just to pass the time and the frustration is palpable! All this time actually getting to know people before hopping to it is really going to change the dynamics out there afterwards. That's going to be very interesting!
Moving forward is there anything you think you will change about your life following self-isolation?
I like the idea that this upheaval will make me less cynical and more open to possibilities. Watching the whole world change so dramatically in such a short period of time blows my mind.
Imagine two months ago if you made the argument that the economy must be stopped for the wellbeing of society? You've have been told to get real, but here we are.
I'm curious to see what unforeseen positive outcomes might arise and it makes me more confident that will be better equipped to deal with whatever is headed our way in the future.
As for me personally, as much as I would like to think I will try to maintain some of this slower pace of life, I'm sure I will be back to the busy, busy grind in no time. I can't help myself… but I will remember to call Mum more!
Is there a closing message you would like to share with our gorgeous LGBTI+ community?
If you are feeling anxious about isolation or pandemic, then I encourage you to reach out to someone older than you. Many people in the community came of age in a different world to the one we live in today and have faced social isolation and survived pandemic before. There's a wealth of life experience out there and listening to a different point of view might help widen your perspective. In my experience, a little perspective is the best weapon against anxiety.
Also, I know it's being hammered into us right now but I'm loving this "Be Kind" vibe. Kindness is even more infectious than any virus and it won't hurt us to keep passing around it. And lastly, always remember that a bottle of wine and your favourite album of all time will get you through today at least and tomorrow is a different and distant mountain to climb. Can't wait to see everyone again at the afterparty – we will have earned it!