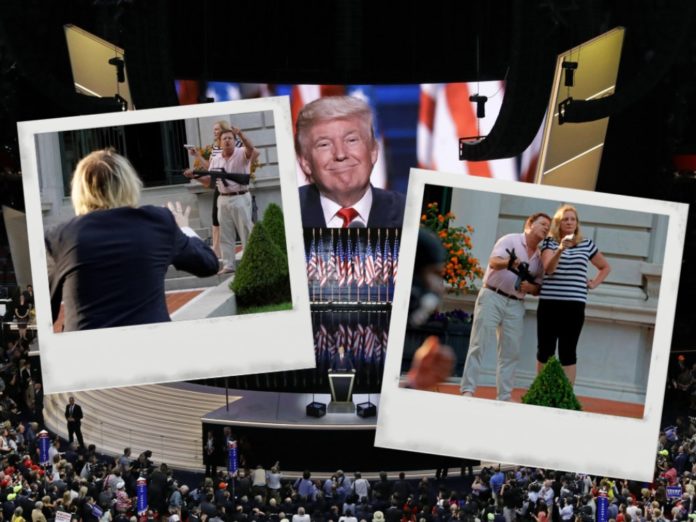 A Missouri couple, best known for pointing firearms at Black Lives Matter protesters outside their home have been confirmed as speakers at the upcoming Republican Party convention.
The duo who are both personal injury lawyers, Mark and Patricia McCloskey made headlines around the world following an incident in which they were filmed pointing guns at Black Lives Matter protesters from the steps of their home in Portland Place, Missouri.
Following the event where Mark McCloskey threatened Black Lives Matter protesters with an AR-15, they have since been confirmed by their lawyer speaking to the New York Times to be speaking at the Republican National Convention (RNC).
"They, like many Americans, are horrified, if not mortified, at the prospect of their constitutional rights being compromised by the constitutional rights of others … My clients will fight to their death and they have professionally done so for 30 years each," the couple's lawyer stated.
Following going viral for their aggressive and dangerous stance towards the protesters, it has since been reviewed (perhaps unsurprisingly) that the McCloskey's have also been accused of being "anti-gay," and homophobic.
According to the St. Louis Post-Dispatch, the duo once sued their neighbourhood's trustees demanding that they enforce a document known as a 'Trust Agreement', which prohibits unmarried people from living together.
During the suit, neighbours claimed that the McCloskey's only wanted to enforce such an agreement as they "didn't want gay couples living on the block."
additionally, following the McCloskey's unsuccessfully appeals in the case all the way to the state Supreme Court, the trustees voted to impeach Patricia, accusing her of being anti-gay.
Mark McCloskey, however, has since refuted the claims, and said: "Certain people on Portland Place, for political reasons, wanted to make it a gay issue."