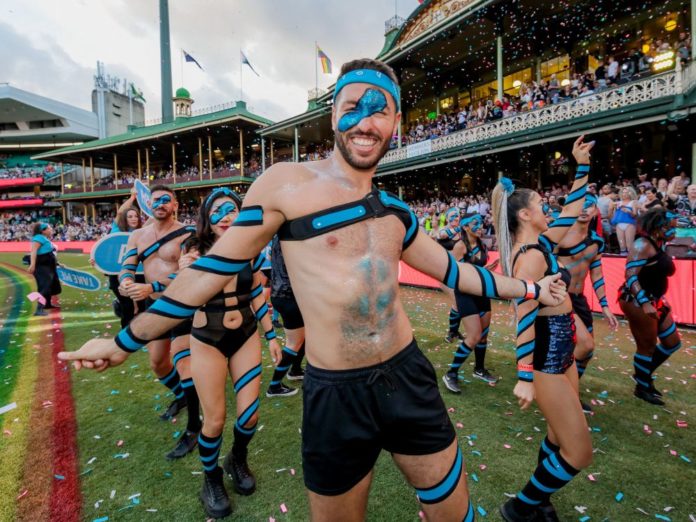 With COVID 19 restrictions changing the traditional Mardi Gras parade down Oxford street, Sydney welcomed in a new way to celebrate. Levi Joule reports from the event.
In the midst of a global pandemic and restrictions, the traditional parade down Oxford Street with 400,000 attendees was never going to be a realistic option.
Rather than scrapping the iconic event however as so many pessimists called for, organisers developed a plan to host the parade at the Sydney Cricket Ground (SCG) with ticketed seating for spectators.
I was sceptical it would work, but one would be hard pressed to find fault with how the event was delivered.
There were the traditional hallmarks of any Mardi Gras parade, the lights, the sparkle, the big money floats and incredible dance routines. Then there was the not so traditional, the stadium, the shorter parade route and the fact everybody got a comfortable seat to sit down in (there was not a milk crate in sight this year)
With a run time of just over three hours, there was diverse and colourful array of floats from community groups, corporations, police, political parties and cultural groups.
What makes the Sydney Gay and Lesbian Mardi Gras so special is its inclusivity. Not every float is to everyone's liking but that's OK because just as it is with the LGBT community, there is always something for everyone.
Respect is shown to all participants, attendees were there to have a good time celebrating our diverse community. There was protest in some floats, but they were all fun, it was a celebration and it was positive.
There were some limitations to hosting the event at the SCG, there were no motorised vehicles (with the exception of Dykes on Bikes kicking off proceedings as is tradition) but the venue also allowed for exciting new opportunities such as the use of video on the stadium's big screens.
When streaming channel Stan came in with a Rupaul Drag Race themed float, the screens played video revealing participants for the upcoming drag queens to a rapturous crowd cheering on the local talent.
Most impressive was the runway set up in the middle of the field for floats to have their moment on the big screen after they completed their lap of the field and before they left the stadium. A number of acts were able to sing and in the case of the Australia & New Zealand Tongzhi Rainbow Alliance, perform a haka.
Usually big-name acts are flown over to Sydney at great cost to perform at the Horton Pavilion afterparty, but with that not possible, this year, Rita Ora was the closing act of the parade performing a medley of her top hits to close the 2021 parade, something parade attendees never get to see.
A parade at the SCG is unlikely to be repeated and pandemic approval pending, Mardi Gras will likely return to its spiritual home on Oxford Street in 2022 as it probably should, but organisers of this year's SCG parade should take a bow.
Under difficulty and with no precedent set for such an occasion, they pulled off an incredible parade like no other. You simply just had to be there.