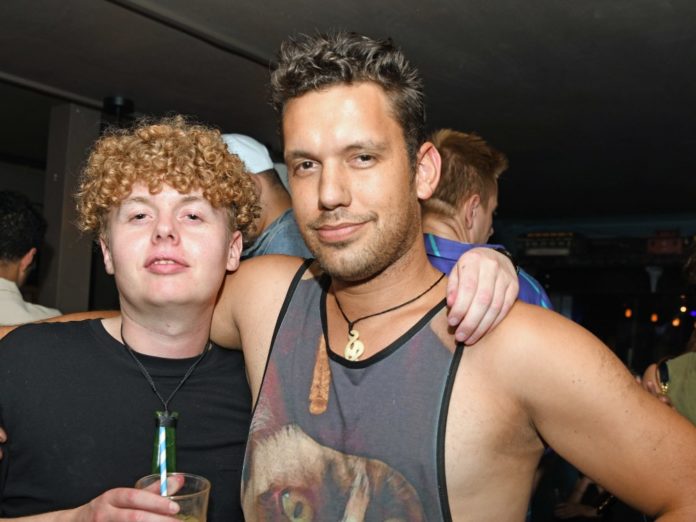 You can expect Auckland's G.A.Y nightclub to be busier than ever as manager Aaron Von Philippe steps back behind the bar after finding a resolution with the owner.
G.A.Y had become the city's hottest venue for Auckland's young (18+) gender-diverse rainbow community. Embraced as a safe space for all members of the LGBTI+ community with cutting edge drag shows and a welcoming atmosphere.
However, after being demoted for serious misconduct, manager Aaron walked out and many of the staff and customers followed, setting off a fire alarm as they left. Rumours had arisen the bar would no longer be a safe space with a new manager temporarily brought in.
A week later Aaron was joined by G.A.Y staff, performers, concerned community members and The Unite Union to protest outside Family Bar, which along with G.A.Y is owned by community stalwart Wayne Clark.
"I would like to apologise to Wayne Clark. I'm genuinely sorry it escalated to that stage," Aaron tells. "Wayne has owned numerous community bars over the years and has always supported our entire community wholeheartedly."
Looking to the future Aaron says, "my goal is to ensure there is a place for even our most marginalized to feel safe and welcome. I truly meant it when I said 'your home G.A.Y' and with the new resolution we have made, I am confident we can now move forward and keep G.A.Y as the vibrant inclusive home everyone who has walked down those stairs knows it to be."
Aaron hopes the example G.A.Y sets, will help all bars, "shift forward so that instead of safe spaces being the exception to the rule, they become the bare minimum of business standards."
Aaron will be back at the bar from Friday 28 May and intends to return with a splash. "We have some really exciting plans in the mix. Saturday nights will now be hosted by the trans BIPOC legend Trinity Ice and we have a great mix of new and familiar faces booked to entertain you. You won't want to miss it!"
"This has become about common goals, rather than disagreements. Wayne and I both value our community and want to support it to see it flourish!" Reflects Aaron.
"See you downstairs at G.A.Y!"
G.A.Y Auckland – Basement Level, 262 Karangahape Rd, Auckland. Gaybar.co.nz @gaybarnz