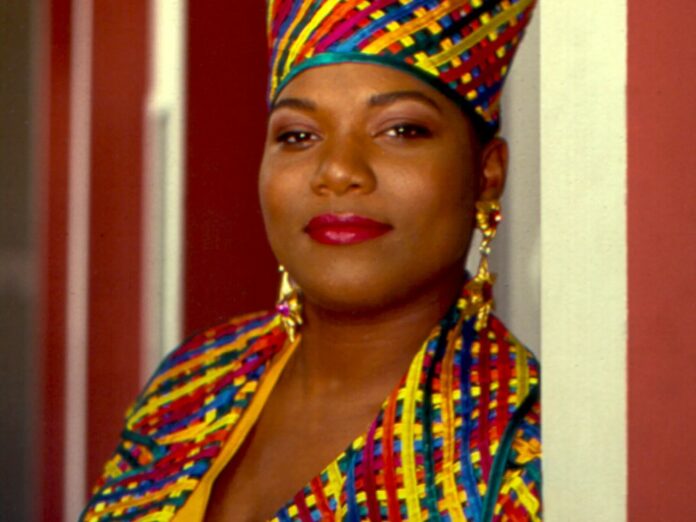 This is the first time Queen Latifah has publicly announced she's in a same-sex relationship.
Queen Latifah has apparently ended decades of speculation about her sexuality at the BET awards and acknowledged her rumoured decade long relationship with Eboni Nichols.
In the closing remarks of her acceptance speech for a Lifetime Achievement award, Queen Latifah (whose real name is Dana Elaine Owens) exclaimed "Peace – happy Pride" before making her first public declaration of affection to her rumoured long-time partner of nearly a decade.
"Eboni, my love," the Grammy Award winner said, touching her heart in salute of Nichols before also paying tribute to their son Rebel.
Nicholas works as a professional choreographer and has previously worked with a number of major artists from Beyonce to Jennifer Lopez, she also spent time as a cheerleader in the Los Angeles Laker Girls.
While the gestures at the BET award ceremony were subtle, they are significant for Queen Latifah who has refused to publicly comment on her relationship with Nichols before.
When asked about her sexuality in the past, Queen Latifah has shut down reporters. Speaking to The New York Times in 2009, she said "I don't have a problem discussing the topic of somebody being gay, but I do have a problem discussing my personal life."
"I don't feel like I need to share my personal life, and I don't care if people think I'm gay or not. Assume whatever you want," she went on. "You do it anyway."
In 2017 it was rumoured that Latifah and Nichols tied the knot in secret, however, neither have confirmed the nuptials.
The pair reportedly welcomed their son Rebel in 2019.