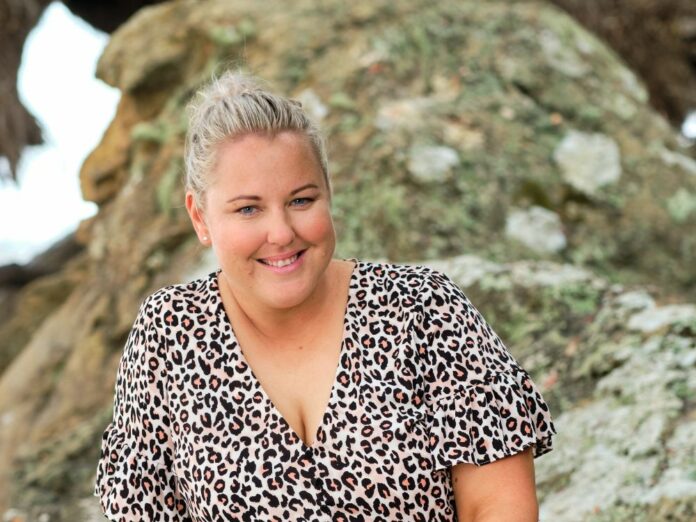 More FM DJ Lana Searle talks about her time on Celebrity Treasure Island, coming out in a small town, chemistry with Jason Gunn and sports commentary goals.
Lana Searle is wearing the cosiest looking turquoise 'Land Before Time' jumper when we meet at a trendy cafe close to her Media Works office. Our interview is part of a busy week, she has a dress fitting for her November wedding to fiancé Katie, not to mention her daily alarm that goes off at 4.07 every morning, to be part of More FM's The Breakfast Club.
On television, she has recently been eliminated from Celebrity Treasure Island after 21 days living on the beaches and bush of the far north. She assures that everything is as it looks on camera, tells me she lost nine kgs in those three weeks and describes it as "a life-changing experience."
Lana had been a fan of previous seasons of the show that were filmed on sun-soaked islands like Fiji and reflects that it was just her luck that she was cast on the season filmed on mainland Northland, not that far from where she had grown up.
"It was the weirdest thing starting because I didn't know who else was going to be on the show with me. I got to (Auckland) airport and was looking around to see if I could spot anyone and I saw Simon Bridges! And I went 'oh no, oh Jesus!' I couldn't see anyone else and all these flights were leaving and he was still there. Anyway, 10 minutes before my flight left, he got a call for a flight to Tauranga and I just thought, "thank you!" She says gesturing to the heavens!
When she arrived in Kerikeri, she began spotting the familiar faces of Chris Parker and Brynley Stent who would become her besties on the show.
Lana says she loved the experience but admits it was hard going.
"The crew would leave us with just a go-pro at night and come back in the morning. We were just eating beans and rice and I would always ask the crew what they had for dinner the night before. All the cast were like, 'no! We don't want to hear it', and I would be like, 'was it lasagne?' The crew would say it was just some stale old steak, and I would think, 'I love rubbery steak!' That's how hungry we were."
Hunger aside, the grounding experience of competing on Celebrity Treasure Island is designed to make everyone question their perspectives. "I remember the Director telling us the night before we started, 'This is life-changing! People come back and split up with their partner and move cities because they learn so much about themselves without all the noise," Lana tells us, noting, "even my sight got better from not looking at my phone and screens at work."
Lana was born and raised in a small town outside of Dargaville. She was one of four girls and had a huge extended family – her father has 17 siblings, her mother five. She says she now realises, just how poor her family were, but has nothing be good memories of growing up. Her decile one school even had a horse (called Couch) which they could occasionally ride to school
At sixteen a chance opportunity saw her score a presenting job at her local radio station. Getting paid $13 a day to work the 6am till 8.30am shift before heading to high school.
"If I had to go back and listen to what I was doing back then! I would die. I would do anything to delete any evidence," she laughs.
University in Wellington followed and more radio jobs took her to Oamaru, Whangārei, Christchurch and Hamilton, but her coming out journey was affected by watching an older cousin's experience with small-town mentalities.
"I had about 100 boyfriends!" She laughs remembering her teenage years. "And the struggle, when your father is one of 18 is finding someone in a town of 4000 you're not related to!"
"I had a cousin in Dargaville who I just thought was so cool. She surfed, played basketball and in her later teens had cool cars. I always used to want to be like her, until I found out she was gay in the early 2000s and saw the kickback from everyone. I remember thinking, "does this mean I shouldn't think she's cool?"
"People would refer to her by certain names, not to her face but, behind her back and it all just felt like a no-go. Not for me."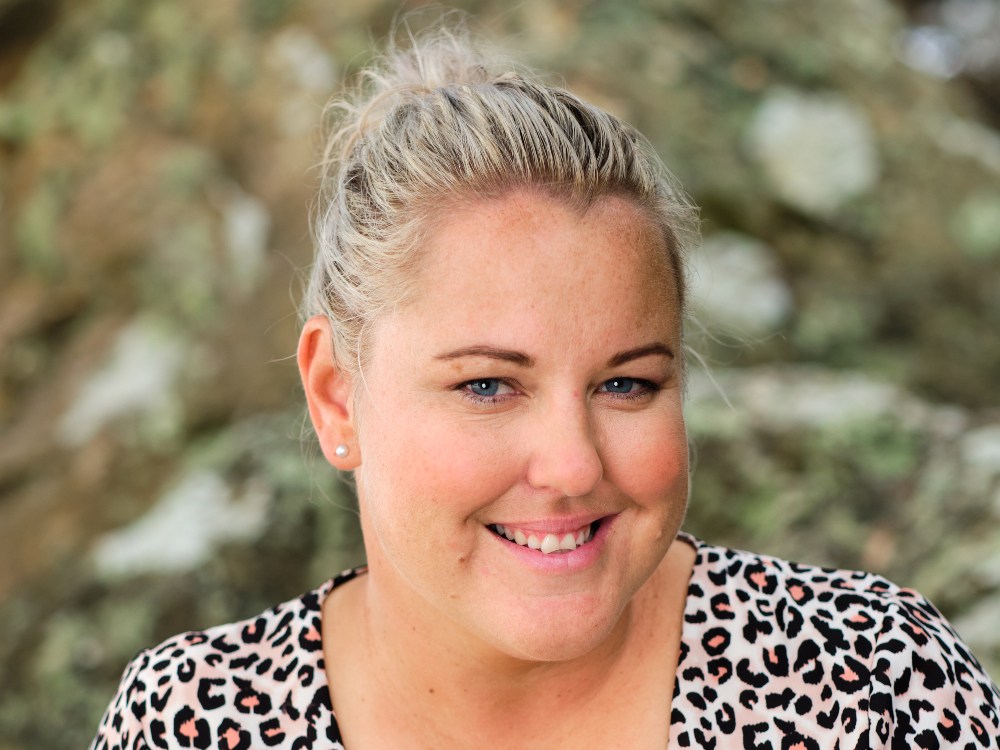 Lana came out in her early twenties, having moved from Christchurch to Hamilton. "Seeing the Christchurch earthquakes taught me how short life was. It made me realise not everywhere's a small town where your dad might not want to go to the pub because of what people might say," she says adding that her pioneer cousin is now a great friend and even introduced Lana and fiancé Katie.
"And they hadn't slept together! So that's the main thing!" She adds with a giggle.
As we talk about her radio career it is obvious the fondness Lana has for her five years as an on-air duo with Jason Gunn.
"I still see him all the time," she confesses, telling us he is still one of her best friends and describing the decision by radio management to split the on-air pair as 'heartbreaking'.
As a listener, the chemistry and humour Lana and Jason shared on-air at the time was only rivalled by the hugely successful Mai FM Morning Crew.
"You either have it or you don't, you just can't fake it," says Lana, when asked about the secret to creating that chemistry. "Jason and I, shouldn't have worked but it did… I sort of came out on-air with Jason too. There was no big 'she's gay' moment but we just started slipping it in," she remembers.
They were however a tumultuous five years. Lana got engaged and then went through a breakup, all while experiencing harrowing health issues.
"It all started because I had bad skin which doctors thought was hormonal, so put me on the pill. It made things worse and my legs started to swell. A Google search told me I might have blood clots and suggested taking an aspirin. I did, and within an hour I had collapsed bleeding out my nose and everywhere else. My partner at the time came home and found me on the bathroom floor (I had hit my head on the toilet) covered in blood."
"Many hospital trips and blood transfusions later, I decided to save my eggs and have a hysterectomy. I have had a must healthier life since."
This all happened throughout the second half of my time with Jason Lana say he really picked me up, even when she was constantly exhausted. But Jason had his own health issues, firstly suffering a heart attack and later breaking his back.
Management decided to repair Jason with Jay-Jay Feeney, while Lana was moved to The Breakfast Club with Simon Barnett and Gary McCormick.
"They were probably worried we were both going to die, live-on-air on the same day," jokes Lana. "We were an absolute nightmare, but it did make great radio!"
I wondered if experiencing such a health scare would have put Lana off Celebrity Treasure Island's extreme diet and rough sleeping, but she assures me it was quite the opposite.
"That whole health journey prepared me for any form of adversity! If I can work through one of my best friends having a heart attack and breaking up with my fiancé; I knew I could face anything the show could throw at me."
In fact, the experience has made her want to pursue further TV work, with a dream goal of becoming a sports commentator.
"With the exception of netball, most sports are now getting a female in there for balance. But it's generally to talk about who's gotten injured and what the weather's doing ahead of the big game, not following the plays and telling people what's happening. And that's how it used to be on Radio. Women were first on radio to report the gossip and be a laugh track for the men's jokes. But Radio is about 30 years ahead of TV and I think it's time for a change!"
Imagine how fun it would be to hear the anecdotal colour Lana's commentary could bring to the likes of a League game, particularly if she were paired with Jason Gunn!
Celebrity Treasure Island drops new episodes at 7.30pm every Monday, Tuesday and Wednesday night on TV2 and OnDemand.
Check out Lana Searle on More FM's The Breakfast Club from 5.30am every weekday.