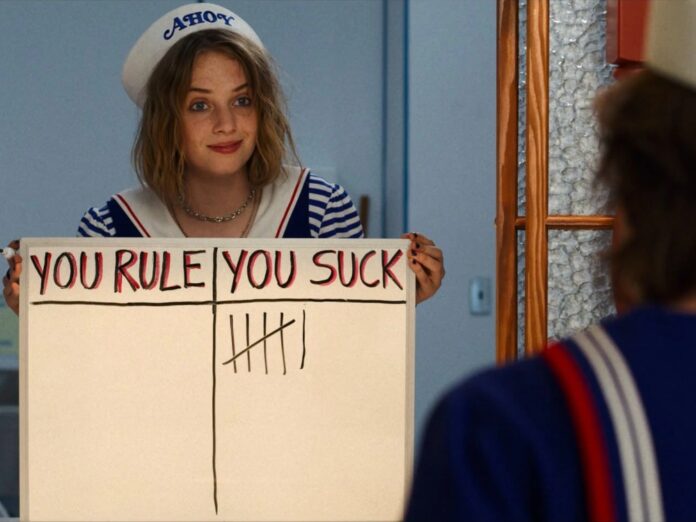 Maya Hawke, best known for her role as Robin Buckley on the hit Netflix series Stranger Things, has opened up about playing an openly queer character and how LGBTQ+ representation on-screen is more important than ever.
Speaking with SFX ahead of the upcoming release of the fourth season of Stranger Things, Hawke spoke about a wide range of topics, including distancing herself from audience criticism and the importance of LGBTQ+ characters in sci-fi.
"I try to stay out of the feedback loop as much as possible," she said. "I'm super-sensitive, and it really affects me when it's bad. You kind of try to keep doing your work without being too influenced by whether or not people like what you're doing.
"The feedback from me has been very positive feedback from my audience of one."
Hawke's character Robin became the first in the series to come out as queer, something Hawke says is "really important."
"I'm really enjoying getting the opportunity to voice Robin and live in that world and be an LGBTQ character whose identity isn't… the story that Robin gets to be a part of isn't necessarily an LGBTQ story."
"It's this adventure story, just like everybody else, her queerness is just a kind of aspect of her personhood. That feels really special to me," She adds.
"There should definitely be stories about queerness and gayness and explore that and express it, but also, there should be gay characters and stories that are sci-fi action stories. That feels really important to me."
The upcoming fourth season of Stranger Things is scheduled to be released worldwide exclusively via Netflix's streaming service in two volumes, with the first set for May 27, 2022, and the second five weeks later on July 1, 2022.