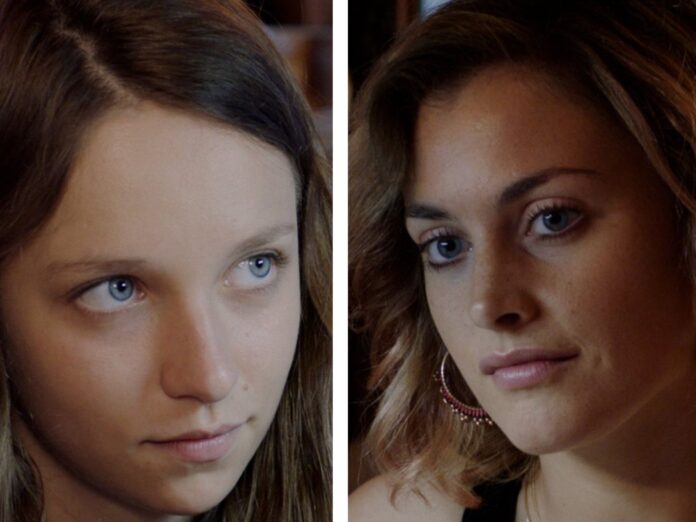 Coming out will drive you crazy in Rialto Channel's chilling lesbian thriller Make Up which premieres at 8.30pm on Friday 15 July!
Ever feel like you're being watched? That's the feeling Writer & Director Claire Oakley weaves throughout Make Up – a remarkable, eerie and unsettling directorial debut that can be found at the halfway point between Johnathan Harvey's Beautiful Thing and David Finch's Mulholland Drive.
Oakley refers to it as a 'meditation on sexual awakening, inspired by a dream she once had. "I was following a woman through maze-like streets, never quite able to catch up with her," she says, explaining Make Up is a suspense-filled and dream-like unravelling.
In Make Up, we follow Ruth (Molly Windsor), a down-to-Earth wide-eyed teenager who is about to move in with her boyfriend for the first time when the two work together at a seaside holiday park. It should be the Summer of Ruth's dreams, but out of her comfort zone, the world begins to feel like a strange place – filled with visions of a red-headed woman, who seems to have answers to questions Ruth didn't even know she was asking.
Molly Windsor gives a nuanced performance as protagonist Ruth cautiously takes small steps toward adulthood and sees her world for what it is. She is backed by Lisa Palfrey, who gives an exquisite turn as the eccentric park manager, Shirley. With just a flick of a side-eye, she turns Shirley from comic relief to an unsettlingly menacing presence, calmly whispering lines like, 'I don't sleep in Summer.'
While Shirley denies the red-haired girl's existence and boyfriend Tom (Joseph Quinn) feels emotionally distant, the key to unlocking all Ruth's questions seems to be Jade (played by Stephanie Martini). Everything that Ruth is not, confident, empowered Jade has a bad reputation with the boys, yet doesn't seem to care. Martini does an excellent job of making Jade subtly seductive and alluring, without being overtly sultry or provocative.
Director of Photography Nick Cooke smoothly juxtaposes scenes of the rugged and beautiful coastline with the clinically uniform layout of the caravan park to give an unnerving air of how far Ruth is from what she knows. And that remote ambience is further enhanced by composer Ben Salisbury's (Ex-Machina) haunting score.
And just when you feel like Make Up's mystery may be going over your head, don't be surprised if you're left with scratch marks down your back following an unexpected lesbian shower sex scene! Think hard nipples, soap-sudded skin and steam for days!
"I wanted to write something for anyone who has surprised themselves with feelings that they didn't think belonged to them or anyone who has wanted something they didn't think they should want," says Oakley, acknowledging her winding mystery can be interpreted in many different ways.
Like Jade, the Rialto Channel will seduce you without resorting to cheap titillation. As well as Make Up's premiere July's highlights include: comedy Queen Bees, which rewrites the patriarchal rules of growing old gracefully; romantic French musical Annette, which won Best Director at the Cannes Film Festival; and charming local doco, James and Isey, about a 99-year-old Northland mother looking back on her life.
The commercial-free Rialto Channel is 100% New Zealand owned and programmed and is based in Auckland. Experience high-quality independent films and documentaries that will inspire, inform and entertain you. From international winners to films made in NZ's own backyard, you'll find them all at Rialto Channel. Rialtochannel.co.nz