A journalist, playwright and film writer – Aroha Awarau's words have made his dreams come true. From film and theatre awards to interviewing Oprah Winfrey! He talks to Oliver Hall about coming out to his mother on her deathbed, mentoring Black Creatives Aotearoa and never giving up on your dreams.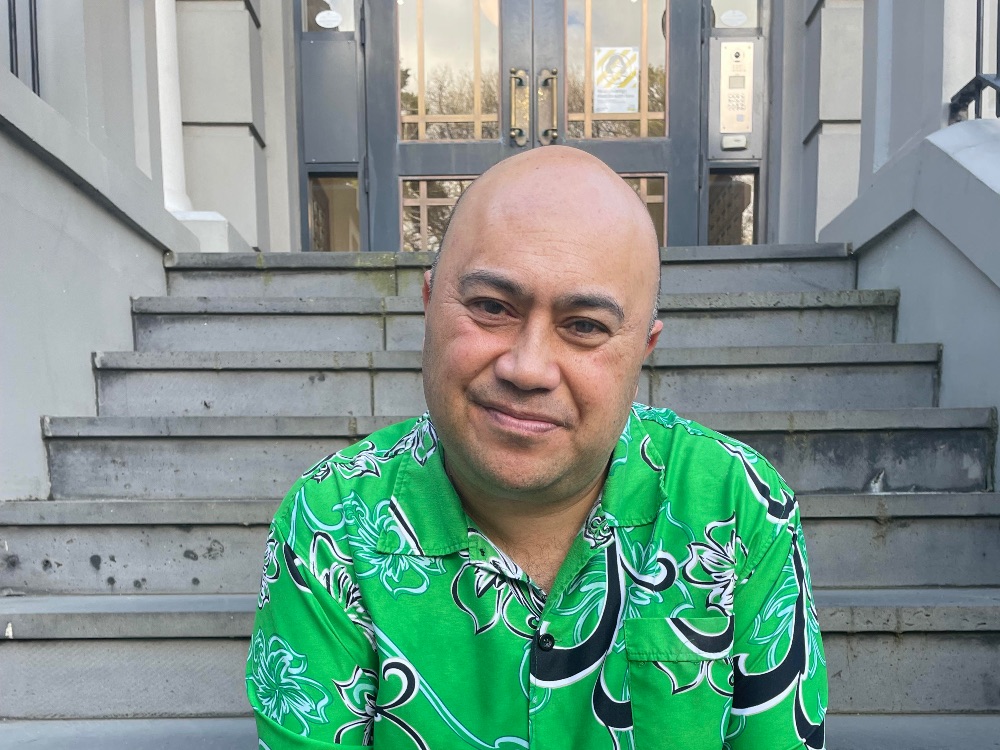 You were born and raised in Taranaki. How was that experience for you?
I grew up in Hawera and spent my whole childhood planning my escape. Although Taranaki is where my whenua is, I felt it was very claustrophobic for someone like myself, a gay creative spirit who knew that there was something bigger for me. My mother, so loving and accepting, made it bearable to live my life in Hawera. She supported my creative endeavours. At 7, I auditioned for the local production of Oliver singing "Let Me Be There" by Olivia Newton John, with my mother accompanying me on her ukulele. She was the one who encouraged my writing. She pushed me to enter my first short story competition at 13. When I won, it gave me the confidence to know that I could carve out a career as a writer. My mother died when I was 15. There was nothing keeping me in Hawera, so I left to pursue my dreams.
Did you have a coming out experience?
I came out to my mother on her death bed. At the time, I wasn't ready to come out to the world, but my mother had an aggressive form of stomach cancer and only had a short time to live. She was deeply religious, a devout Catholic. I knew I was gay and that I would eventually come out of the closet in my later years but felt compelled to tell my mother before she died. I remember walking into her bedroom. She was very ill at this stage and barely had any energy to speak. I was so scared and extremely nervous. I wasn't ready to admit to myself that I was gay, let alone come out to the one person that meant the world to me during her final days. I couldn't find the words to tell her. I was crying and shaking. I couldn't find the courage to say: "I'm gay". My mother saw her child suffering and held my hand and conjured up all her energy to tell me: "Don't worry. I know – and I love you."She was a mother first before she was a Catholic. She she was determined to appease all of my fears and worries. I later came out to the rest of the world in my 20s. Knowing that my mother gave me her blessing, enabled me to lead a full and authentic life.
You interviewed Oprah Winfrey for Māori Television in 2019. How did that opportunity come about?
You don't get to interview and spend time with Oprah without believing in the things that she believes in – like believing the universe provides you with what you put out there. I became an Oprah fan when I was nine, ever since I saw her act in the movie The Colour Purple, playing a defiant black woman who refused to let the abusive men in her life beat her down. As a gay boy living in Hawera, her character was so inspirational that it helped me get through all of the tough times in my childhood. When she became a famous talk show host and journalist, I wanted to be just like her. That's what inspired my journey towards becoming a journalist and storyteller. When I read that she was In New Zealand for two weeks to film A Wrinkle in Time in 2019, I had this spiritual connection and knew we were meant to meet, and I was supposed to interview her. So, I willed it to the universe, and I even created a vision board because that what Oprah would do. Five days after I sent an email to request an interview, I got a call, granting me the only NZ TV interview with Oprah. It was the pinnacle of my career – and life!
What was the experience of meeting Oprah like?
It was an out of body experience. She's my idol. Someone like me meeting Oprah would probably be like a Christian meeting Jesus. There's no rulebook telling you what you should do when you meet your idol. Also, I not only met her, but I was interviewing her in a medium that made her one of the most powerful and influential women in the world. Believe it or not, this was the very first TV interview that I did. So, imagine your first-time interviewing someone for TV and that person is Oprah Winfrey! It's mind boggling. I was on auto pilot and am surprised that I didn't faint on the spot. But I got through it.
What was the biggest pearl of wisdom Oprah shared with you?
What I loved about Oprah, was that she was present, and humble and didn't demand to see the copy or veto any of my questions. I was free to ask her anything that I wanted. I've interviewed many international and local celebrities and at times, some expect control and approval over the story. Oprah was an utmost professional and didn't set any of those expectations. In hindsight, she could tell I was nervous, and she was calming and comforting towards me. She's also a touchy-feely person – we hugged many times!
Tell us about Po Boys and Oysters?
Po Boys and Oysters is a black queer play about two lesbians living in Auckland wanting to adopt. I came on board to be a 'dramaturg' – a mentor to playwright, black queer writer and actress, Estelle Chout, who is from Martinique and now calls Aotearoa home.
What is your personal connection to this play?
The play is the first production coming from the group Black Creatives Aotearoa (BCA), which was founded by my dear friend, Dione Joseph. She reached out and asked if I could be a mentor to many of the writers in the group. Estelle was one of those writers and I helped her with Po Boys and Oysters. BCA is a collective of more than 600 members of black New Zealand artists originally from African and Afro-Caribbean countries. The range of talent within the group include playwrights, chefs, entrepreneurs, hair braiders, rappers and visual artists.
Why should express readers be buying tickets to Po Boys and Oysters?
Po Boys and Oysters is the first NZ play to tackle the black queer experience in Aotearoa. The play deals with family dynamics, a clash of class, politics and cultures and the challenges for a same sex black couple yearning to adopt a child.
What other exciting projects do you have coming up?
My short film, Disrupt, directed by my good friend, Jennifer Ward-Lealand, is currently travelling to various international film festivals, having just won awards at the Wairoa Film Festival and the Puerto Rico Film Festival. It tackles the issue of P addiction within Aotearoa. I shoot my short new short film in January, which will be my directorial debut and I have various TV and theatre shows and films in development, so watch this space!
Po' Boys And Oysters plays at Auckland's Basement Theatre until Saturday 8 October. Tickets from basementtheatre.co.nz