With unique parties, parades, outdoor celebrations, and special discounted flights, it's time to celebrate pride in Hawaiʻi this October. YOUR EX has all the details.
Honolulu Pride Month is just around the corner, promising a vibrant celebration of love, diversity, and inclusivity. Mark your calendars for the highly anticipated "Rooted In Pride: Homecoming" event on Saturday, October 21, 2023.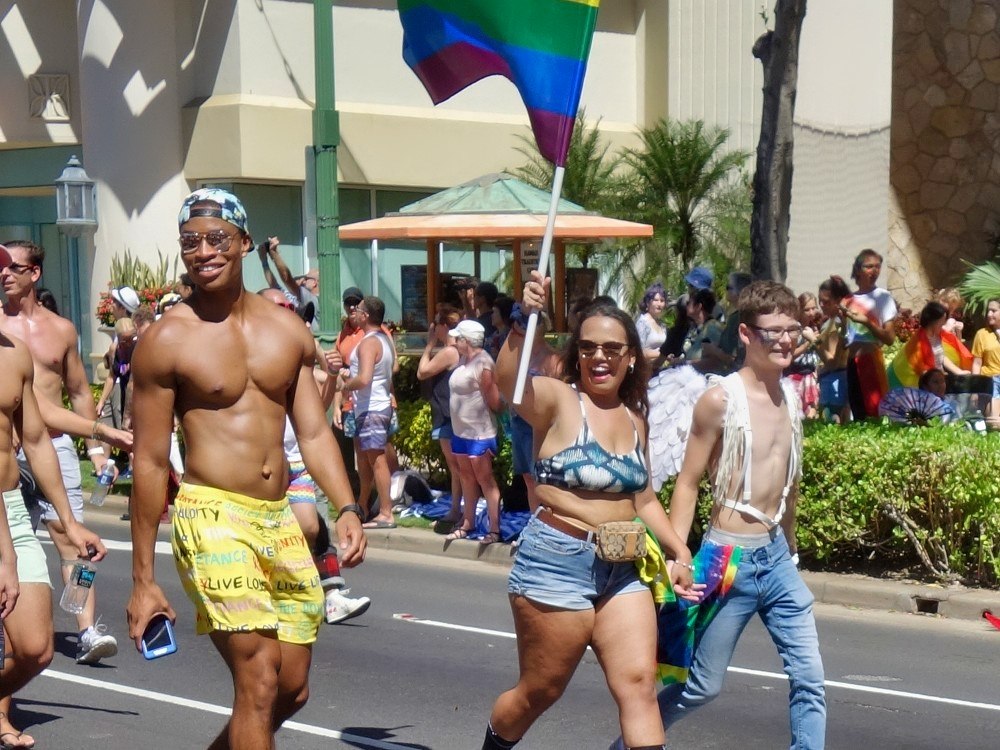 This annual extravaganza in Hawaiʻi's largest city, Honolulu, is scheduled to align with LGBT History Month, National Coming Out Day, and Spirit Day. Honolulu Pride Month spans four weeks and offers a rich array of community events, parties, cultural gatherings, educational activities, and more. The festivities commemorate the spirit and resilience of the local rainbow community while fostering unity and acceptance. With each passing year, Honolulu Pride grows in scale, attracting locals, visitors, and allies from all walks of life.
Booking flights to Honolulu couldn't be easier thanks to Hawaiian Airlines – who, for a limited time, are offering 7% off, meaning return economy flights for Honolulu Pride start at just $1023 (departures between 12 October to 11 November).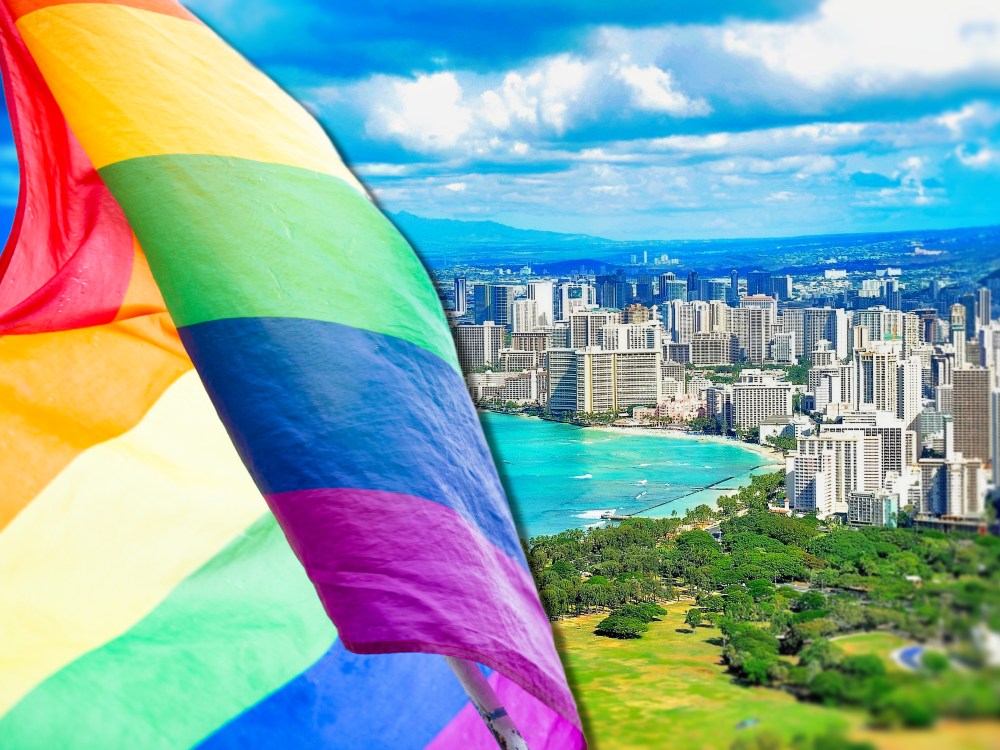 One of the highlights of Honolulu Pride is the colourful and exuberant Honolulu Pride Parade. Drawing over 30,000 spectators and featuring 60 parade entrants, 115 moving units, and 1,500 participants, the Parade has become increasingly lively and festive over the years, and 2023 looks to be the biggest yet! Kicking off at 11am from Magic Island, the Parade traverses the heart of Waikīkī along Kalakaua Avenue and concludes near Kapiolani Park. This eagerly anticipated event occurs on the third Saturday of October and serves as the grand finale of the two-week celebration dedicated to Hawaiʻi's rainbow communities and their allies.
Following the Parade, the Pride Festival Day takes place at Diamond Head Greens, adjacent to Kapiolani Park. From 11am to 8pm, attendees can revel in live entertainment, captivating shows, and a full program of events. The after-party attracts more than 4,000 partygoers, creating an electric atmosphere of celebration and joy. Honolulu Pride also encompasses a series of lively parties and engaging events, including the ever-popular White Party, Black Party, and various pool parties, so break out your speedos.
Additionally, watch for special projects like "Rainbows Over Waikīkī," featuring 150 rainbow banners adorning the heart of Waikīkī for two weeks before the festivities. While the gay bars in Honolulu are conveniently concentrated in the Waikīkī tourist district, those seeking the city's only dedicated gay dance club, Scarlet Honolulu, will find it downtown.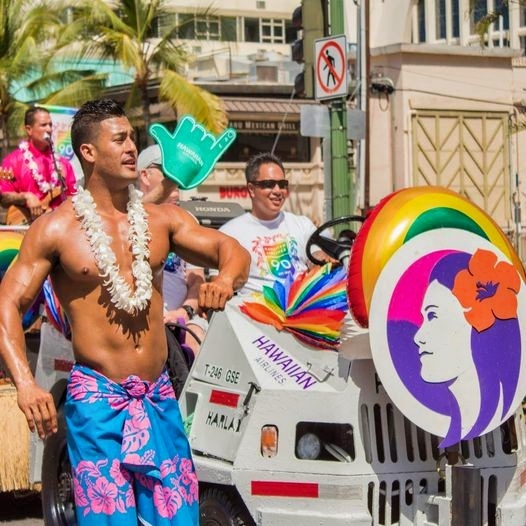 For beach enthusiasts, Queen's Surf Beach stands out as the most popular gay beach in Hawaiʻi, known for its stunning beauty and worldwide recognition. Located in the heart of Waikīkī, this relatively secluded stretch of sand offers a more private setting without direct hotel frontage. As a result, you can enjoy the beach's tranquil ambience with a predominantly gay male crowd.
Prepare yourself for an unforgettable celebration of love, acceptance, and self-expression at Honolulu Pride. Join in the festivities, embrace the welcoming spirit of the island, and make memories that will last a lifetime.
Honolulu Pride: "Rooted In Pride: Homecoming" awaits your presence! Get 7% off return economy class fares on Hawaiian Airlines Auckland to Honolulu—departures 12 October to 11 November 23, subject to availability.
Things to do while in Hawaiʻi
The most rewarding trip is the one that gives back. Some ways to get involved are:
Plant a tree at Gunstock Ranch
Kualoa Ranch Mālama Experience
Multiple activities via Travel2Change: O'ahu Archives – travel2change
Pearl Harbor Top of the Tower Tour
The Top of the Tower Tour is a once-in-a-lifetime experience featuring the Pearl Harbor battlefield from the iconic Ford Island Control Tower. A silent witness to the December 7, 1941 attack, the tower is now open to the public for the first time in decades, memorialising our Greatest Generation and the "day which will live in infamy."
Take a trip to the North Shore
A journey to the North Shore of Oʻahu offers an exceptional opportunity to engage with the quintessential essence of Hawaiʻi's diverse landscapes and cultural milieu. Distinguished globally for its iconic waves, the North Shore stands as an unparalleled haven for surf enthusiasts, providing a platform for witnessing the mastery of the sport at renowned sites like Banzai Pipeline and Sunset Beach.
However, the region's appeal transcends its surf identity. The town of Haleʻiwa, an artistic enclave, beckons with its galleries and boutiques, while the gastronomic delights of the area's famous shrimp trucks are a culinary expedition in themselves.
Complementing these experiences, Waimea Bay and Waimea Valley cater to outdoor enthusiasts with opportunities for hiking and immersion in verdant surroundings. In its entirety, the North Shore encapsulates a harmonious interplay between adventure, cultural enrichment, and natural beauty, elevating it to a destination of unassailable allure.
Visit the Polynesian Cultural Center
The Polynesian Cultural Centre stands as a testament to the rich tapestry of the Pacific's diverse cultures. This remarkable center offers an immersive journey through the traditions, artistry, and heritage of Polynesian nations, providing visitors with an unparalleled opportunity to engage with the authentic practices of Hawaiʻi, Samoa, Tahiti, Fiji, and more. From captivating performances and interactive exhibits to hands-on activities and traditional cuisine, the Polynesian Cultural Centre serves as an invaluable bridge between past and present, fostering a deeper understanding of the region's captivating history and enduring legacy.
Shopping on Oʻahu is a diverse and vibrant experience that caters to every taste and preference. From luxury brands to unique boutiques, the island offers an array of shopping destinations. For those seeking high-end fashion and international labels, the Ala Moana Center, one of the largest outdoor shopping malls in the world, presents an impressive selection.
If you're looking for a more local and eclectic vibe, head to Chinatown, where you can explore art galleries, handmade crafts, and a range of local products. Don't miss out on Kalākaua Avenue in Waikīkī, where designer boutiques and flagship stores line the street, providing a mix of high fashion and authentic Hawaiʻian finds.
To support local artisans, visit the Kaka'ako neighbourhood, known for its vibrant arts scene and indie shops or head to House of Mana Up, which spotlights a dynamic community of Hawaiʻi-based companies offering a variety of products, from food and fashion to home goods, beauty items, and art. These products not only showcase the richness of Hawaiʻian ingredients and cultures but also drive local employment, sustainable agriculture, and a thriving entrepreneurial spirit.
Get ready to dive into the world of Kō Hana Hawaiʻian Agricole Rum on Oʻahu – it's not just a drink, it's a whole journey from farm to bottle. They're all about crafting top-notch rum, starting with growing special types of sugarcane that they hand-pick and turn into juice, and then work their magic to distill it to perfection. Each kind of sugarcane they use has its own story and flavour, and at Kō Hana Distillers, they're all about celebrating and respecting the sugarcane they get to nurture and grow. So, if you're up for a real taste of Hawaiʻi and a sip of its history, visiting Kō Hana should be on your list.
ʻIolani Palace stands as a symbol of Hawaiʻi's historical and cultural significance, located in the heart of Honolulu. This architectural masterpiece served as the royal residence for Hawaiʻian monarchs during the kingdom's era. With its grand Victorian design and opulent interiors, the palace exudes a sense of regal elegance that transports visitors back in time. As the only royal palace in the United States, ʻIolani Palace holds a unique place in American history. Its meticulously restored rooms, lush grounds, and the stories they hold offer a glimpse into the rich heritage of Hawaiʻi and its royal legacy.
Sign up for a surf lesson
Surfing was born in Hawaiʻi and is deeply intertwined with its history and culture. If you dream of riding the waves, there's no better place to learn how to surf and truly commune with the ocean. A few great operators are:
Surfing Lessons in Waikīkī | Star Beachboys
Waikīkī Beach Services | Surf Lessons and Waikīkī Beach Rentals
Faith Surf School | Board Rentals & Surf Lessons Waikīkī
Where to stay
Waikīkī Beach Marriott Resort & Spa
Indulge in a lavish getaway to Honolulu, Hawaiʻi, at the recently refurbished Waikīkī Beach Marriott Resort & Spa. Situated on Waikīkī Beach, adjacent to Diamond Head Crater, the resort introduces the newly unveiled Queensbreak amenity deck, an expansive outdoor recreational area among the largest in Waikīkī. Every aspect that renders Waikīkī an exceptional and captivating destination is commemorated at the resort's Paina Waikīkī Luau— a unique dinner party luau setting where the vibrant stories of Waikīkī's legendary eras come to life.
OUTRIGGER Waikīkī Beachcomber Hotel
From the Hawaiʻian art and photographs decking the walls to the artisan eats and locally made beer, Outrigger Waikīkī Beachcomber Hotel will immerse you in the spirit of Waikīkī. Inspired by local influencers and artists, the Beachcomber Originals, this craft hotel was created with an island vibe and is the perfect place to sip a Mai Tai and soak in the energy of aloha.
Surfjack Hotel & Swim Club
With its retro-chic style and LQBTQ+-friendly atmosphere, this boutique hotel offers a unique experience. It features stylish rooms, a pool, a restaurant and hosts LGBTQ+ events throughout the year. Positioned on Lewers Street, the location grants easy access to storied beaches, renowned waves, and prestigious shopping, all within a short walking distance or a leisurely bike ride. A notable culinary experience awaits at Mahina & Sun's, where a menu that strikes a harmonious balance between progressive and comforting showcases the authentic palate of Hawaiʻi.
Castle Waikīkī Shore Condominiums
Nestled along the iconic Waikīkī Beach, Castle Waikīkī Shore Condominiums offer a welcoming and inclusive environment that embraces diversity. Sleeping up to 6 people, enjoy the comfort and privacy of spacious condominiums with stunning ocean views while being steps away from the vibrant LGBTQ+-friendly attractions and nightlife.
Where to eat
Try traditional Hawaiʻian cuisine at Highway Inn or Helena's Hawaiʻian Food
Brunch at kokoheadcafe.com
For breakfast, lunch or dinner: Home – Hideout – Hideout and Duke's Restaurants
For breakfast/lunch: Fig & Ginger Honolulu
For cocktails, lunch/dinner: Heyday Restaurant
For a great sunset dinner: Kaimana Beach Hotel | Dine at Hau Tree or House Without A Key | Dining | Halekulani Hotel
Shave ice at Waiola Shave Ice, Uncle Clay's House of Pure Aloha, or Island Vintage Coffee
Head to Kaka'ako for some great restaurants, such as Moku Kitchen and E.A.R.L, as well as some beautiful shops and breweries.
Nightlife and entertainment
Heat
Join HEAT for the Gay Waikīkī Nightclub party on Friday nights! Enjoy a night of dancing with Top DJs, Gogo dancers, guest performers, and drink specials!
Hours: 10pm – 2am
407 Seaside Avenue Waikīkī, HI 96815
Freaky Friday
This is the largest event that Gay Bars Oʻahu has to offer! Freaky Friday has it all, including a shirt-optional gay dance party, guest models, drag performances, prize giveaways, and more.
Hours: Every 2nd Friday, 10pm – 2am
80 S. Pauahi Street Honolulu, HI 96813
Scarlet Honolulu
Scarlet Honolulu is one of the largest nightclubs and gay bars that Oʻahu has to offer.
Hours: Friday & Saturdays 8pm – 2am
80 S Pauahi St, Honolulu, HI 96813
Hula's Bar and Lei Stand
Check out this bar & lounge inside the Waikīkī Grand Hotel that Features drag shows, male dancers, and drinks!
Hours: Every day 10am-2am
134 Kapahulu Ave, Honolulu, HI 96815
Wang Chung's Karaoke Bar
This well-known local spot offers the perfect night out full of singing, good food, and drinks.
Hours: Monday – Saturday 5pm – 2am, Sunday 10am – 2am
2424 Koa Ave
Honolulu, HI 96815
Bacchus Waikīkī
With daily drink specials and live DJs on weekends, Bacchus Waikīkī is perfect for a casual night out.
Hours: Every day 12pm – 2am
408 Lewers St, Honolulu, HI 96815
Chiko's Tavern
Chiko's Tavern is a neighbourhood lounge with bar bites, black-vinyl booths, and karaoke.
Hours: Every day 5pm – 2am
930 McCully St, Honolulu, HI 96826
In Between Waikīkī
Find daily drink specials and karaoke in this local hideaway.
Hours: Every day 12pm – 2am
2155 Lauula St # B, Honolulu, HI 96815
Other Honolulu Pride Events
Honolulu FrontRunners/FrontWalkers 5K Pride Run/Walk
October 14 2023, 7am-12pm
Lace-up your running shoes and embrace the vibrant energy of Honolulu's Frontrunner 5K Pride Festival! As you race through the streets of Honolulu, you'll be surrounded by a sea of rainbow flags, cheers of encouragement and the invigorating beat of music that fills the air. This event welcomes participants of all abilities and backgrounds, creating an inclusive space where everyone is celebrated for who they are.
Hawai'i Gay Kickball League Tournament
27-30 October 2023
Celebrate the spirit of competition, unity and pride at the Hawai'i Gay Kickball League Tournament! Join in the fun of running, kicking and cheering alongside a vibrant community of LGBTQ+ athletes, creating unforgettable memories and lifelong friendships. Whether you're a seasoned player or a first-time kickballer, this tournament offers a safe and supportive space for everyone to showcase their skills and unleash their competitive spirit.
LGBTQ resources
The LGBT Center Waikīkī
Located in the heart of Waikīkī, The LGBT Center offers a range of resources, including support groups, counselling services, educational workshops and social events, fostering a sense of belonging and empowerment within the LGBTQ community.
Hawai'i LGBT Legacy Foundation
This organisation focuses on promoting the health, well-being and equality of LGBTQ individuals and their families. They offer a variety of programs and resources, including support groups, educational initiatives and community events.
Pride Center at the University of Hawai'i at Mānoa
The Pride Center is a safe and inclusive space for LGBTQ students and allies. It provides support, resources and programming to foster community building, advocacy and personal growth.
LGBTQ Support Services at the Waikīkī Health Center
Waikīkī Health offers a range of healthcare services specifically tailored to the LGBTQ community. They provide medical care, mental health support and access to social services.
PFLAG O'ahu (Parents, Families and Friends of Lesbians and Gays)
A national organisation in the US, with local chapters including on O'ahu. PFLAG offers support groups, educational resources and advocacy for LGBTQ individuals and their families.