Over Zoom, Fez Faanana is a mild-mannered, considered creative who cares deeply for indigenous rights. On stage, his alter ego Shivannah is the commanding, charismatic ringleader of Australian boylesque troupe, Briefs. He talks to YOUR ex about building the Brief's brand into an international touring juggernaut.
After 10 years of selling out festivals worldwide, the Briefs boys are returning to Aotearoa ready to air their Dirty Laundry in a brand-new party cabaret for the festive season.
From Thursday 16 November – Saturday 9 December, the infectious energy from the internationally acclaimed "boylesque" troupe will once again fill Q Theatre with their all-new show Dirty Laundry.
Created by Briefs Factory International and fresh from sell-out tours across Australia and Canada, Dirty Laundry is led by Fez Faanana, aka Shivannah, featuring a line-up of classic Briefs boys as well as some shiny new 'boys' and 'toys!'
With more glitter stains and ballsy attitude than ever before, the Briefs misfits aim to give you a night of physicality, gob-smacking comedy, unapologetic truths, and unique showmanship.
Fez Faanana spills the tea with Oliver Hall.
The last time I saw a Briefs show was in Brighton in the UK in 2019 I believe, when did you first get involved in Briefs and how did that come about?
I've been with Briefs since the kick-off in 2008. I was part of the co-founding artists including my partner Mark Winmill and my brother Natano Faanana. It began as a series of speak-easy-arty-warehouse-dance-party events. It has evolved 15 years into an Australian-based, internationally touring creative production house/theatre company with multiple award-winning productions, eight core company artists, and a performance brand crossing circus, drag, burlesque, and cabaret.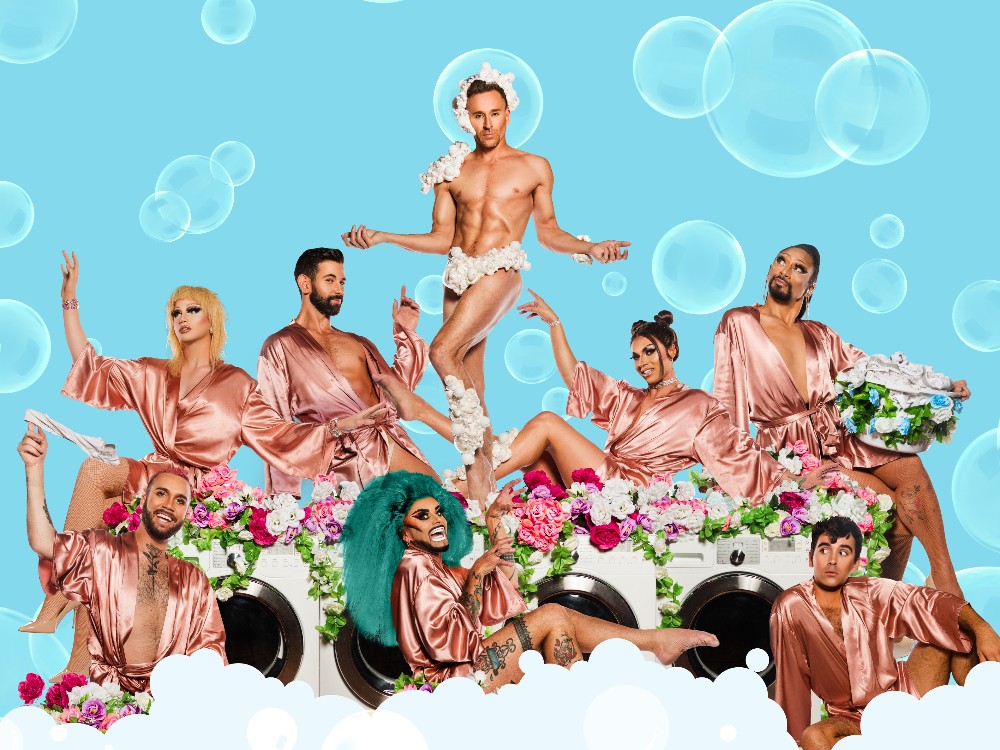 What can we expect from Dirty Laundry and how does it differ from previous Briefs shows that our readers may have seen?
Dirty Laundry is our most recent flagship production that is iconically clever, celebratory, creatively camp, sassy and skillful. We've had a little growth spurt bringing you more boys, new party tricks and an airing of dirty laundry that will have audiences gagging…..in a good way.
Your run in Auckland takes you all the way from 16 November to 9 December, and, you tour these shows all over the world! What do you think is the key to Briefs' success?
We have been fortunate to carve out a touring circuit that takes us to some amazing locations and when we get it right we manage to return to cities building strong relationships, partnerships, and audiences following. It's a fine balance of business, pleasure, creativity, and remembering the humbling and alternative beginnings.
Tell us a bit about your background prior to Briefs.
After high school, I convinced myself that I was destined to be an actor…..I just couldn't convince anyone else….lol…I then thought contemporary dance was my final calling. After a good innings in dance and physical theatre, I found myself extending into the world of drag, circus, design, and finding comfort gigging in the club scene and theatres and eventually marrying the two.
You were born in Aotearoa. When did you leave and how was your childhood and growing up experiences?
Having left for the land of Oz at the age of five, I have very patchy memories of my time living in Aotearoa. Growing up I was blessed with strong connections to Aotearoa and my Samoan bloodline through family bonds, frequent travel, and an upbringing that felt like I had three versions of home. I felt very privileged to experience those three lifestyles and modes of living.
How do you feel your queerness influences your artistic direction?
Queerness is part of my identity but it does not exist without the many other traits that feed my artistic and business practice, such as being Samoan, with an Australian twang, the youngest of six siblings, a proudly country town kid, a university drop out, a high-functioning control freak, an absurdist, a matai (Samoan chief), etc…
Q Theatre presents Briefs – Dirty Laundry from Thursday 16 November to Saturday 9 December. To book visit Qtheatre.co.nz