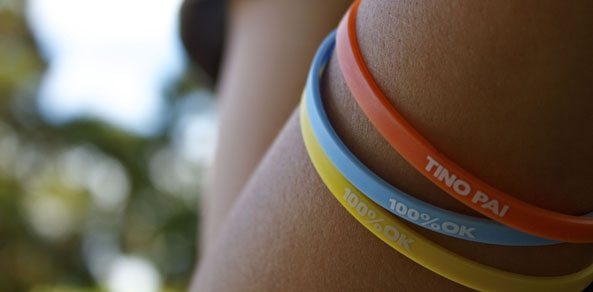 On the 12th – 15th June (and open until the 12th July), it's as simple as wearing a wristband for Aucklander's to show the  Rainbow community* that they are 100% OK/TINO PAI with people being themselves 100% of the time.
Can you imagine having to worry about what will happen when you visit a clothing store, go on a romantic dinner or have a doctor's appointment? For many people in the Rainbow community, there is a lot of anxiety caused by having to guess the level of acceptance in these everyday situations.
The 100% OK project aims to help the Rainbow community know that there are many Auckland allies out there – 30,000 in fact!
"It's an evolution, not a revolution. We're only asking allies to take small steps."
Trevor Easton from the 100% OK project and OUTLine
If you'd like to volunteer to help promote the wristbands and stickers
 please contact: trevor@outline.org.nz

A group of our finest has come together to continue to make Auckland the world's most livable city for our Rainbow community from this June onwards. By helping and encouraging people, businesses and associations to simply say I am 100% OK with the Rainbow community, they hope to help take the guessing away.
Allies of diversity can simply change a profile picture, wear a wristband or display a 100% OK/TINO PAI sticker on their car or shop window to show their support. The wristbands come in sets of 6 colours so that you can share your Rainbow with someone else. All donations received from the wristbands go to OUTLine – a support service for the Rainbow community active since 1972. Show you are TINO PAI by posting a photo on Facebook, Twitter, Instagram and simply tag it with #100%OK – with an aim to reach 30,000 tags by the 12th July 2014.
In 2010, Auckland council staff and people from or working with the Rainbow community gathered to form a group called the Rainbow Door. They recently organized 3 hui across Auckland to create a 'doorway' to discussion between the Rainbow community and the new council. At these hui, they tackled the question: what would the world's most livable city look for the Rainbow community? From the discussions a framework was created and actions recommended – and the 100% OK project was born.
"It can be hard speaking up for anyone, but even one sentence can make the world of difference"
Toni Duder from the 100% OK project
The 100% OK Project is aiming for 30,000 allies by the 12th July 2014!
If you'd like to know more please visit: their Facebook "www.facebook.com/100percentOK" Or contact Trevor Easton, General Manager – OUTLineNZ – HYPERLINK "tel:09 281 3409″09 281 3409
 Article | gayexpress
 Photo | Jessie McCall