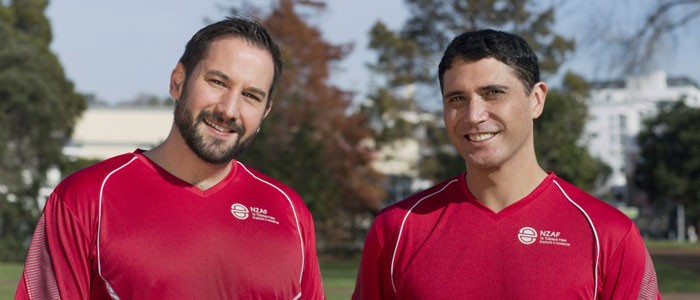 The NZAF put the call out earlier this year for participants to join them to run the Auckland Marathon held on November 2nd, meet the team below.
Full Marathon Participants
Nick Laing (pictured left)
Nick is the General Manager at NZAF. He wants not only to challenge himself to do the full marathon, but also to lead by example to do what he can to support the work of NZAF.
Luke van Helden
Luke is a counsellor at NZAF. He hopes that his "participation in the run may in some way help stimulate more conversations about the effects of HIV, such as fear, stigma and isolation."
Elliot Brinkley
Elliot has run a couple of marathons previously, but this year wanted to be part of a team that is fundraising for a shared good cause.
Half Marathon Participants
Kerry Koko
Kerry is a pre-school teacher, wife, mother and supporter of social justice. She believes that everyone deserves a decent life and likes the idea that she's helping raise money for people who are often marginalized and discriminated against.
Karen Jones
Karen is also a pre-school teacher, wife, mother and supporter of social justice. She was roped in by Kerry, but is looking forward to participating in her first half marathon., She believes that the work in prevention that NZAF does is important in keeping all of us healthy and educated.
Rebecca Hochuli
Rebecca's children attend the kindy that Kerry and Karen work at. She wanted to challenge herself in the half marathon while also raising money for a good cause.
Samantha Farr
Sam is a great friend of Nick Laing, so sees the importance of the work that NZAF does. She also wants to support Nick in his training.
Richard Pereira
Richard believes strongly in the work of NZAF and wants to raise conciseness about the impact and existence of HIV.
Quarter Marathon Participants
Joe Rich
Joe is the Marketing and Communications Manager at NZAF, he's passionate about the work that NZAF does and wants to do what he can to support it.
Ricky Te Akau
Ricky is the Social Marketing Coordinator at LYC, NZAF's health promotion brand. He wants to do what he can to support the work in prevention, advocacy and support for those within the community who may be at risk or who are living with HIV.
Clyde Smith
Clyde is a passionate health science student, studying at the University of Auckland. He has an understanding for the determinants of health, as well as how health is not only biological, but holistically encompasses welfare and social factors. He wants to help address those attitudes that create and perpetuate inequality.
Lisa Thomson
Lisa is the Social Marketing Manager of LYC, NZAF's health promotion brand. Lisa is proud to be dedicating her run to the amazing work the NZ Aids Foundation do – working on prevention of HIV in NZ as well as working with all people living with and affected by HIV.
You can support an individual participant our the whole team head over to this link for more information.
Article | gayexpress