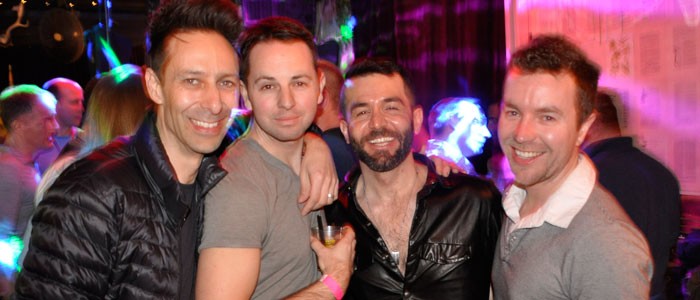 Gay Ski Week opened with a bang – taking over Queenstown's seriously cool pop up bar – The Find. The party started at 6pm catering to those who were jumping up at 7am to hit the slopes, but for those spending the Sabbath as their day of rest – it continued till the early hours. 
The crowd includes a large Aussie contingent with many people having taken advantage of the quick flight times and bargain ticket prices bringing them in directly into Queenstown. Most people express spoke too told us this was their first gay ski week, but won't be their last.
The music was awesome with a serious mix of tunes. The dance floor had a very Sydney feel. Express rocked out to some of the cheesier floor fillers on offer including Britney's Gimme More, Iggy Izalea's Black Widow and MJ's Love Never Felt So Good.
The catering was a massive hit with the find producing hand-made canapés including dates wrapped in bacon, Yorkshire pudding stuffed with minced smoked salmon and polenta chips topped with red onion jam and chipotle aioli. These were not your average nibbles.
The Find also had a RATHER generous happy hour than extended till 10pm! Express took advantage of the teapot cocktails – literally served in a china teapot with shot glasses – $9 until 10pm – we will be returning! The Hype Machine, which includes a generous pour of Amaretto was a definite fave… Until the next morning anyway.
Not everyone was happy though! The Opening night party – like many of the Gay Ski Week events – sold out. Which the poor door staff had to iterate to at least 100 people who turned up last night confident they could buy tickets on the door. The all left looking rather glum. Let this be a lesson to you all! If you are planning on attending ANY of the Gay Ski Week event – buy your tickets online in advance. Queenstown is packed right now, and no one wants to see you looking glum!
Follow what we get up to at Gay Ski Week on our website and our Facebook page.
 Article | Oliver Hall