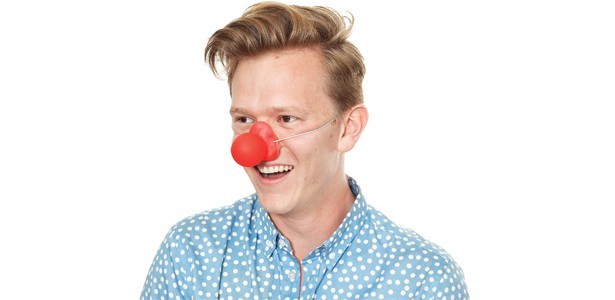 Hot young playwright Sam Brooks profiles the hot young actor/comedian Chris Parker – a star of TV, Web and Stage that many are touting as the next big thing.
It's only a mild understatement to say that Chris Parker has taken the Auckland theatre scene by storm in the last year. From starring in the weekly hit improv show Snort to a memorable one-off performance as Tilda Swinton in last year's A Basement Christmas Carol to being one half of the hilarious, avant-garde comedy show Tighty Whities with Hayley Sproull, Chris Parker is a hit wherever he goes. He's also very, very busy with as many projects on the go as there are days in the week.
The biggest of these gigs is writing this year's Christmas show for The Basement; always a highlight of the theatrical year. Last year we had a musical with A Basement Christmas Carol, and this year we have a murder mystery. "It's called Hauraki Horror and it's set on a celebrity cruise yacht because I was thinking what does Christmas in New Zealand look like, and it's a whole bunch of celebrities who used to be on TV3 on yachts having a big party."
He's co-writing it with an old stalwart of The Basement, Thomas Sainsbury, writer of last year's delightfully filthy Janeece Gunton, TV's Super City and recent Silo hit Sunday Roast. Chris speaks highly of the writing process with Sainsbury, "Tom is a genius in story and structure and we dreamed about what we wanted to do and plotted out a plot for it, and then we'd sit on a monologue each and I'd sort of dress up and start improvising dialogue … It's turned into this weird like, French and Saunders kind of spin-off, our tastes very much align with those two women, so a lot of the humour is like that."
He also speaks excitedly about the people involved; the Christmas shows always have a rotating cast of actors, including Shorty Street stars like Amelia Reid, Basement mainstays like Nic Sampson, and out of left field picks like Jacinda Ardern. "We've got Siobhan Marshall, and it'll be all the Basement community who are kind of big deals. We forget that the people who hang out here are actually a thing, and it's good to celebrate that."
Another big thing coming up for Chris is his New Zealand International Comedy Festival show called No More Dancing in The Good Room. "It's about how I got banned from dancing in the good room, which is the room that had all of mum's fancy furniture in our house because I was getting a bit too old and it wasn't cute anymore and I was breaking things." Chris was recently awarded the Creative Comedy Initiative for his idea for the show, which he says is a mixture of 'dance, multimedia, sketch and a bit of sort of stand-up. It's mainly funny storytelling.'
Parker also plays in Snort, an improv show that started last year at The Basement.
Where other improv crews and nights have struggled, Snort flourishes. Parker explains the success simply: "None of us are racist, sexist or homophobic; we're all young, we all love each other, we all love comedy and we're really hard-working." Now in its second year, Snort shows no signs of slowing down, with diverse crowds showing up in droves week after week.
The things that Chris Parker does with his days could fill an entire magazine, from another collaboration with Thomas Sainsbury for Art in the Dark, a 'Mexican wrestling dance mash-up' to the awkward web-series comedy Bachelor Pad; he's the one to watch that you're probably already watching!
Article | Sam Brooks. Photos | Danilo Santana David. Styling | Tom Sainsbury.