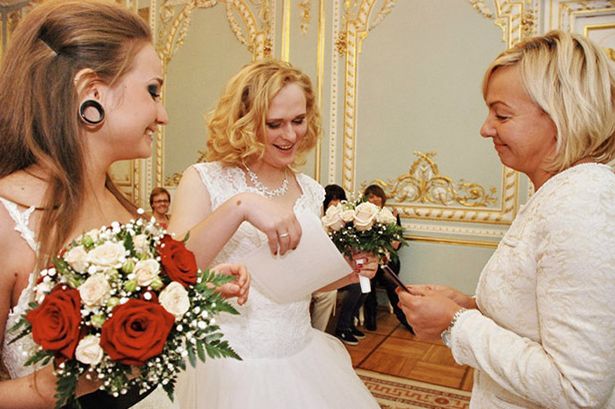 Two brides have officially tied the knot in Russia despite the country's ban on same-sex marriages, thanks to a legal loophole.
Irina Shumilova and Alyona Fursova both wore traditional white wedding dresses as they tied the knot in front of family and friends at a registry office in St Petersburg.
Despite same sex marriage being illegal in Russia and GLBT Russians facing severe persecution, Shumilova and Fursova's marriage will stand as valid and the couple will escape punishment because one of the brides, Irina, is not legally a woman and describes herself as transsexual rather than transgender. "Yes, in my passport it says 'male'," the bride tells news channel Russia Today.
Irina is on hormone therapy, wears her blonde hair long and dresses in women's clothes and make-up.
"Transgender is a term to describe discrepancies between social and biological sex. I am transsexual, meaning that despite having a XY-genome, psychologically I am a woman." Irina says.
The marriage has been hailed by some as a monumental step toward getting same-sex marriages legalised in deeply conservative Russia. However there has been some backlash from conservative politicians.
St Petersburg MP Vitaly Milonov, an outspoken opponent of same-sex marriage has vowed to investigate the legality of their union, which he said was an "ugly insult to millions of Russian families."
Article | Levi Joule