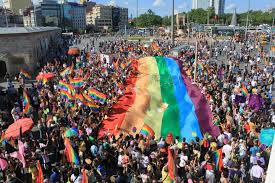 It has just emerged that a gay couple in Spain's capital of Madrid were attacked by a group of Neo Nazi thugs last Friday. 
The Huffington Post reports that ten men and a woman approached the pair while they were sitting on a bench with a friend in the Temple of Debod district of the Spanish capital.
The couple, aged 17 and 23, were pushed and kicked to the ground by the attackers, with one of them even requiring hospital treatment for bruising.
The attack comes just weeks after a gay couple were asked to leave a local Burger King in the city after customers complained that they were kissing.
Article | Levi Joule.