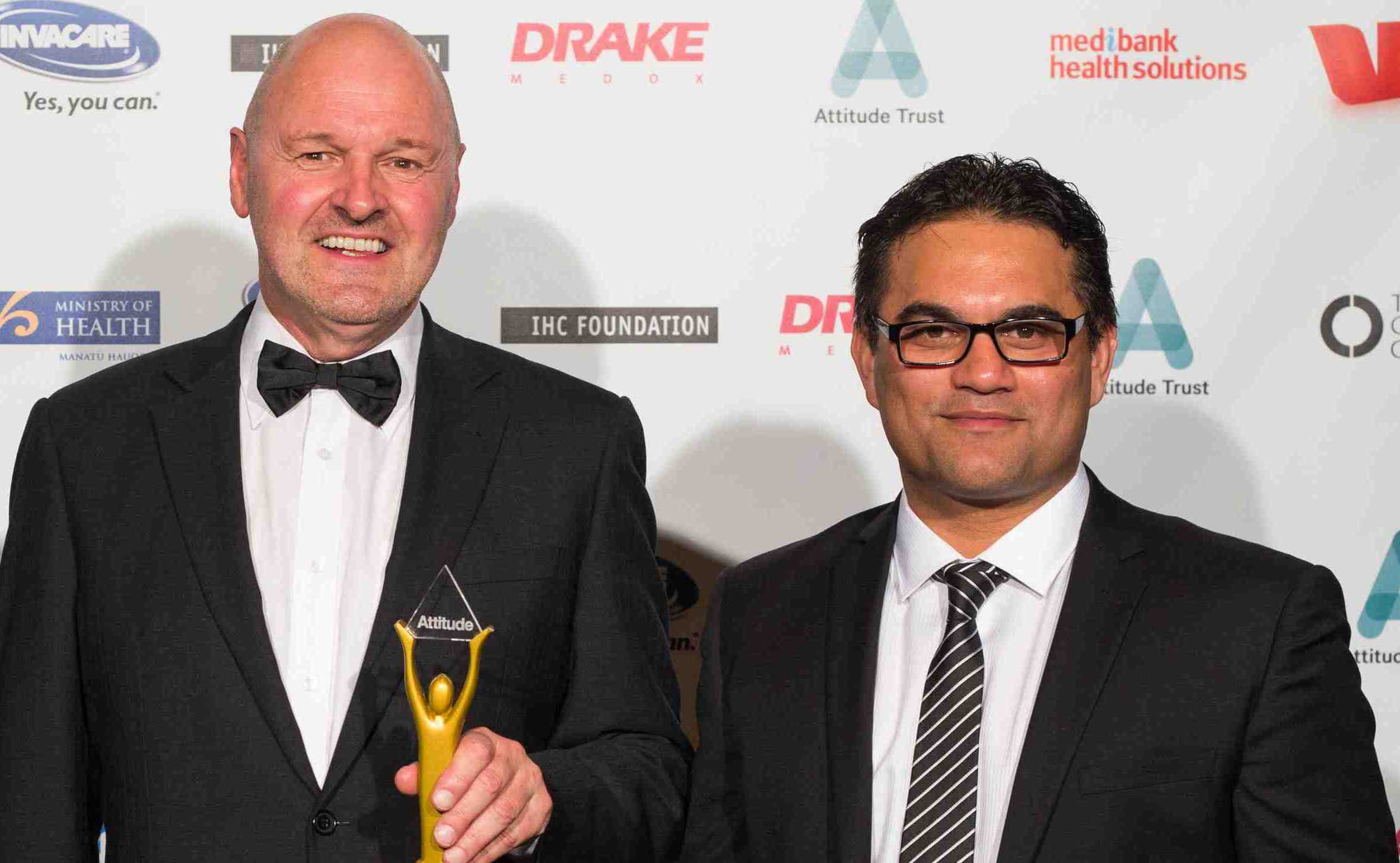 Actor, Singer and Musical Director Paul Barrett picked up the gong Artistic Achievement at this year's national Attitude Awards, which celebrate kiwis living with a disability. Despite suffering from Tourettes syndrome from a young age, Paul has become one of NZ's most in demand actors and musical directors, lending his hand to over 150 professional productions. He talks to Oliver Hall and living with his disability, but not letting it hold him back.
When were you first diagnosed with Tourettes?
I didn't seek professional advice about my Tourettes until I was in my late thirties.
When did you first start experiencing what's known as motor ticks?
The compulsive behaviour first became apparent at about the age of 10. I was walking to school with one of my friends when I felt an overwhelming need to keep turning on the spot- first one way, then the other, to 'balance' it.
I remember her asking me why I was doing it, but I had no idea; it just felt good, it was just something I had to do.
The tics were worst during my teens- endless sets of head jerks, eye flicks and tense jabbing of extended fingers, which made written work, not to mention piano playing, a challenge.
It was a rather unfortunate affliction to have, given that I had also inherited a musical and acting talent. I have described it as like sending out two conflicting signals at once- look at me, because I want to entertain you, but don't look at me because I'm so ashamed of my uncontrollable tics, as if being gay wasn't difficult enough back in the seventies. I was regularly either mocked or actually physically bullied for either the twitching or my gayness during those early teen years.
Were you concerned it might affect your acting career?
The need to perform was so strong, that it never occurred to me to take an easier path- all I wanted to do with my life was be an actor and musician, so I just had to teach myself to control the motor tics, at least in public, especially when I was standing on a stage or at the piano.
How did you come to manage your Tourettes?
I wish I had an answer as to how I've managed to control the tics as much as I have, but I really don't know. I always rejected the idea of any sort of anti- depressant medication (frequently prescribed for Tourettes sufferers) as I was worried it would dull my mental and physical alertness, which are essential to the performer. I think there was also a sheer bloody- mindedness, an instinct acquired from my mother that regarded any sort of plea for help as a weakness. I'm still like that, for better or for worse.
You have appeared in over 150 theatrical productions. Can you give us your top three favourites?
In 1985 at the Fortune Theatre, Dunedin I starred in a wonderful play called Chinchilla. I played Sergei Diaghilev, the great Russian impressario of the Ballets Russes.
A more recent favourite (in 2008) was co-starring with George Henare in the Court Theatre production of Jerry Hermann's musical La Cage Aux Folles.
The show is such a joyous affirmation of life and tolerance that often I would notice men in the audience who had perhaps been a little self-conscious coming to such a gay show, and would ostentatiously sit holding their girlfriend's hand in their lap, and yet would leap to their feet at the end of the show as the whole cast sings The Best Of Times Is Now.
Favourite number three was The Goat, a shocking play by Edward Albee, about a man who confesses to his wife, his best friend and his gay son, that he has been having a full on, sexual affair with… a goat. I performed it at the Silo Theatre with Michael Hurst, Jennifer Ward Lealand and Kip Chapman in 2005. The goat is the metaphor for just how far people are prepared to go in their toleration of other people's proclivities. I played Michael's best friend, a deeply intolerant, conservative bigot. It was great fun to play someone so opposite to my own personality!
What other projects are you currently working on or have coming up in the pipeline?
I have just completed two national touring productions. The first was the musical Oklahoma!, in which I was Associate Musical Director, and also played a supporting part- then I was Musical Director for a cabaret of 1920s – 30s music called The Great Gatsby.
In March next year I'm touring in Buddy: The Buddy Holly Story, then in October it's another Rogers and Hammerstein musical, South Pacific.
All in all, despite the challenges earlier on, I feel very fortunate to still be doing what I love most.
Article | Oliver Hall.