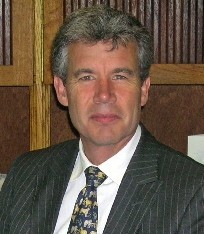 Matthew Muir becomes New Zealand's first openly gay high court judge. 
Matthew Muir was sworn by Chief Justice Sian Elias at a private ceremony in Auckland yesterday.
Muir has degrees from the University of Auckland and the University of Virginia and has previously practiced commercial law in Auckland.
In the swearing in, Chief Justice Elias spoke about Muir's sexuality and the significance his swearing in has for New Zealand's GLBT community.
"I should say that those of us who have lived through momentous social change sometimes forget how recent it all was. And how bad things were. There has been a revolution in our lifetimes in the position of those who are different because of gender, or race, or sexual orientation. I do not suggest that all the barriers are down. But we have come a long way. And I think it would be wrong not to acknowledge that on this occasion. And to acknowledge that you personally played a significant role in bringing about change by advocacy in the 1980s and indeed by your own example."
Article | Levi Joule.