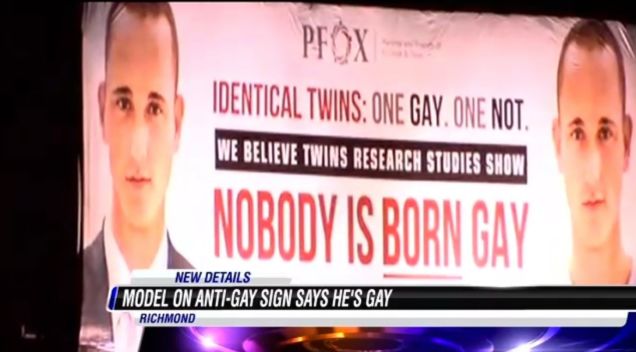 A new marketing campaign by "ex gay" organisation Parents and Friends of Ex-Gays and Gays has just been dealt a major blow by the model used in their new marketing campaign. 
Kyle Roux, a South African model who is openly gay, says that he opposes the billboard, which reads, "Identical twins. One gay. One not. We believe twins research studies show nobody is born gay."
In addition to revealing he is openly gay, Roux also reveals that he is not a twin and does not know the other person in the photo whom Parents and Friends of Ex-Gays and Gays claims is.
Roux told US television station WWBT-TV that "I was obviously quite shocked, so that's why I decided to send you guys an email saying hey, I'm that guy in that billboard," he said. "It just seems like there no place in today's world for an organization that is promoting this as being some kind of deviant or distasteful lifestyle, because I've lived my life openly gay and happy for my entire life."
 Article | Levi Joule.