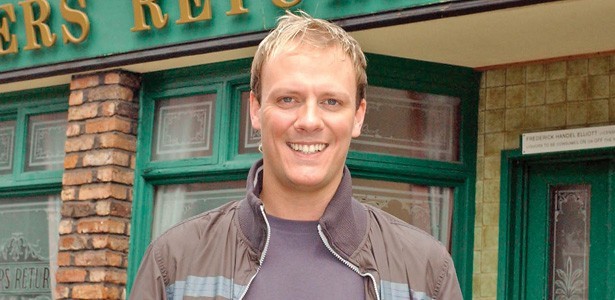 In an exciting express exclusive star of TV One's Coronation Street Antony Cotton talks to Oliver Hall about his time in NZ, his iconic gay television characters and accusations that he has put our community back 25 years!
Antony Cotton best known as for playing Coronation Street's Shaun Tully landed in New Zealand back in December 2011 straight after filming UK reality show 'I'm a Celebrity Get Me Out of Here' in Australia. (He describes his experience of Sydney: "So much leather, so few saddles!")
He was welcomed to Aotearoa by Gandalf himself, as Ian McKellen, a man he describes as, "one of my best friends," invited him to tour the country with The Hobbit film unit for a month.
"I saw it all from Mt Cook to the Milford Sound… It was the best month of my life! It's the most beautiful place in the world!" Following this barrage of compliments, we enquire when he'll be returning and he replies with an irony unique to British Northerners. "It's quite a distance away… You can only do that sort if trip once." "This interview is my love letter to New Zealand."
Cotton came to the attention of most when he played the part of Alexander in the original British series of Queer As Folk (before it was massacred by Americans). The show's campest character, Alexander was given depth as it was revealed his parents had rejected him due to his sexuality and written him out of their wills.
"Without Alexander in Queer As Folk, Sean in Coronation Street wouldn't exist," says Cotton reflecting fondly on the role and the doors it opened for him. He tells us he never feared that the controversy the show stirred up would have a negative affect on his career, but, "did wonder if all of it would end up getting shown." The opening seven minutes of the first episode featured the most explicit gay sex scenes and gay sex references ever shown on television at the time. Fifteen years on, no prime time show has broadcast more graphic man on man action. "The discussions that art department had about the consistency of spunk and what it should look like! No body had ever discussed that for a scene with two gay characters in a television drama!" He laughs.
Following Queer As Folk, Cotton's phone rang off the hook as he was offered the likes a role on the likes of Absolutely Fabulous and even his own self-titled comedy chat show by the BBC. But it was Coronation Street that would become home for Cotton who has now appeared on over 900 episodes of the show.
"When you come in with as new character, you land and it either works or it doesn't. With five episodes a week, the audience decide very quickly if they don't like a character… I would never have guessed I'd still be here 13 years later; you get less for murder!" He jokes. Despite being broadcast on TV One, two years behind the UK's episodes Coronation Street remains one of the most viewed shows on New Zealand television. Currently single on our screens, Cotton informs us that his character Sean is heading into a controversial romance. "He meets a man on a night out, who turns out, to the Weatherfield's Parish's new modern vicar." "I was so excited when I got the script," he tells us. "Nothing gets people talking and arguing like religion and gays!"
Cotton's portrayal of camp gay characters has been embraced by everyone. "I get gay boys who are only 18 years old clicking their fingers in my face saying, 'you put the gay cause back by 25 years'."
However Cotton doesn't believe it this theory has originated from the teenagers confronting him. "They have no idea what the gay cause was 25 years ago! They read it online and it's like a mantra, if you repeat it enough you start to believe it!" He believes that it is older men who compare Sean 1970's British sitcom character Mr Humphries from Are You Being Served, who are to blame for this backlash. "The word stereotype is banded around so much these days.. You name me another character on TV like Sean? There isn't. He's not a stereotype – he's an archetype!"
"Those older queens need to get their heads out of 1970 and realise that in 2014 we have a character who had never had to explain who he is, never had to apologise for who he is; never had to come out which is unheard of, as far as gay characters are concerned on television!" "Sean is transcending what was and what is, five nights a week in your on prime time television and is nothing but a success!" He admits that he also receives compliments on what his character has done for the community. "I get teenagers who will come up and say, 'I love Sean. I told my mum [when I came out] – I'm like Sean'." Cotton feels the polarising nature of his characters is determined by how comfortable people are with 'camp'.
"I get sick to death of people putting down the camp and the effeminate. It's always people who don't want others to know that they are gay and for some of us, that isn't a choice. That's who I represent with Sean. To quote Queer As Folk: for some boys, it's screaming out of them!"
Cotton addressed the issue in his acceptance speech at the Stonewall awards in 2013, stating, "it was not the straight acting gays who riots [at Stonewall]. It was the drag queens, the transvestites, the fem and the camp, that rioted. It was the sissies that fought with the police… because the straight acting community members were still hiding. It's the sissies who wear their gayness on their sleeves, who were the warriors who gave us our freedom and our liberties…"
Cotton tells us that at the end of the day he accepts that neither he nor the character's he plays will be for everyone. "Ian McKellen gave me the best advice I've ever had when he told me, 'What anyone else thinks of you, is none of your business!'"
Coronation screens on TVOne (every Friday and Saturday) and TVNZ OnDemand.
 Article | Oliver Hall