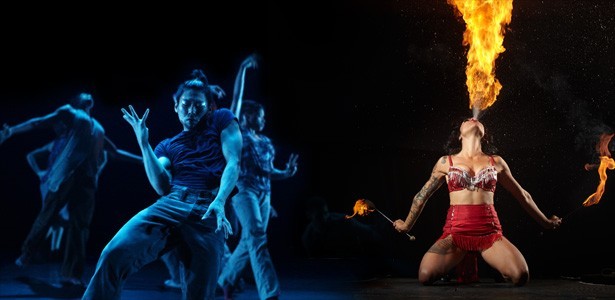 Two of the most eye-pleasing jewels in the Auckland Arts Festival's 2015 crown are the NZ debut of New York-based contemporary ballet company Cedar Lake and Australia's sensual cabaret circus Limbo.
For their Auckland debut Cedar Lake will perform three works by contemporary choreographers: Crystal Pite, Hofesh Shechter, and Jo Strømgren. The works will show case what has become known as the company's signature style: integrating ballet with contemporary and popular dance with an urban set and soundtrack.
Dancer Matthew Rich was offered an apprenticeship with Cedar Lake in 2005 at the age of 19. He tells us that he loves that dance allows him to, "express and convey so many emotions to the audience without words, purely through physicality and body language."
He tells us Auckland Arts Festival audiences, "can expect to see versatility, athleticism, and beauty throughout the evening… the audience will be taken on a diverse journey of movement vocabulary and theatricality throughout the program. Ultimately, as a dancer I want to give the audience a chance to be transported through the work and carried away to place they didn't know existed with feelings they didn't know they possessed."
Cedar Lake will do perform for four nights at Auckland's Civic. The dancers will spend a total week staying in the country. "I really want to see the exquisite landscape," Rich tells us excitedly, but confirms the big apple has made him a true urbanite at heart. "I also love clothes and shopping, so hopefully while I am in New Zealand I will be able to stimulate the economy!"
A lady who will certainly be stimulating something while in NZ is Limbo's super sexy fire breather and sword swallower Heather Holiday (pictured right). Limbo, which comes to us fresh from sell outs at London's Southbank and the Sydney Festival, will present acrobatics and illusion in an intimate surrounding with moody live electronic soundtrack! Prepare to sizzle!
Cedar Lake Contemporary Ballet will perform at Auckland's Civic Thursday 12 to Sunday 15 March. Limbo will take residence at Aotea Square's Festival Club from Wednesday 4 to Sunday 22 March. Tickets for both can be purchased through Ticketmaster. 
Article | Oliver Hall.