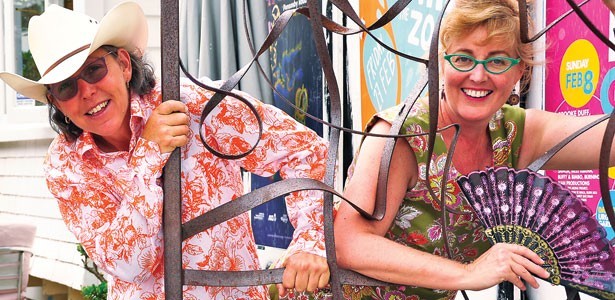 Lydia Zanetti wades through the festival program to find her Seven must attend events.
Garnet Station (85 Garnet Rd, Westmere) remains a keystone for many women in Auckland and is celebrating Pride in style. Forget Tinder, get back on the old school with (1) Speed Dating for Lesbians. Speed dating has had a bit of a revival in the past year with Gather & Hunt and others running events. Scary and exciting, speed dating is a great way to meet new mates, let alone dates. (2) Dykes on Mics is back too – get your fan girl eyes on, as ladies croon the night away.
Bit of a westie? Pillar of the community, Cissy Rock brings Pride to your doorstep with (3) Heroes Out West – a great family friendly event with live music, picnics and a chance to connect outside of central Auckland. "The spotlight is on women – creating space for visibility of female performers," says producer Cissy. "It's really about building community." Heroes Out West has been going for over 8 years now, "a group of volunteers cobbled together the idea of a picnic in the park," Cissy explains. "Plenty of friends – out and proud!"
Auckland's one and only Charlotte Museum (the world's only lesbian museum) brings a plethora of events including (4) Lady Love – an art exhibition drawing on the energy of the 80s – and the fabulous (5) Lesbian Heritage Walk along the heart of Pride – Ponsonby Rd.
A highlight in title and concept is (6) A One Night Stand: Fire and Desire featuring 75 vaginas, fire pois and fire spitting! "The Charlotte Museum displays and preserves the history of lesbian culture from the early 1900's Spinsters Club, to the Tuesday Club of the twenties and the KG Club of the seventies," says Director Miriam Saphira. Pop in for a fascinating look back.
(7) Tru Love is playing alongside The Way He Looks at the Maidment Theatre in association with Reel Queer Inc for a one-off special screening. Named one of 2013's Top Ten Films by Huffington Post, UK, Tru Love returns after winning Best Feature in 2014's Out Takes Festival – reminding us just how much we love those Canadians.
For more info on all these events and more, visit aucklandpridefestival.org.nz
Photo l Tux Hika.