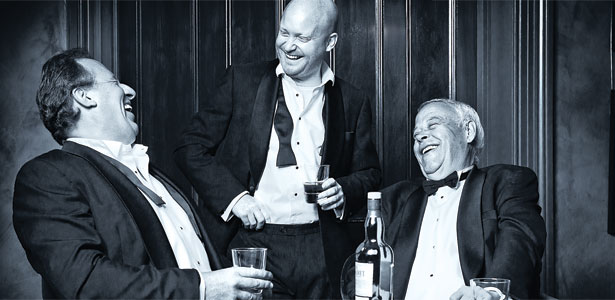 Set in the house of Mrs Wilberforce, a team of undercover wannabe criminals plan a convoluted bank heist from within her home.
Mrs. Wilberforce is played by one of New Zealand's most respected actresses, Annie Whittle (best known as Barb Heywood on Shortland Street). Supporting her are Carl Bland (Rude Awakenings), Andrew Grainger (The Dark Horse), Byron Coll, Peter Hayden, and Paul Minfie.
Irish playwright Graham Linehan – the piquant writer of Father Ted and the IT Crowd adapted the 1955 Ealing film. Linehan's 2011 script is pitch perfect and has had rave reviews across the globe. He sets the entire action within the house, heightening the tension, and awkward situations that arise.  Some may remember the Coen Brothers 2004 remake starring Tom Hanks; Linenhan says the film influenced him to have fun and get creative with the original source material.
Colin McColl sits in the director's chair, a legend of NZ theatre. McColl has won a slew of awards over the years, for his direction of A Doll's House in 1993, Rosencrantz and Guildenstern are Dead (2000) and in 2002 for Who's Afraid of Virginia Woolf.
Keep an eye out for Peter Hayden's character – The Major – for some queer and trans subtext that highlights the lengths one had to go to in an intolerant 1955 to not be outed as queer.
The Ladykillers runs from Thursday 12 February to Saturday 7 March at the Auckland's Maidment theatre. Tickets and more information can be found at www.atc.co.nz.
Article | Sam Orchard.