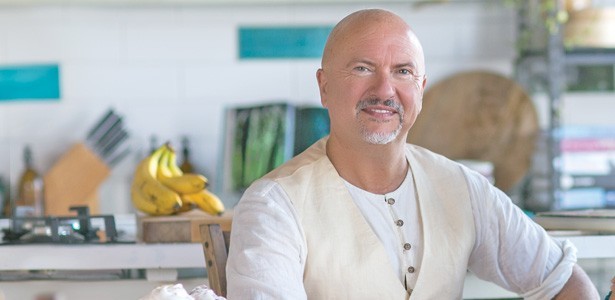 It's been a magical summer so far and we plan squeeze every bit of fun we can out of the last month before daylight savings ends. We asked three of our favourite community foodies to recommend the best food and wine to make the most of it and here are their suggestions.
Robert Oliver
When Robert isn't representing the Cordon Bleu, hosting his TV series Real Pasifik, being part of the tasting panel on MKR, writing award-winning cookbooks, or working with international NGOs, he loves to explore Auckland. Here are his summer finds:
Best restaurant for a casual summer bite
For a weekday lunch my current favourite would have to be District 5 on Shortland Street. Great Vietnamese flavours.
Best takeout and best beach to eat it on

This one's a no brainer. Fish and Chips from Scott Brown's Fishsmith on Jervois Road and a short hop to Herne Bay Beach to eat it.
Best place for a summer cocktail
Bedford and Soda in Ponsonby Central is great!
Favourite summer meal at home
I love corn on the cob with lots of butter, lime juice and chilli powder. Hapuka roasted in coconut oil is also a favourite and watermelon salad with shitloads of fresh mint and crumbled goat feta. One of my current favourite desserts is the chocolate flavour Nice Block – chocolate and coconut cream combined, what could be better?
Three local summer pantry/fridge essentials
1.  Organic pumpernickel bread by BREADMAN: wheat free and densely rich.
Slice it super thin.
2. Lewis Road Creamery lightly salted butter (on that pumpernickel)
3. Hot Samoan Boys Chilli Sauce- try it on oysters…wow!
Favourite summer beer/wine
I don't drink, so tend to make homemade soda water. It's really good if you spike it with plum puree (make this by blending very ripe black doris plums with a little light honey and a squeeze of lemon juice)
Your perfect summer day
I've only been back in New Zealand for two years, after years in New York and Shanghai, so I'm still in exploration mode. I'm really loving all of the beaches a stone's throw from Auckland. My perfect day would have to include a west coast Auckland beach or Ocean Beach in Hawke's Bay and a lot of relaxation. Is it wrong that instead of a fancy meal in a restaurant I would eat cold leftover curry made into sandwiches on the beach? It's not very cheffy, but lamb curry with a dollop of Friend Fiji Tamarind Chutney in some good bread is heaven. I guess after living in these big, busy cities, I've really learned to appreciate simple pleasures.
Article | Alexia Santamaria.