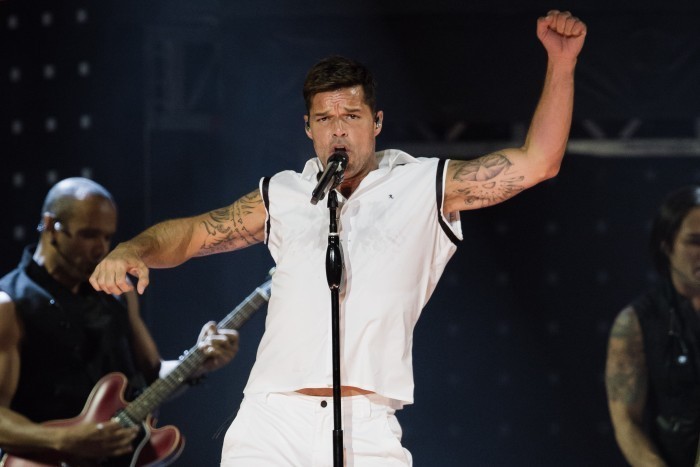 Ricky Martin was in Auckland on Friday night to premiere his One World tour. Levi Joule went along and filed this review. 
The 10,000 who packed Vector Arena may have been half of the crowd that last saw the pop prince play at Mt Smart in 2000, but those who did show up on Friday night showed a dedication which was actually pretty infectious to the causal reviewer.
The median age at Vector Arena on Friday night was somewhere around 43. This was the daggy Briscoes demographic. But while daggy could be a word used to describe many in the audience. the 43 year old Puerto Rican they had all come to see was anything but.
As Ricky Martin kicked off the world premiere of his One World tour, he has never looked or sounded better,
Unlike his recent X Factor performance, there was no lip syncing to be heard here. Shake your Bon Bon had the crowd raging early on, followed by a string of high-energy songs from crowd favourites Livin' la Vida Loca to She Bangs.
As the evening progressed, some of the new music was rolled out, with other songs getting a mash up techno treatment. These remixes were at times a little strange, but there was enough of a beat there to get 95% of the audience up out of their designated seats and dancing.
While Martin's voice still remained the star of the show, his impressive array of outfits deserves a special mention. With a rotating wardrobe that went from a conservative white leather tank top to a much more exciting red mesh singlet, then a black leather singlet and matching black leather kilt, there was something for every Ricky Martin fan to marvel at.
His stamina was impressive, with not a hint of exhaustion. It was hard to tell this was a man who was in his middle age.
The same could not be said of his audience.
Article | Levi Joule. Photo | Dan Liu