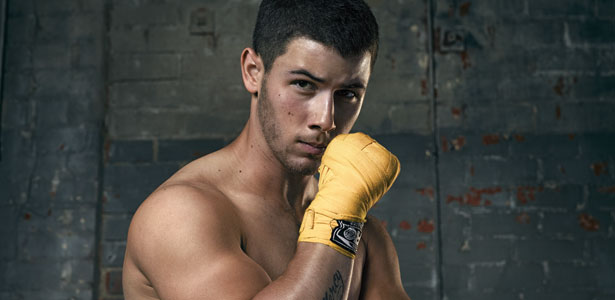 His days as the smallest Jonas Brother are gone. His sexy song Jealous is inescapable on radio and TV drama Kingdom arrives in NZ next month with Nick playing a cage fighter who's questioning his sexuality. Just hours before he performed at the Sydney Mardi Gras party, he spoke to Oliver Hall about child stardom, crazy exes and gay fans.
Nick sounds relaxed about taking the stage at the Mardi Gras party as we chat. It's unsurprising when you consider he's been performing since age seven. He is also equally adept back stage, last year serving as Creative and Musical Director on Demi Lovato's tour.
The day of our interview he has been announced as a headline act for the upcoming Kid's Choice Awards, he admits that performance will be rather different to his raunchy Mardi Gras medley which includes a cover of Sexual Healing.
"Balancing the many different ages and vibe of my audience is a fun challenge – working out what the right look and feeling is for each performance," he tells us.
His Mardi Gras party co-stars are a mixed bag. There's Jake Shears ("I always been a Scissor Sisters fan… they are a big inspiration on my music. Jake's falsetto is amazing!"), Sydney diva and Ru Paul's Drag Race star Courtney Act ("I have seen clips from it, but I can't say I've ever watched a whole episode.") and Danni Minogue (he is polite enough to avoid asking, 'Who?').
His eclectic line-up of co-stars, his audience and performance (he arrived on stage wrapped in red chains) are a far cry from his home-schooled childhood, taught by his church minister father Paul.
"Although I grew up in a church, my view of the gay community was always heavily influenced by my love for musical theatre and the friendships I made there with gay people. At an earky age I saw no difference… It's a beautiful thing that coming where I came from I was still able to see the world with an open mind… the way I think it should be seen," he says thoughtfully.
Nick's love of musical theatre led him to Broadway and by age 12, he had recorded a self-titled Christian album and released his first single, Dear God. However executives saw greater money-making potential in Nick recording with his siblings, thus the Jonas Brothers were born. After a lukewarm start, a guest appearance on Disney's white-hot Miley Cyrus-vehicle Hannah Montana saw the band swept up in the tween-music boom along with a country-era Taylor Swift and the stars of High School Musical. The brothers would go on to star in movie Camp Rock and their own TV show Jonas, all before Nick had turned 17.
"I think it was a bizarre way to grow up. But it's not something that I look back at with anger." He tells express. "Anytime your personal life is in front of the world, especially your most impressionable years, that's a strange position to be in… The balance of it all was that I was getting to do what I loved. But there was definitely an element of wishing certain things could stay private," but concludes, "It helped make me the person I am today." A person, he feels, is, 'pretty together.' "There's always times when I lose my mind, but I felt I've dealt with it all to the best of my ability."
Nick famously dated Miley Cyrus and (Justin Beiber's on again off again girlfriend) Selena Gomez – when asked if there was a difference between dating people who were famous growing up and those who were not, he says: "Living in the public eye really comes down to the people around you and how they help you deal with it all. Some didn't really have the support system they needed to maintain some sanity…" He mentions no names.
In 2013, Nick and his brothers cancelled their US comeback tour and fifth album, due to a deep rift within the band caused by 'creative differences', later confirming they had split. Despite the parting, Nick says his relationship with his brothers is still 'good.' "I see Joe all the time and we're very close friends. My brother Kevin lives in New Jersey, so we don't see each other as much [Nick and Joe are based in Los Angeles], but he has a new baby with his wife – it's exciting for everybody doing all their different things and keeping busy!"
Nick may be the busiest of the three. Last year he recorded and released his new self-titled album, which he tells us 'felt good'. "I have a lot of music in my heart that I wanted to create that was a different direction from the one we were taking. It was a great feeling to be able to step out and just create what was right for me." Even critics have responded well to his new music with glowing reviews from the likes of Rolling Stone. "Any time you create, it's a cherry on top when people respond positively to it." Aside from his music Nick stars in TV drama Kingdom that launches in NZ next month. He plays MMA fighter Nate Kulina and credits the role for helping him keep his buff new physique. "I have to look like a fighter. I have been pushing myself for that," he tells us.
Fans who have seen the show stateside are buzzing that Nate is not straight. "I was told early on that his journey with his sexuality would be a big part of his story," Nick admits. "The show's creator and writers did a great job of giving me just enough information to develop the character and work off that… I was actually the only cast member who knew that was coming with Nate, so I think it surprised a lot of the cast."
Clearly proud of his work on the show it has given him a chance to remind fans he has grown beyond his cute Jonas roots. "It's an opportunity to work with some incredible actors and some pretty gritty material in the writing side of things. It's a role I can grow and push myself in and I'm thrilled to have that chance. It has given people the chance to see a different side of me and a great step for an adult career."
Nick Jonas' self-titled album is available now.
Kingdom launches with a special double episode on Sunday May 3 at 8.30pm on Sky Movies Action.
Article | Oliver Hall.