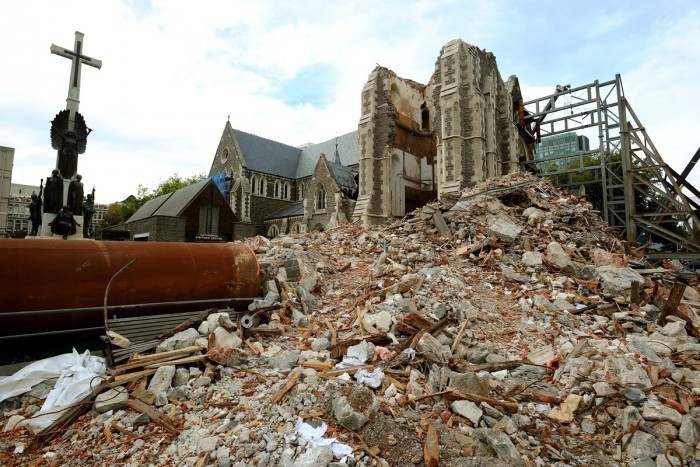 Researches from the University of Sydney and University of Western Sydney will be exploring the impact the February 2011 earthquake on Christchurch's GLBT residents. 
Research in Australia and internationally has shown that lesbian, gay, bisexual, transgender and intersex populations experience a range of specific challenges during the impact and recovery phases of a natural disaster. An investigation of the ongoing impacts of the February 2011 Christchurch earthquake on GLBT residents of that city is being undertaken by the University of Sydney and University of Western Sydney.
"Disasters such as earthquakes are generally described as 'natural'", says Dr Andrew Gorman-Murray, University of Western Sydney. "But many of the difficulties people experience are determined by social factors. Losing the safe space of the home, for example, can be particularly challenging for people who might face discrimination from sections of the broader community. Negotiating your way through applications for post-disaster support or housing can be more difficult if the system is specifically designed for heterosexual couples or families."
Dr Gorman-Murray is one of the project's lead investigators. He states that research in this area has been limited but is crucial in improving support for LGBTI people globally. "We want to encourage practices that meet the specific needs of all groups. Hearing about the experiences of people in Christchurch will help us do that."
The project's other lead investigator, Associate Professor Dale Dominey-Howes of University of Sydney, regularly consults with governments on the development of disaster risk reduction policy. He states, "We know that during Hurricane Katrina in New Orleans there were homophobic and transphobic incidents in emergency evacuation shelters. In Australia, we've heard from people who chose not to seek support during a disaster because they were concerned about potential discrimination. We want to make these experiences visible and to have LGBTI needs included in policy and practice."
The researchers have to date conducted interviews in two disaster-affected sites in Australia. Dominey-Howes says the response to the research in both sites has been positive. "We've spoken with people in Brisbane, Queensland who were impacted by the 2011 floods and in the Blue Mountains, New South Wales, where there have been devastating bushfires in recent years. Happily, some people have told us about very supportive responses from emergency services, as well as from friends and family. Others were badly traumatised by the disaster and continue to rebuild their lives." He says that ultimately, many people have appreciated the chance to have their stories heard. "Our aim is to cover the full scope of people's experiences and to include as many LGBTI voices as possible".
Those who identify as GLBTI and have been impacted by or had their home or business impacted by the February 2011 earthquake, can share their experiences through an online survey (https://www.surveymonkey.com/r/S3VY28H). Surveys take approximately 15 minutes to complete and are anonymous. The researchers will also be conducting in-person interviews in New Zealand in coming months. To enquire about participating in an interview, or for more information about the surveys, email Scott McKinnon s.mckinnon@uws.edu.au.
 Article | Levi Joule.