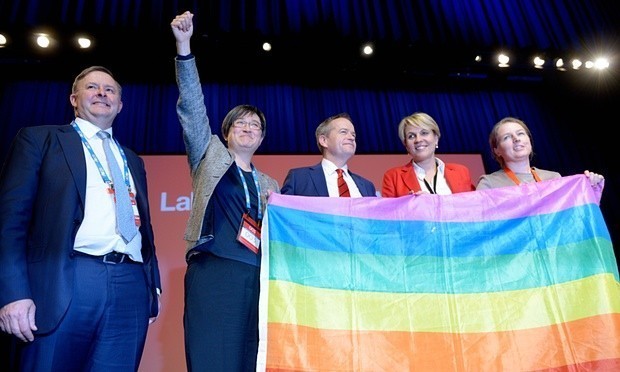 The Australian Labor party has made a promise to introduce a bill legalising marriage equality within the first 100 days of government if it wins the next federal election in 2016.
Australian Labor leader Bill Shorten has made a commitment that the party will introduce a bill to legalise same sex marriage within its first 100 days of office.
Mr Shorten made the pledge after securing a compromise at the party's national conference in Melbourne, that federal Labor MPs would be bound to vote in favour of marriage equality, but not for another two elections.
Deputy leader Tanya Plibersek, whose Left faction wanted the binding vote, said she was "delighted" to second the compromise resolution put forward by leader Bill Shorten.
"The current parliament has the numbers to pass marriage equality and should be allowed to," she told delegates.
"I still hope we can have marriage equality by Christmas, but if this parliament doesn't pass marriage equality, a Shorten Labor government will in its first 100 days."
Senior Labor frontbencher Penny Wong, who has a same-sex partner, said the decision would end a conscience vote on a matter "that should never have been a conscience vote".
"I hope more of you will join us, but most of all I hope those in the Liberal Party who are truly liberal will join us to end discrimination because there is nothing to fear from equality," she told Labor delegates.
  Article | Levi Joule.