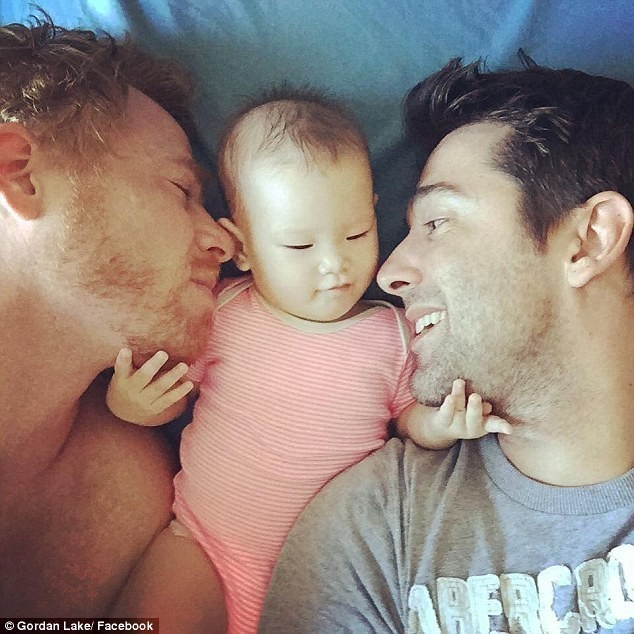 Two gay fathers are trapped in Thailand with their surrogate baby daughter after the birth mother refused to allow them to leave the country, claiming they are not an 'ordinary' couple after she learnt the couple were gay.
American Gordon Lake and his Spanish husband, Manuel, were given Carmen in January when the surrogate signed papers allowing her to be released from hospital after the birth, however the surrogate later refused to sign documents allowing Carmen to get a passport, saying she had not realised the men were gay.
The surrogate – who is biologically unrelated to the baby – handed over baby Carmen to Gordon Lake, an American, and his Spanish husband, Manuel, in January but later refused to sign documents to allow the infant to get a passport, The Guardian reports.
The couple have now gone into hiding with their daughter at a secret location in Bangkok fearing she could be taken from them.
Mr Lake, 41, told The Guardian he was "flabbergasted and in a complete state of shock. It's your worst nightmare in a process like this. I didn't believe it."
"She said she thought she was doing this for an 'ordinary family' and when she found out that it wasn't an ordinary family she was worried for Carmen's wellbeing."
The surrogate's lawyer, Verutai Maneenuchanert, said the mother only learned the men were gay when she saw documents left in her hospital room after the birth.
The surrogate have also made an appearance on Thai TV saying she had wanted to help a "legitimate married couple" and did not understand the surrogacy contract because it was in English.
 Article | Levi Joule.