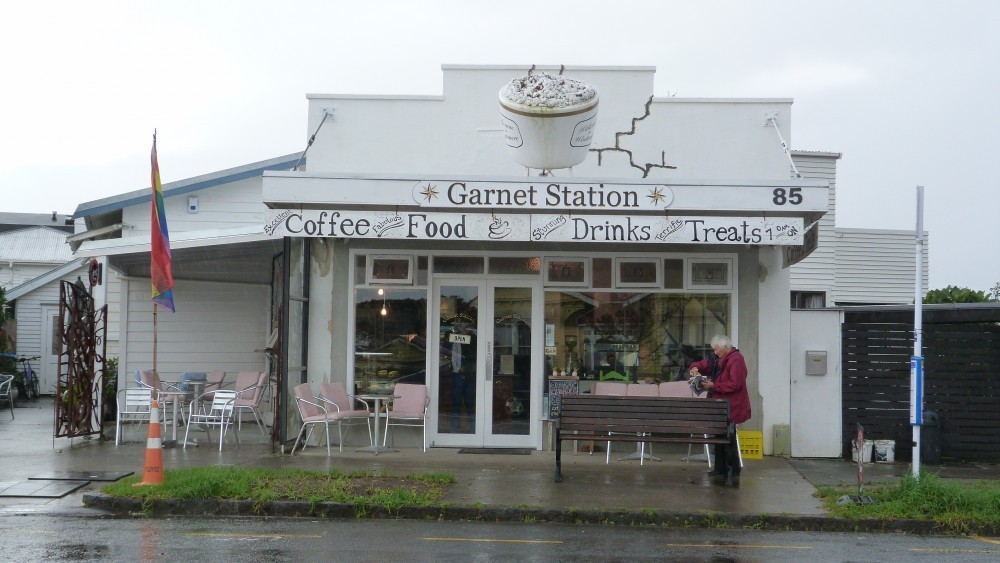 Sandi Hall reviews Garnet Station's Variety show, marking the cafe's eight years in business.
Variety shows are virtually unknown these days, which is a pity because they allow tonnes of entertainment to lavishly fill a couple of hours.
Thank goodness, then, for the lively minds who run Westmere's Garnet Station. Verity and Lisa chose the variety show format in their Tiny Theatre to celebrate eight years in business – and also to raise money to help save the Hector's and Maui dolphins.
Each Friday in August their Friday Variety Show has featured different guests. Last night, a packed audience (ten people standing) were treated to both Stephanie Johnson and Edward "Buckwheat" Cowley, each one being interviewed for 20+ minutes by Verity.
Framing these cameos were slides of the development of Garnet Station, laughter-filled videos (Verity's 'silly dance' routine a total stand-out), an occasional song, lots of lovely anecdotes and one hilarious duet.
Stephanie Johnson is the writer who, together with Peter Wells, put on the first Writer's Festival. "That first one was in a small, dark venue – but people came, a vote in favour of a festival which now is held in the Aotea Centre and attracts literally thousands. Her novels (The Shag Incident, The Heart's Wild Surf and nine more) have wide, international reader appeal because her characters ring true and their struggles and triumphs make engrossing reading the way Stephanie writes them. Most of her books are in the public library, too.
The Shag Incident takes its theme from something which happened here in NZ to university drama lecturer Mervyn Thompson in the 80s. Thompson was a well-known campus philanderer and possible rapist who was "taught a lesson" by a still unidentified group of women. The "lesson" included his public humiliation in being tied to a fence, mostly naked, and wearing signs which made his alleged crimes public.
Answering Verity's adroit questions allowed Stephanie to give the audience glimpses into the life of a writer who, for example, "writes my novels by hand" and also "misses the pre-Google days of miles and miles of research, uncovering lots of lovely things along the way." Stephanie wrote The Shag Incident in Menton, France, where she was the New Zealand Writer in Residence at Katherine Mansfield's once-home.
Edward Cowley, known to hundreds of people as the drag artist Buckwheat, was an equally absorbing guest. A little known fact, Edward told us, is that the word 'drag' was invented in Shakespeare's time when women were legally barred from the stage. Dr.a.g. after an actor's name meant 'dressed as a girl', presumably to help the backstage workers.
Edward brought a video of 'becoming Buckwheat', showing exactly how the facial make-up goes on to create, fascinating to see. The false eye-lashes alone made this reviewer's eyelids ache! Over the years, his time for 'becoming Buckwheat' has streamlined: "I've had to learn how to be quick, doing gigs in Thailand, for example, in 30degree heat, where I did my performances and was in and out of the country in just 4 days."
Far from being "just" a drag artist, Edward worked for the NZ Aids Foundation for ten years before moving to the Heart Foundation two years ago. An abiding goal for him, "especially as a Samoan" is better health, particularly for the Pacific community. "I want longevity, not just for myself but for all the Pacific community."   Edward sees entertainment as part of gaining that health. "It's therapeutic to have fun, to be taken out of ourselves, to acknowledge that life is about more than work."
The rousing finale brought loud cheers and clapping: two tall women in absurd wigs singing "I Am Woman" . At least half the audience were singing right along. The number of people who lingered long after the show ended was a footnote of its undoubted success.
The Friday Variety Show has delighted audiences every Friday in August, and has one more show to go, 4 September. One of the main guests will be Amanda Billing, recently seen as the main character in Michael Hurst's production of the Greek classic, Lysistrata. Book it!
 Article | Sandi Hall