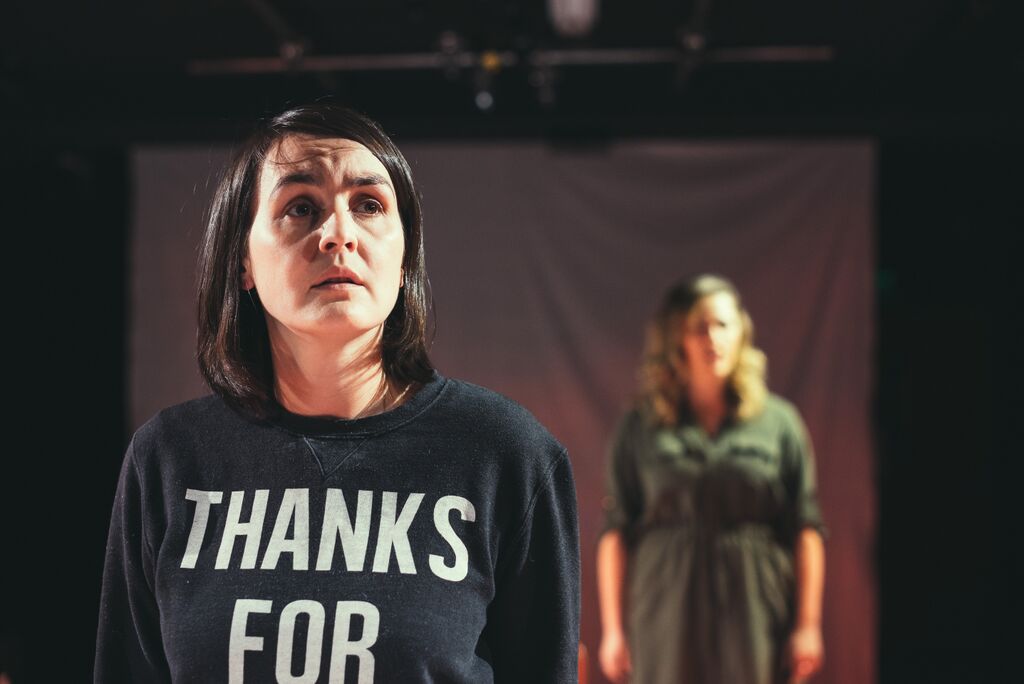 Sandi Hall reviews The Black
All creative people experience depression to a greater or lesser degree, the pundits say. The Black, opening at the Basement Theatre last night, gives a voice as clear as a ring of bells to that enveloping condition.
This is the first play from Josephine Stewart-Tewhiu, who we know previously as an actor in productions like Ruby Tuesday, The Pitman Painters, and The Patriarch. Helped by the skilful directing of Thomas Sainsbury, Ms Stewart-Tewhiu's debut as a playwright was cheered and applauded by the packed opening night audience.
Ms Stewart-Tewhiu herself plays Cleo, a woman afflicted with clinical depression, who is under the care of a psychiatrist. Wearing a black tee which defiantly screamed 'thanks for nothing', Cleo is at a therapy session as the play opens, and not happily so. Behind her, silent at first, stands a figure wearing a complete head mask of a black horse.
In what to this reviewer is a stroke of genius, Josephine Stewart-Tewhiu has made depression a character, Black Horse, full of life and energy, a snorting, talking, hugging, seductive, running black horse brilliantly played by Julia Croft.
The third character is Sondra, the psychiatrist, played convincingly by Kate McGill, who had the tone of voice as well as the lingo down pat.
And the play is funny, which the audience is alerted to immediately.   As Cleo unwillingly slumps into her red metal chair and Sondra strides across to her comfortable red leather one, Black Horse contemptuously growls in Cleo's ear "What kind of name is Sondra?"
The play moves through Cleo's continued defiance of Sondra's attempts to break through Cleo's attitude until Sondra at last finds the key by entering into Cleo's reality. Thomas Press's soundscape tells us danger, earth-shaking, booming danger which Cleo and Sondra face together. Cleo voices fear, anxiety, perception – until the sounds fade.
Black Horse is pissed off. Black Horse wants Cleo to stay just where she has been. "You need me," she snorts as Cleo tells her to go away. "Without me, there is no happy."
The documentary about Amy Winehouse searingly revealed her battle with depression, and the exceptional Swedish film Melancholia is unforgettable for Kirsten Dunst's performance of a clinical depressive.
The character of Black Horse takes these portrayals several steps further because with megawatt clarity, we get to see AND feel what Cleo's depression is like.
Christine Urquhart (Set/OHP Design) and Marshall Bull (Lighting Design & Operation) created a way of using the floor to mirror Cleo's feelings, in a way which may be a first in Aotearoa, at least. Impressive.
This extraordinary and thoroughly entertaining play is at The Basement until Sept 12. Highly recommended.
 Article | Sandi Hall