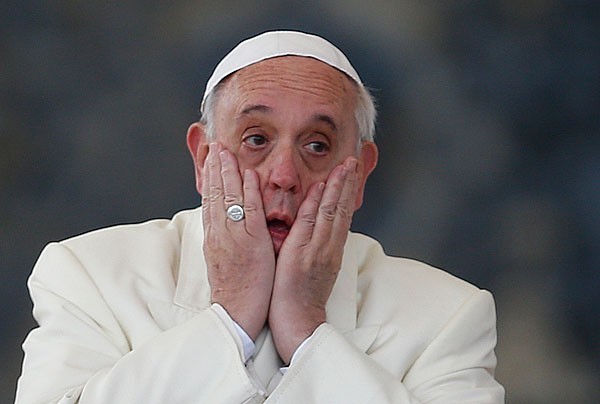 Pope Francis' meeting with an American woman at the center of a row over gay marriage was not something he had sought and should not be seen as an endorsement according to the Vatican.
Retuers reports that the Vatican have released a statement saying there was "a sense of regret" that the pope had ever seen Kim Davis, a Kentucky county clerk who went to jail in September for refusing to honor a U.S. Supreme Court ruling and issue same-sex marriage licenses.
Looking to smother the fierce controversy, Vatican spokesman Federico Lombardi said Davis was one of "several dozen" people who had been invited by the Vatican ambassador to see Francis during his visit to the U.S. capital.
"The Pope did not enter into the details of the situation of Mrs. Davis and his meeting with her should not be considered a form of support of her position in all of its particular and complex aspects," Lombardi said in a statement.
"The only real audience granted by the Pope at the Nunciature (Vatican embassy) was with one of his former students and his family," the statement said.
The Vatican later confirmed that the pope met with Yayo Grassi, a U.S.-based Argentine caterer who is gay and brought his male partner of 19 years to the meeting. Grassi, 67, has known the pope since Francis taught him literature and psychology at a high school in Argentina in the 1960s and has stayed in touch.
"What I can say is that he met with me knowing that I am gay, and we had an extraordinary, very moving conversation," Grassi told Reuters.
 Article | Levi Joule.