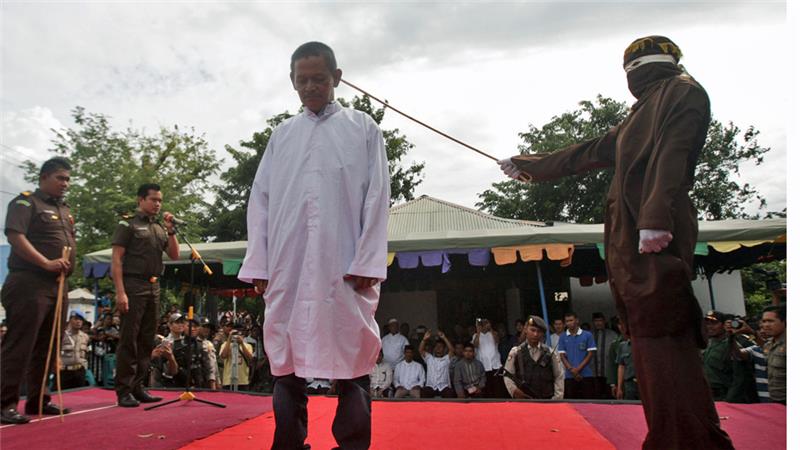 Aceh's new Islamic Criminal Code, or Qanun Jinayat, has now come into effect – mandating public floggings for anyone engaged in same-sex relations and sex outside of marriage.
The new law has been condemned by local and international human rights groups at the new code, which will apply to non-Muslims and foreigners, as well as Aceh residents.
A number of activists have protested that it is in breach of Indonesia's constitution and violates international human rights treaties that Indonesia has signed.
Aceh is the only Indonesian province permitted to implement Islamic law – a special privilege brokered as part of a peace deal that ended a 29-year separatist war in 2005.
A judicial review has been filed against the new by-law, but there are doubts over whether it will be overturned – a move that would likely anger Aceh's semi-autonomous government and Indonesia's powerful Islamic lobby.
The new law has resulted in Aceh's GLBT population living in fear that they are under constant surveillance.
One resident who works for local GLBT NGO Violet Grey  told Al Jazeera  "The sharia police pass by our office regularly, and there are people hanging around outside that we've never seen before."
Since the code's implementation last month Violet Grey members are scared even to meet at their office.
"No one's really sure what they can accuse us of for assembling together, but we don't know want to find out," said Agus, a gay man and fellow Violet Grey activist.

Aceh's GLBT community is mindful of a notorious incident involving a gay man named Hartoyo and his partner in 2007.
After being caught in bed by a mob that invaded their home, they were beaten and doused in sewage before being turned over to the police.  The police then continued to abuse Hartoyo in custody, beating and urinating on him Al Jazeera reports.
Similar "community punishments" have continued to be dished out to GLBT people in Aceh, with a climate of fear prevents many from speaking out.