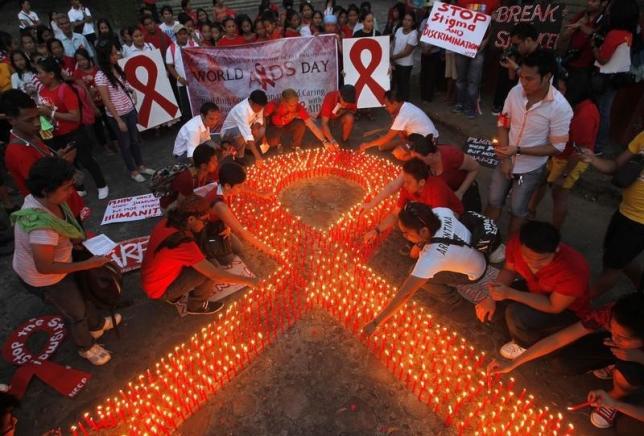 Smartphone technology has increased the opportunities for casual sex and led to a spike in HIV infections among teenagers in Asia, a new United Nations released on World AIDS day reveals, 
The epidemic is fastest growing amongst men who have sex with men.
Other groups include those who are sexually exploited by or engaged in sex work, people who inject drugs, and young transgender people.
The two-year study found that smartphone dating apps have expanded the options for spontaneous casual sex as never before. which has also led to an increase in STI and HIV infections.
"Young gay men themselves have consistently told us that they are now using mobile dating apps to meet up for sex, and are having more casual sex with more people as a result. We know that this kind of risky behaviour increases the spread of HIV," said Wing-Sie Cheng, HIV/Aids adviser for Unicef in east Asia and the Pacific.
"We are therefore convinced that there is a link, and that we need to work better with mobile app providers to share information about HIV and protect the health of adolescents."
A separate study last year found that men who have sex with men using dating apps are at greater risk of contracting gonorrhoea and chlamydia than those who meet in-person or on the internet.
Wing-Sie, the Unicef adviser, told The Guardian, that dating apps create networks of men, in which infections rapidly spread among users. "Mobile dating apps essentially hook you up to a central network."
She said the study looked at observational trends around the region reported by United Nations officers and local community workers who said their HIV strategy urgently needed to adapt to the explosion of mobile dating apps. "HIV is a covert issue, it is very hidden. So data is not available."
She said researchers found "that with the rise of these apps, the probability and risk of infection will increase multifold because it makes it so much easier for them to date other guys and hook up for sex," she said.
A spokesman from Grindr, told The Guardian that the company has a policy of encouraging safe sex.  "As the world's largest gay platform, we take matters of sexual health very seriously," the spokesman said, adding that Grindr runs in-app announcements encouraging testing at local clinics.