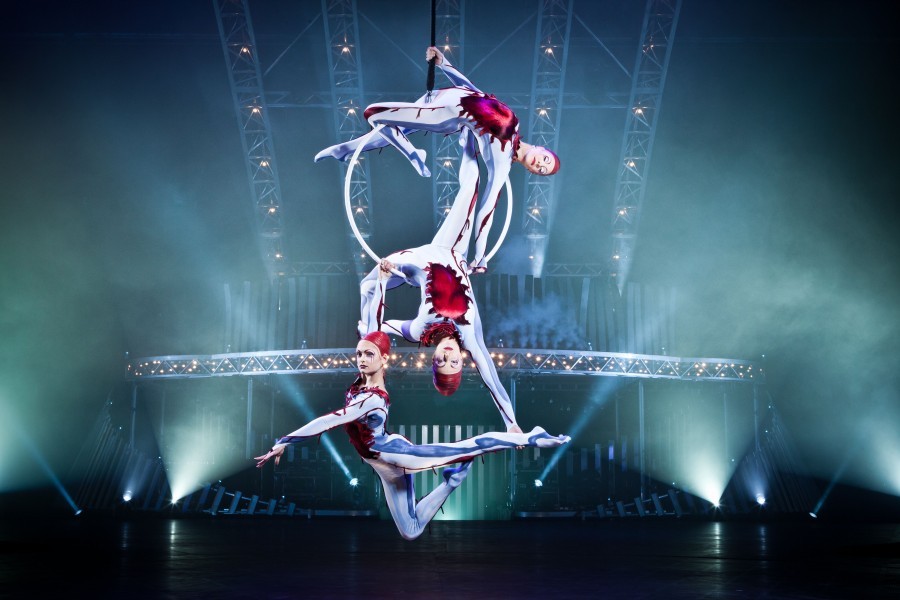 Amy Jane Bedwell reviews Cirque du Soleil's current production of Quidam. 
It is a timeless tale.

Zoé, the young protagonist, has been brushed aside by inattentive parents and becomes bored in her humdrum life. As a remedy she escapes into a world of her own making. Not unlike such classics as Alice in Wonderland and Where the Wild Things Are, Cirque du Soleil brings us Quidam, and gives voice to the beautiful and horrifying eccentricities inside of a lonely child's mind.

As a Cirque du Soleil virgin, my expectations hung on media coverage and the opinions of others. I expected to be wowed, entertained and frightened. Quidam certainly delivered.

From the moment you enter Vector Arena, you know you are in for something spectacular. Cosmic semi-circular tracks gaze down upon the protruding round stage where a deceptively ordinary living room scene waits idle. Both stage and set are accessible from floor to upper bowl with no possibility of a bad vantage point. Opening night spelt a packed arena, and as the lights dimmed, the excitement buzzed.

John, our mildly deranged but oddly cordial ringmaster begins the display with a comical act which, although entertaining may offer some false illusions about the show to come. Admittedly peppered with farce, the audience can not escape the lingering presence of the macabre. Inside the mind of Zoé, characters are lively but seemingly without purpose. Boum-Boum, the brute, screams aimlessly from the stage. The Target, although beautiful, expresses instability and flippancy. These are characters of true depth who in spite of an absence of dialogue expose Quidam as much more than just a vivacious circus comedy.

Of course, the most exquisite moments in the production are those that trigger a sharp intake of breath and fingers wound about themselves in eager anticipation. From dramatic arial stunts to displays of corporeal excellence, the magnificent score led the audience into moments of ominous suspense, waggish laughter and bouts of applause that drowned out gasps of eager apprehension from the floor. Expressions of disbelief slipped from gaping mouths consistently as act after act dazed us, the most impressive of which displaying dangerous feats that left the audience in awe.

Most impressive of the troupe was Statue. In a display of enviable team work and finely tuned muscle control, a man and woman move as one in perfect harmony. A testament to the beauty of the human body, the two never lose contact, and leave the stage hand in hand. It is an act that has to be seen to be believed, like Ancient Greek soul mates meeting once more in front of our eyes and once again becoming whole.

The production is an extraordinary feat. Near flawless in execution, what infrequent minor errors are made are corrected gracefully and met with riotous applause. Exceptionally peculiar, the audience are in time led back to reality. When we return, like Zoé, it is to our ordinary lives. But we know now that there is treasure to be found in the imagination, we need only seek it out.
Blow your mind with Quidam by Cirque du Soleil from Friday 5 to  Sunday 14 February 2016 at Auckland's Vector Arena, and from Wednesday 17 to Friday 26 February 2016 at Horncastle Arena in Christchurch.