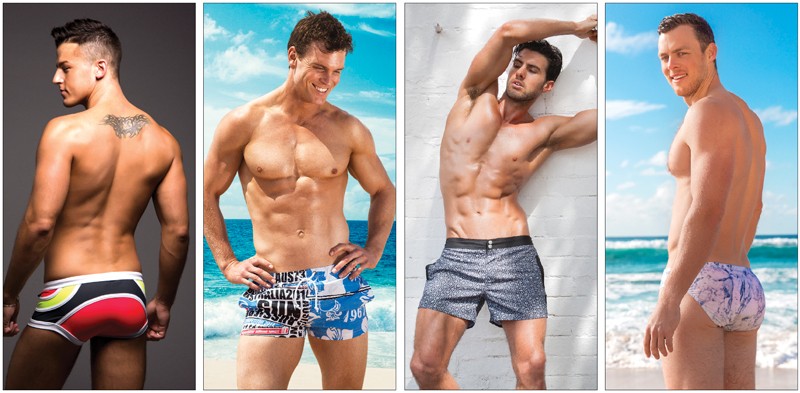 For express' second annual Swimwear Issue, we review two further brands, both recently launched, Teamm8 and HVNK. They join stalwarts AussieBum and Andrew Christian to give us the latest look in swimwear for 2016!
And what are we noticing? Briefs are getting more showing in the catalogues and websites with the long board short look retreating to its rightful place – on surf board riders! A strong feature of many of the ranges are the increased use of vibrant colours and designs. These top brands are all using top quality fabrics too which keeps your swimwear looking good well after the colder days arrive.
Teamm8 has just unveiled their 2016 swimwear, SWIM '16 with three collections, Podium, Pier and Marine. Each piece celebrates Teamm8's idea of confidence, strength and masculinity in their prints, structure and design. And not a logo to be seen!
The model above is sporting the new Pier range in Teal. Go to www.teamm8.com
Andrew Christian always takes their sexy designs to another level. And the latest collection shows how good they are. Really appealing to a gay audience, Andrew Christian also runs a large collection of underwear and sexy items which can be purchased both online and in NZ at Peaches & Cream and Grinder stores.
The model above wears the Andrew Christian pocket trunks in black. Go to www.absolutelyadult.com.au
HVNK (pronounced hunk) launches its second season of innovative designer swimwear for men. The new Solaris range offers classic swim briefs designed with modified front-shaping for greater space and comfort. Colours and designs are taken from Turkish kilims and tiles. All made from top quality Italian Lycra to handle the Australian and NZ sun.
Displayed above is the new Solaris range from HVNK. Go to www.hvnc.com.au
AussieBum presents their latest swimwear range for 2016 – but many will still associate them with the loose fitting swimwear (which hints at so much!) worn by those famous lifeguards at Bondi Beach. And an ex-prime minister! For that famous bulge have a look at their website.
Our AussieBum model above wears the classic 1.5. Go to www.aussiebum.com