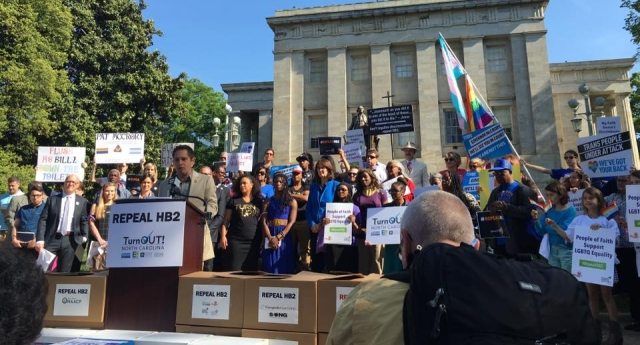 North Carolina Democrats have filed a bill with aims to reverse the state's anti-GLBT law, HB2.
This follows a string of boycotts and lost investment ventures in the state in response to Governor McCrory refusing to veto the damaging bill which encourages discrimination against GLBT people.
House Bill 946, sponsored by Darren Jackson, Graig Meyer, Susi Hamilton, and Grier Martin, is titled 'An Act to Repeal House Bill 2' and removes all of previous provisions, and reinstates the local LGBT rights ordinances that were voided.
A statement from the North Carolina Democrats says that "last month, North Carolina Republicans pushed through a bill in a one day Special Session. It took less than 12 hours from the time NC Republican House leaders released the bill to members and the public until the Governor signed the controversial legislation."
"The damage to NC's reputation and economy has been swift and is growing exponentially. More than 400 companies have distanced themselves from NC because of McCrory's job-killing discrimination law. It's clear – HB2 is bad for business and it's bad for North Carolina."
Source | Pink News