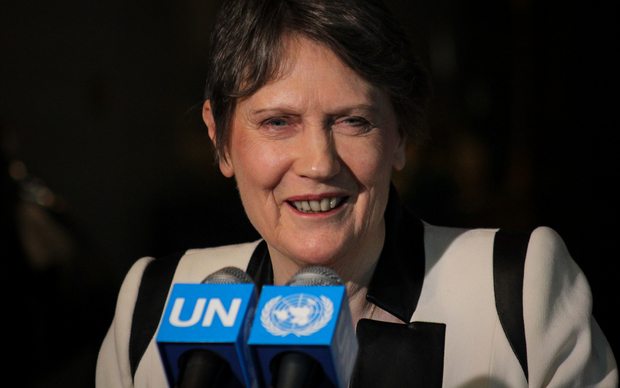 Former NZ Prime Minister and current United Nations Development Program (UNDP) Administrator Helen Clark expressed her commitment to "advance[ing] the rights of GLBT people" in a CSIS Pacific Partners Initiative Statesmen's Forum as part of her campaign for Secretary General of the UN.
In the audience question portion of the part-presentation, part-interview forum with John J. Hamre, CSIS President and CEO, Clark addressed a question from the floor regarding her view on the most pressure issues facing GLBT people worldwide. She was also asked that she would do to advance the rights of the GLBT people as Secretary General of the UN if she were elected.
"I can speak with great passion on this as someone who has been very supportive of the community at home" she said in response. She also cited her experience heading the UNDP which "really does bat a way to see that Human Rights apply to everybody irrespective of gender, sexual orientation, gender identity; the whole rich mix of humanity is entitled to human rights"
Clark said that if she were to obtain the role of Secretary General, she would dedicate effort into working towards seeing "no stigmatization of minorities for whatever reason."
Clark recently addressed the rainbow community in New Zealand via a video message screened at the Rainbow Gala Extravaganza, an event celebrating the thirty-year anniversary of the Homosexual Law Reform in New Zealand.
In her current role, Clark said in a statement released in May coinciding with International Day Against Homophobia, Transphobia and Biphobia, that "We need to continue to raise awareness and take action to ensure that all people have an equal right to live healthy lives free from violence, persecution, stigma, and discrimination."