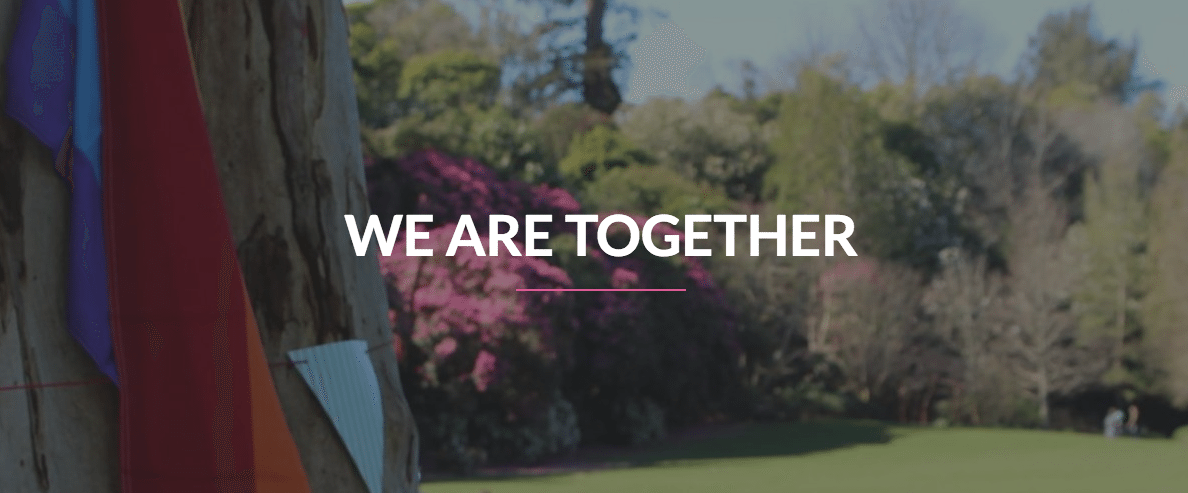 Hamilton Pride Week is ramping up! Following the recent refurbishment of their website, Hamiltonpride.co.nz, this year's celebration promise to be the most exciting and enticing yet!
Hamilton Pride Week will run from
This years Pride Week will run from Friday 9 September to Saturday 17 September with the theme this year relates to the celebration and acknowledgment of 30-years since the Homosexual law reform. "Past, Present and Future" and "We are together" are the tags for this year's celebration which will surely pay homage to times past. 
This year's executive team consists of Hare George as Chair, Michael Bell as Secretary, Brad Arthur as Treasurer and Benjamin Plague as Communications Manager.
So, what can we expect from Hamilton Pride? express has the exclusive full line up of events!
Friday 9 September
Launch party and The Meteor, 1 Victoria St, 7-11pm. 
Hamilton Pride Inc. officially launches the week of Pride events in celebration of acknowledging the Past, Present and the Future. Exhibits from Queer Artists, DJ's Marti Graz and Paul Henckel boost us into the evening with Drag Queens along with Anji and our own fabulous Ribena as the MC for the evening.Then make your way up to Static Bar for the after party and enjoy the rest of the evening of Fabulousness as we start an amazing week ahead! Bring your friends and join in on the FUN. Gold Coin Koha at the Door.
Saturday 10 September
Ten Pin Bowling at Skycity, The Bowlevard, 346 Victoria Street, Level 2, Hamilton, 6pm. 
Got some time to spare and fancy the idea of bragging rights over your friends? Come join the fun! 6pm at the Skycity Bowlevard for two slightly-competitive games of ten pin bowling. Couples, teams or singles ready to mingle, the more the merrier! $12 per person for two games.
Wine tasting at Momento Café, Hamilton central, 109 Victoria street, 8pm. 
Come raise your glass and join in the cheers as we toast to a fabulous evening of wine tasting. Sample the finest wines form our fabulous local vineyard, Mystery Creek Wines. The vivacious Sam will be presenting a selection of wines to suit various tastes. There is no cost to attend, the tasting is free and there will be the option to purchase wine for anyone who would like to.
LSG Quiz Night at Digger Bar, Hood street, 7pm.     
Always highly entertaining, and more than a little competitive! Brush up on your general knowledge and swot up on your Sapphic savoir-faire, get a team together, or just turn up on the night and join the party. Email the Lesbian Social Group for details: lsg@hamiltonpride.co.nz. $5 quiz entry per person.
Springball at The Meteor, 1 Victoria St, 8-11pm
Open to all Hamilton senior students. meteor. featuring DJ stretchmark and live bands ' fraser musicpro' and ' big love'. This event is a  fundraiser for WaQuy (Waikato Queer Youth)
Sunday 11 September
Doggy Day out at Hamilton lake, 10am
Bring your furbabies and join us for a fabulous Rainbow walk around Hamilton Lake. Everyone is welcome at no cost with or without a furbaby. Treats and water will be supplied for the furbabies. This even happens rain or shine, see you all there. Stay after for a coffee and a chat or something to eat.
Monday 12 September
Love Ur Body at Celebrating Age Centre (CAC), 30 Victoria St Hamilton, 5:30 – 7:00pm
Join hosts Awhina Paul and Melanie Tiara at an evening to join in on. Come along to a hands on workshop on how to make natural products. Create a special gift to take home with you to love your body or someone else's … No nasties, no chemicals, just you, me and a fun evening of making goodies. Cost $10 to cover the ingredients. CASH please
NZAF HIV Workshop at Celebrating Age Centre (CAC), 30 Victoria St Hamilton, 7pm
That age old adage about "Knowledge is Power" is as true for sex as it is for everything else. We want everyone to feel informed and comfortable discussing risk and HIV, so you can go out confident and secure to have the most amazing (and safe) sex possible. This is the basis of LYC's newly revamped HIV 101 class. Facilitated by Paul Heard, NZAF/LYC.
Tuesday 13 September
Ass Class with NZAF at Celebrating Age Centre (CAC), 30 Victoria St Hamilton, 7pm
This free session will cover the basics of anal health, what's good practice and what's risky. Anal sex comes with a unique set of issues – pain and hygiene being particularly high on the list for gay men. Understanding how your butt works will lead to more pleasurable, less stressful experiences. For many gay men, this information is gleaned from informal sources (friends, porn, etc) which might not be based on any evidence and may even be counterproductive. You can expect a few giggles, some of them from the presenters, as we tackle this sensitive area. The information will be presented in a practical and useful way men can use in their sexual practice. Facilitated by Paul Heard, NZAF/LYC.
Wednesday 14 September
Another conversation. Anglican Action, 100 Morrinsville Rd Hamilton. More details to come!
Thursday 15 Septembe
MooVie Night OUT at Hamilton Museum, 6:00pm
Join host MooLoo Mix at this event for all keen moviegoers during Pride Week organized by MooLoo Mix. We invite you all to come along and enjoy a night out at the movies. The movie for the night is currently a secret, but keep your eyes peeled for more information! We invite you to bring your friends along. Cost is $10 and includes Pizza / Drinks and the movie. CASH ONLY.
Pride and Protest Poetry Slam at Nivara Lounge, Basement 266 Victoria Street, Hamilton, 7pm 
Hosted by Hamilton Pride and supported by The Volume Collective and Nivara Lounge.  It's been 30 years since Homosexual Law Reform in Aotearoa New Zealand and every year since there has been reason to celebrate pride and reason to protest injustices. It is our pleasure to invite you to perform or support local and traveling poets in an evening of Pride, Protest and Poetry Slam.  Nivara Lounge is a basement music and arts venue that encourages fabulosity and the wearing of beret to poetry events.  Performer enquiries to dreadwomyn@gmail.com or 0211966968. Entry: $5 cash only at the door
Friday 16 September
Glam! Evening at Altitude @ Gravity bar, 30 Alexandra St, Hamilton, Doors open at 6.30pm, Shows start at 7.30pm
Altitude @ gravity and Hamilton Pride present an Evening of Glam! With performances from Chanel D'Vinci, Victoria Secrets, Kola Gin, ChiChi La'Qua, 'The Lady of the Lakes' Nanu Turner and MC Hostess – The Outrageous Miss Ribena! Special Guest Singer – Vicki-Lee. Limited tickets $40 per person Tickets available by payment to Hamilton Pride Inc
HPI Bank Account details 03-1556-0425164-000.
Reference: "Glam Evening"
Particulars: <your name>
Code: # of tickets
Saturday 17 September
Diver-city (Picnic Lunch / day out) at Whatawhata Village Café, 11am
This one is for the families! Bring your whanau over to the fun and rustic 'Village Cafe' in Whatawhata and join us from 11am in the pride festivities. Designed to keep kids entertained is the awesome playground, plus candle dipping, facepainting and other cool activities. A special pride deal- coffee and scone for $6 will do it for the adults  Find our 'rainbow corner' and meet others from across the diverse spectrum within Waikato, or enjoy with your own family.
ALL welcome. See you there!
Pre-Drinks at Staric Bar,  6:30pm till 9:00pm
Finale Party at Diggers Bar, Hood Street, 9pm till late
After a week filled with exciting new ideas, friends and conversation let's go and celebrate the end of Pride Week. The night will kick off at Static Bar on Hood street at 6:30pm with drinks, nibbles and live music. Eat, Drink and be Merry!! That's the start of the night!!
Then walk down the road to Diggers Back Bar after 9:00pm ($5 entry): 17b Hood St, right next to 'Good Home'. Let's go out with a bang and celebrate the end of Hamilton Pride Week 2016 in style. for an evening of entertainment with a great line up of local performers as well as our special guest DJ Paul Henckel. Be THERE and Be QUEER.