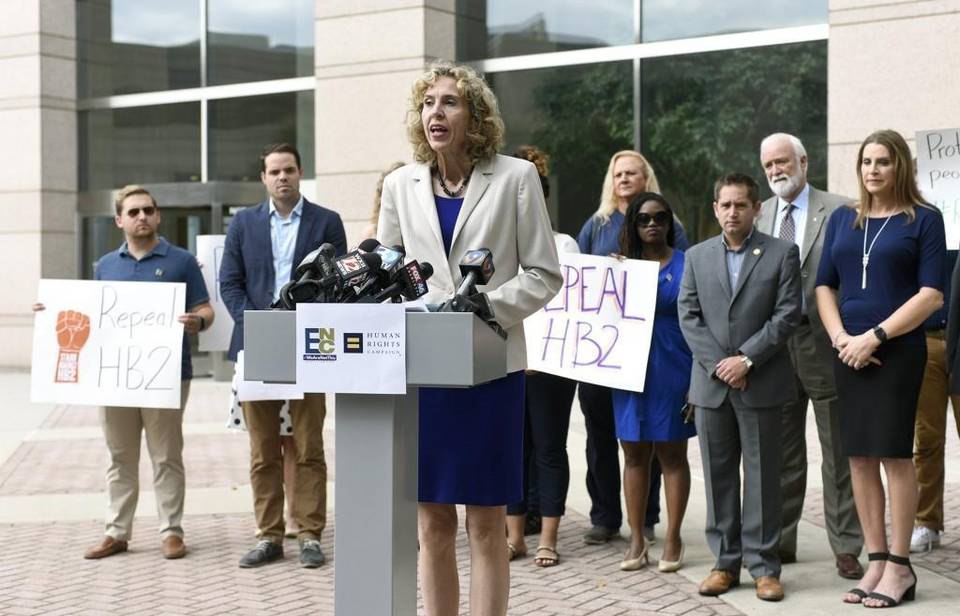 Image: Charlotte Observer
North Carolina passed House Bill 2 (HB 2), or the "bathroom bill" as it's more commonly known, back in March, where people are made to use bathrooms that correspond to the gender on their birth certificate. This was in response to Charlotte City Council's expanding on its non-discrimination ordinances to include sexuality, and gender expression and identity (also marital and familial status) on 22 February. This was to add to the existing ordinance based on race, colour, religion and national origin.
Today's developments
Governor Pat McCrory and Republican Party head honchos have offered to consider rescinding HB2, so long as Charlotte rescinds their own ordinance (the very ordinance which led to the Bill). However, Charlotte mayor, Jennifer Roberts, has basically said that it's their move first – the main reason being that the Bill does not need the ordinance to be withdrawn in order for the state law to be repealed.
At 12.20 pm (NC time), the leaders of Charlotte, and other LGBT+ community leaders held a news conference to call upon the North Carolina General Assembly to repeal HB 2. In the conference, Mayor Roberts congratulated Gov. McCrory for recognising the need to repeal the law, but that the state could still go ahead and do it without any action from her city council. It was also stated that her council would not put rescinding their own ordinance back on the table.
Republican lawmakers claim they need the ordinance to be reversed as the Charlotte City Council stepped past its legal authority. As House Speaker Tim Moore and Senate leader Phil Berger explained, "if the Charlotte City Council had not passed its ordinance in the first place, the North Carolina General Assembly would not have called itself back into session to pass HB 2 in response".
However, even though there have been 180 days of disarray in North Carolina since HB 2 was passed, North Carolina is only 50 days away from election, making lawmakers shy from making any sudden movements.
What has HB 2 cost North Carolina?
Wired has gone and tabulated the cost of HB 2. After the Atlantic Coast Conference (ACC) and National Collegiate Athletic Association (NCAA) pulled their basketball tournaments out of the state earlier this month, the bill has not been pretty. Here is a quick rundown from the folks at Wired:
US$176,000 in legal fees defending suits against the Republican leadership (all paid for by tax dollars)
US$87.7 million from business boycotts and pullouts – a number that has been estimated by the think tank Center for American Progress.
US$58.3 million from PayPall and another tech company cancelling their planned expansions into NC
US$109.4 million from cancelled conferences and events, such as the Bruce Springsteen concert (which cost US$700,000 alone)
US$106 million from NBA's All-Star Game pullout, another US$51 million from NCAA's withdrawal, and a further US$40.4 million from ACC's
Total bill? US$395 million. Being a dick to the LGBT+ community is one expensive habit.