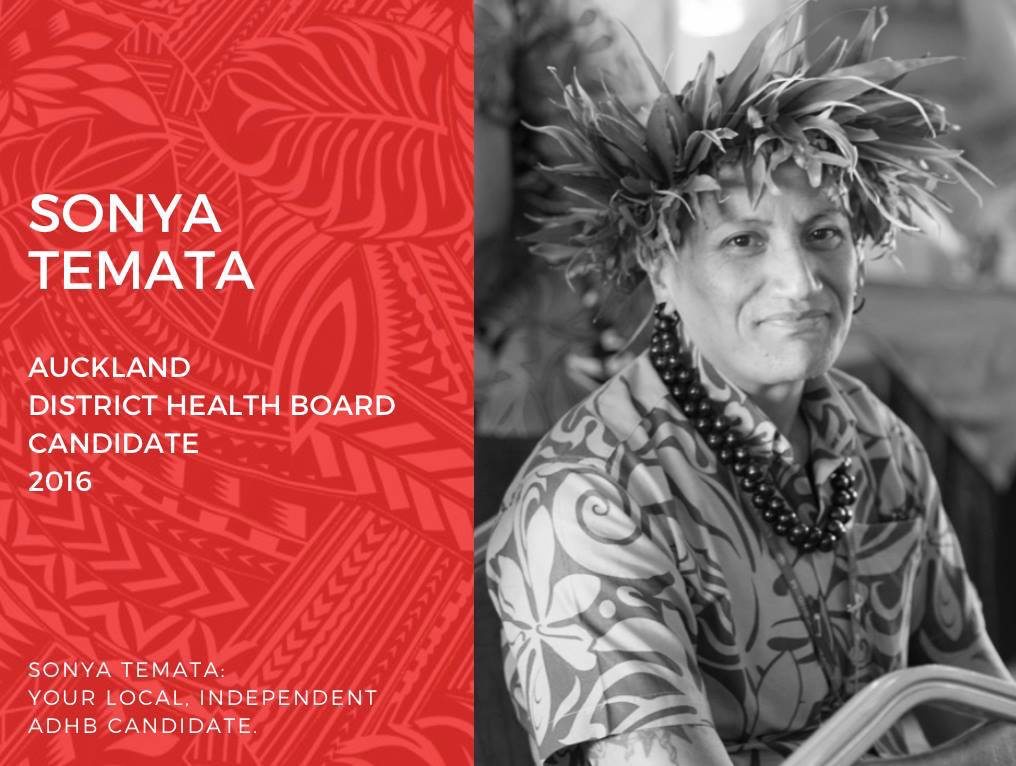 Sonya Temata, a takataapui wahine and nurse of fifteen years, is standing as an independent candidate for the 2016 Auckland District Health Board Elections. Amy Jane Bedwell had a chat with her about what election to office would mean to her, and what it would mean for minority groups throughout Auckland.
Sonya Temata has a clear vision to provide more inclusive healthcare to all minority groups in Tamaki Makaurau and wants a chance to join the Auckland District Health Board (DHB) to make a difference. The Auckland DHB consists of up to 11 members, with seven elected by the public every three years, and up to four members appointed by the Minister of Health.
With fifteen years' experience in the healthcare system, Sonya knows the pitfalls of public health and wants to help to fill them.  This includes increasing accessibility to appropriate health care for all tangata of Auckland including the Māori and Pasfika community, as well as the LGBT+ community.
"I believe providing care in a culturally appropriate and competent manner is essential to addressing cultural and language barriers; providing a holistic approach for all individuals and whanau is central to health and well-being, given how very diverse our Tamaki Makaurau region is," says Sonya.
A proud member of the LGBT+ community,  Sonya is backed by community favourite Karen Ritchie, and Auckland DHB member as well as queer woman, Roxanne Henare, in her quest.
"I have been out and proud as a gay woman, wahine moe wahine, takataapui, aka tutu tane (tom boy) since the age of 16" says Sonya, whose advocacy in the queer community has spanned over twenty years.
Sonya has and continues to provide STI testing to the takataapui community and works closely with our community. She has been a key co-ordinator in the Pasifika Pride Float for the past four years and believes that the key to better access to health care for the rainbow community is an increase in information and community engagement.
Working on the Auckland DHB will give Sonya the opportunity to further her advocacy for minorities in the health system in which she has spent much of her life.
Her experience as a nurse in New Zealand and around the world, she says, offers experience needed to take up the role on the board. "I'm a clinical nurse and I have worked in many different areas of health for the last fifteen years, both primary and secondary. I have been a Pacific health resource nurse, a nurse specialist for sexual assault services and worked around the world with indigenous communities. I also do volunteer work for the Women's Refuge and Auckland City Mission."
She says that her main objective is "raising the voice of all people from marginalised communities".
"It's about advocating and supporting the delivery of messages around health policies in a system in which we see a lot of disparity and inequality."
Trans gender healthcare issues are something that Sonya wishes to place focus on, saying that the current system does not properly serve this section of the community. She was part of the Trans Initiative Key Pathways with Waitemata Consultation Project while working at Auckland Sexual Health.
Sonya aims to work with the current systems and says that there are many aspects outside of simply administering care that affects a person's ability to access proper help.
"Something I want to work on is the public transport options available for people seeking care" she says, "it can be a huge barrier". Creating a holistic infrastructure to support all people is a high priority for the future of the Auckland DHB for her.
Sonya says that "the dynamics, structures, status and roles are important to understand and essential to working with each individual within their families and communities regardless of status, sexual orientation, age, gender, migrant status, sexuality, ethnicity. As the saying goes, 'it takes a village to raise a child', just as it takes us all to raise the health status of our people – especially our most vulnerable and at high risk."
Voting for the 2016 Auckland DHB members is included as part of your voting documents must be returned no later than noon, Saturday 8 October 2016 to the electoral officer. Be sure to vote to ensure a better future for Auckland!