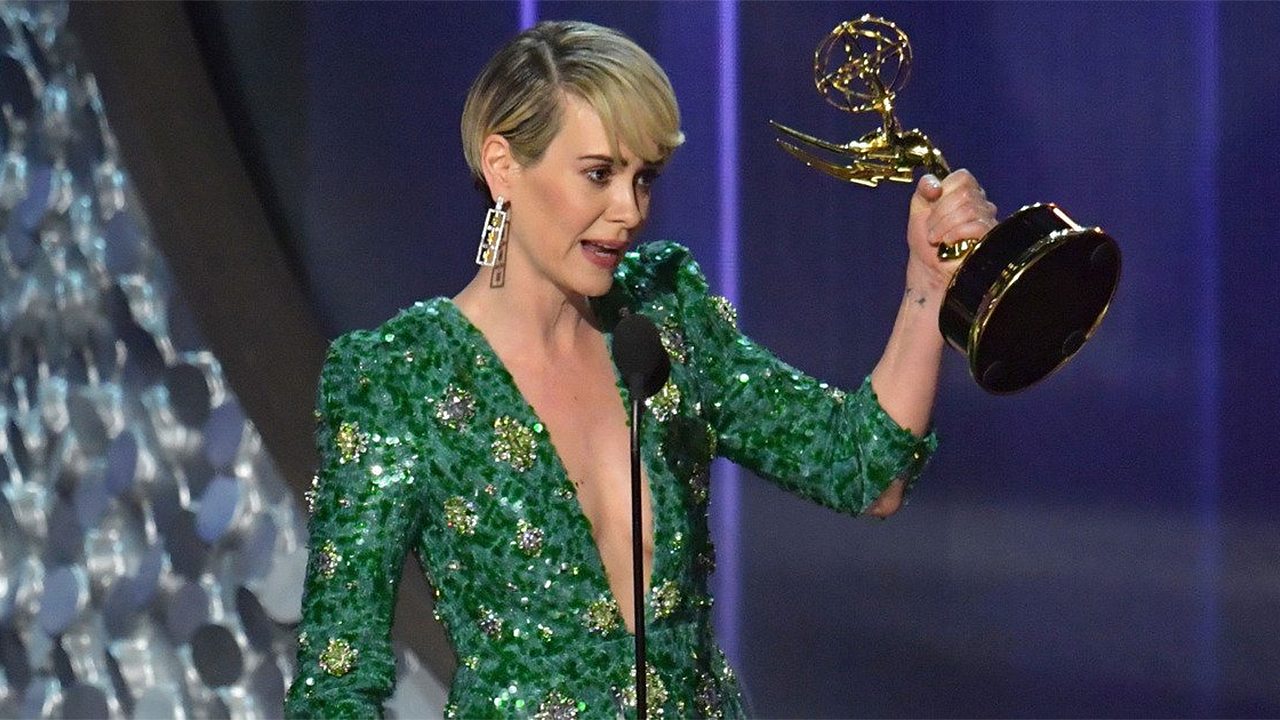 Image: ABC News
Diversity was the name of the game at the 2016 Primetime Emmy Awards. With recognition being given to celebrities of a variety of ethnicities, queer talent and stories were also big winners!
Following the recent controversy surrounding an excess of white nominees and winners during the Academy Awards, television proved it is the medium of diversity with accolades being given to Master of None co-creators Aziz Ansari and Alan Yang, actors Regina King, Sterling K. Brown and Rami Malek.
Queer actors and stories were also at the forefront this year. Check out the bios of the fabulous queer or queer representative winners below.
Actress, Limited Series or Movie: Sarah Paulson, The People v OJ Simpson: American Crime Story
Sarah Paulson is best known for her roles on every iteration of American Horror Story, most notably in her role as lesbian journalist Lana Winters in American Horror Story: Asylum. Paulson is also an out-and-proud queer woman, having had a high profile relationship with fellow actress Cherry Jones before she shot to television fame.
Currently, she is in a relationship with Two and a Half Men star, Holland Taylor, and has been vocal about her desire to avoid labels and be able to love whomever she falls in love with.
She told Inquisitor that "if my life choices had to be predicated based on what was expected of me from a community on either side, that's going to make me feel really straitjacketed, and I don't want to feel that. What I can say absolutely is that I am in love, and that the person happens to be Holland Taylor."
Her role as Marcia Clark in The People v OJ Simpson: American Crime Story finally won Paulson the Emmy after a five year nomination streak.
Supporting Actress, Comedy Series: Kate McKinnon, Saturday Night Live
Kate McKinnon has been a staple on comedy skit show Saturday Night Live for years and recently moved to the big screen in the all-female adaptation of Ghostbusters.
Openly gay, McKinnon is in a long-term relationship with musical theatre actress, Marla Mindelle. She credits coming to terms with her sexuality to X-Files bombshell, Gillian Anderson. "I figured it out by watching The X-Files, and by noticing my physiological reaction to it. I thought at first my physiological reaction was a product of David Duchovny's face but no, it was Gillian Anderson – who still is the queen of my heart. So I knew then," she said on Julie Goldman's Celesbian Interviews series.
Unabashedly open about her sexuality and feminism, Kate McKinnon won Best Supporting Actress in a Comedy Series on the back of some of the most hilarious skits in Saturday Night Live history.
Best Directing, Comedy Series: Jill Soloway, Transparent
Jill Soloway took home the best directing award for her expert command of comedy series, Transparent, and was the only female to be nominated in the category!
Soloway is in a long-term relationship with her girlfriend, lesbian poet Eileen Myles, who just co-authored a radical feminist manifesto. Power to the ladies!
In her acceptance speech, Soloway said that "when you take women, people of color, trans people, queer people and you put them at the centre of the story, the subjects instead of the objects, you change the world, we found out. [What] these people call television I call a revolution."
She continued: "Thank you to the trans community for your lived lives, we need to stop violence against trans gender women, and topple the patriarchy!"
Best Limited Series: Nina Jacobson, The People v OJ Simpson: American Crime Story
Queer executive producer of The People v OJ Simpson: American Crime Story, took home the Emmy for her contribution to television.
Although she was cut off during her speech while thanking her wife, Nina Jacobson was the fourth queer woman to win on the night! Having produced all four Hunger Games films, as well as Diary of a Wimpy Kid, Jacobson is a household name for film buffs and a total queer icon.
Actor, Comedy Series: Jeffrey Tambor, Transparent
Jeffrey Tambor is old Hollywood. He's been around since the dinosaurs and has been winning awards and accolades for just as long. This year, he accepted the Emmy for his role as transgender parent Maura Pfefferman in the quirky comedy, Transparent.
Cis gendered actors has come under fire for playing a transgender roles, with trans advocates expressing the fact that allowing cis gendered people to take trans roles limits the roles available to trans people, and gives the wrong impression about what it means to be trans gender.
Tambor, while accepting his award, was vocal about the fact that Hollywood needs to stop restricting trans actors. "To you people out there … please give trans gender talent a chance. Give them auditions. Give them their story," he said while accepting the Emmy for best comedy actor. "I would be happy if I were the last cis gender male to play a transgender female."
Actress, Drama Series: Tatiana Maslany, Orphan Black
Tatiana Maslany, a Canadian actress and producer, won Best Actress in a Drama Series for her multi-faceted role on cult hit, Orphan Black. In the show, she plays a multitude of different clones, one of whom is Cosima, a lesbian scientist who is engaged in an on-and-off relationship with Delphine (Évelyne Brochu).
Speaking to GLAAD before her Emmy win, the Orphan Black star said, "we offer good representation in terms of complex characters that aren't defined just in terms of their sexuality, but by every facet of what it is to be a person. One of my favourite things that has ever been written on the show is when [Cosima] said 'my sexuality is not the most interesting thing about me'."
Tatiana is a vocal LGBT+ ally and says that supporting the community is obvious. She says that a lot of her friends have struggled with coming out or with how they identify and "it is just a no brainer to me – it makes no sense that there wouldn't be support for the community".
Tatiana won her award after being beaten out last year by Viola Davis.