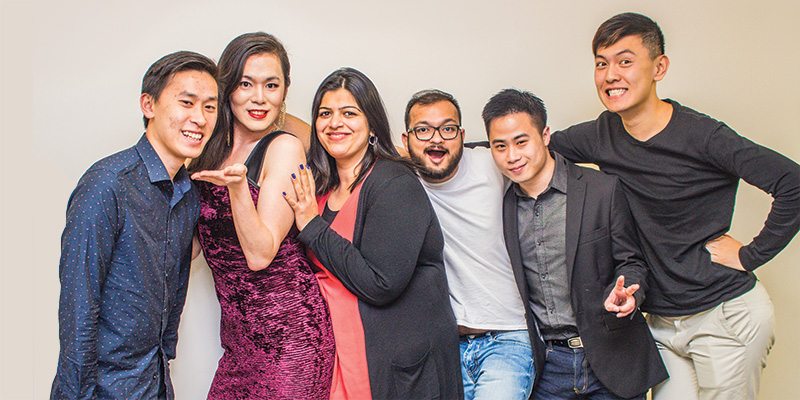 EquAsian, Auckland's dedicated queer Asian social group, is changing the lives of Asian New Zealanders. By providing support, friendship, and comfort to queer Asian people in New Zealand, this not-for-profit organisation is filling a very  important role in our society. express chat with the EquAsian board and members Aatir Zaidi, Sunny Lam, Danny Lam, Benny, and Yun Huang about racism in the rainbow community and how their Asian-based support organisation is changing lives for the better!
Why do we need EquAsian?
Aatir: First and foremost, EquAsian is for people from Asian descent in New Zealand. EquAsian offers a culturally appropriate environment that understands the struggles of Asian LGBTQI+. A lot of people in New Zealand do not understand how hard it can be for Asians to come out as LGBTQI+. We provide help and social support to provide a safe environment where you can embrace your culture and sexual identity without having to explain too much.
Sunny: Through promoting community support, we can develop resilience, and foster positive identity in facing the hardships that Asian LGBTQI+ may face in their life, and celebrate our diversity of strengths that enriches our nation.

Is racism prevalent in the queer Asian community?
Benny: Racism is a complicated topic. There is plenty of racism in the LGBTIQ+ Asian community. Ranging from sexual racism to internalised racism.
Aatir: Yes, definitely. Even a simple question like "where are you really from?" to an Asian person can be offensive. We have two board members who are born in New Zealand but they frequently come across people who think they are immigrants.
Danny: Queer people are not automatically not racist. The same issues are in the queer population as in the rest of the population, along with some more specific issues.
Yun: While blunt racism is less frequent these days, there are subtle dynamics and discrimination in the community that have negative impact on the well-being of our community members. These subtle discriminations can be based on race, religion, physical appearance and others.

What type of support does EquAsian offer? 
Sunny: Our main form of support is community. We are a social peer-to-peer group. We hang out, celebrate events, and share our stories.
Yun: EquAsian provides a safe space where the members can be comfortable being themselves and be happy and confident individuals. EquAsian can help them extend their social and support networks having a positive effect on their everyday life.
Aatir: Our Mantra for support is Equal and Asian. We are not politically inclined and never discuss politically charged topics. We believe in equality. We are a fun and friendly bunch of people to providing social support and good conversations over coffee and food.
How is EquAsian funded?

Benny: We are not-for-profit and are dependant upon funding. Ara Taiohi funded our website, video, promotional materials and ability to participate in events like Big Gay Out.

Does NZ need more culture-based support groups for GLBT people?
Sunny: Hell yeah. Cultural awareness and appreciation is just as important in understanding the needs of GLBT people. I also want to throw a disclaimer that it's not just Asian LGBTQI+ that need support groups. Everyone is encouraged to find a place where they can belong, to be understood, and to be themselves.
Danny: It is an area which is lacking and very difficult to address due to to the huge diversity in NZ. The issues are often culture specific, and Queer ethnic minorities often face family pressure and cultural pressure due to their intersectional identity.
Aatir: Yeah, we need more groups like EquAsian. When I started joining LGBT groups people would look at me differently, they would make assumptions based on my colour and accent. I always had to explain how religious my family is and how difficult it is to come out to extended family. Having more culture based groups will help in making it easier to come out and relating to people who may have similar stories.
For more info to contact EquAsian, visit equasian.org.nz or email the board at equasianinfo@gmail.com. 
Photo: EquAsian Board and members, left to right: Sunny, Cecilia, Namrata, Aatir, Benny, and Danny by Aatir Zaidi.