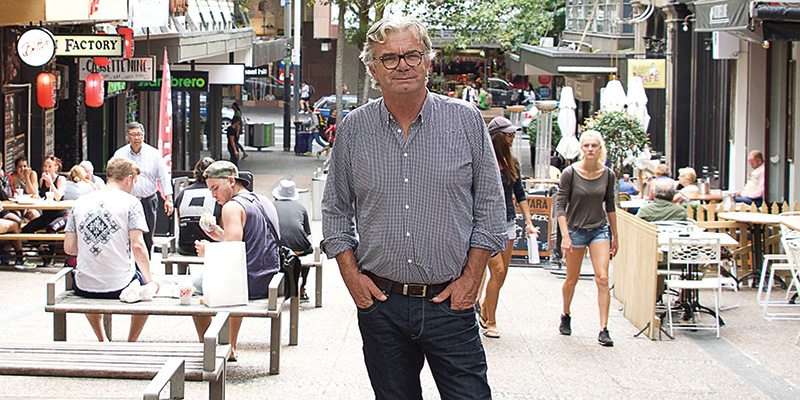 Former TVNZ Head of News and notable political commentator Bill Ralston has officially launched his campaign to become the next Councillor for the central ward of Waitemata. 
With a wealth of professional and civic experience behind him, Bill Ralston knows Kiwi politics like the back of his hand. After what he calls a "dysfunctional last three years," the former Metro Magazine editor says he got tired of complaining and decided it was time to do something himself.
Ralston's councillorship of the Waitemata and Gulf Local Board will include jurisdiction over the Auckland central business district, fringe retail and commercial areas; and the inner city residential suburbs popular with the rainbow community like Ponsonby, Herne Bay, Eden Terrace and Newmarket. The ward also encompasses Great Barrier and Waiheke.
Ralston says that Waitemata ward's "sexually and culturally diverse" make-up is part of what makes it so alluring. A frequent attendee at Pride celebrations and avid supporter of the GLBT community, Ralston says he is committed to ensuring the rainbow community are heard and supported by the local government.
His commitment to the community is more than empty words, having become a community hero when he donated $15,000 from Metro Magazine's marketing budget to cover the cost of clean up during the 1998 Hero Parade.
Hoping to succeed veteran local body politician Mike Lee Ralston says, as a twenty year plus resident of the ward, he understands the unique demographic and distinctive needs of central Auckland. His campaign will focus on providing a structure to support the rapid growth of our city, ensuring that the natural flux of popular metropolitan spaces can be sustained.
Another important aspect of his campaign is decongesting Auckland city. With high numbers of people travelling to and from the CBD each day, Ralston believes this is one of the most important issues the local body can address.
Have your say on who represents your community in the Local Body Elections, Saturday 8 October through post with voting papers sent to your registered address by Wednesday 21 September.